Published on March 17th, 2017 in: Current Faves, Metal, Music, Music Reviews, Reviews |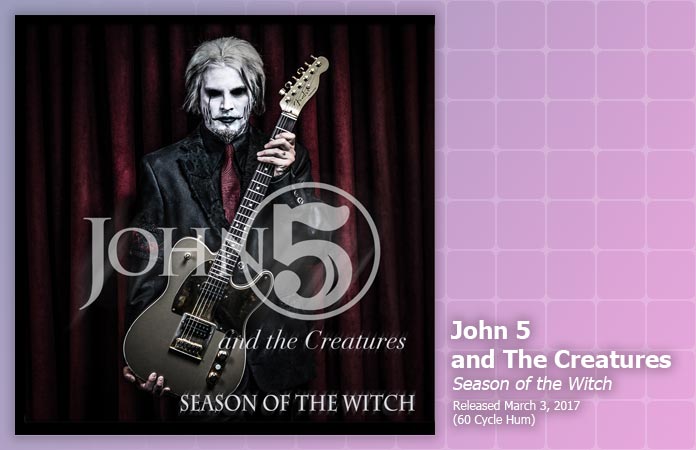 Here's a question for all the metal guitarists out there: why is it so important to prove to your audience that you can play country or bluegrass songs? It's a weird trope. On their new instrumental album, Season of the Witch, John 5 and the Creatures head to the hills twice. He even busts out the Old Ban-Jo! It's almost like he's admitting that rock and roll has some roots down in the holler and not so much in the Hollywood hills.

The twangy bits make sense in context, considering his last few years as Rob Zombie's touring guitarist. 5 even contributed to the soundtrack of what is arguably (and believe me, I've argued) Zombie's finest film, The Lords of Salem. Zombie has always had a flair for industrial rockabilly circus music, and 5's involvement has only enhanced that groove through the years. So it's not surprising to hear a song like "The Black Grass Plague," a country-metal throwdown, as the second track on the album. Nor is it a shock to hear sampled bits from horror films playing over carefully engineered spooky music. One expects Zombie's nonsense scatting vocals to appear at any moment. It does not.
While the music evokes the Rob Zombie canon, Season of the Witch is more than a Karaoke version of Hellbilly Deluxe. Backed by some talented musicians (Rodger Carter on drums and the incredible Ian Ross on bass), John 5 goes careening through the genres, changing moods and time signatures on a whim, and being generally impressive.
Sure, the standard solo guitar wankery lives here. Plenty of sweeps, hammer-ons, arpeggios, and blisteringly fast pentatonic scales are on display, but it never feels like 5 is showing off. There's always a sense of fun to the music, especially in the mid-album track, "Making Monsters." It's also impossible to completely slag a song called "Guitars, Tits and Monsters," coming from a guy who has worked with Marilyn Manson and Rod Stewart.
Season of the Witch is a good time, a fun listen, and sometimes dizzying in its attempt to hit both ends of the spectrum and all points in between. It's a little bit country, and it's a little bit rock and roll, but through it all comes the realization that John 5 is actively working to develop his own sound, both recognizable and sharp. Season of the Witch indicates he is not far from that goal.
Season Of The Witch was released March 3 through 60 Cycle Hum Records.