Published on March 17th, 2017 in: Blu-Ray, Current Faves, DVD/Blu-Ray Reviews, Movie Reviews, Movies, Reissues, Retrovirus, Reviews |
By Tim Murr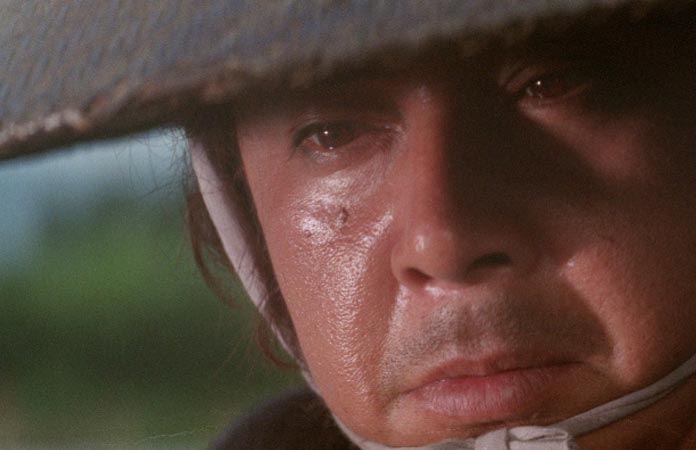 Writer Kazuo Koike and artist Goseki Kojima's manga epic Lone Wolf And Cub hit the stands in 1970. It was a massive success, with meticulous details, historical accuracy, and gorgeously realistic artwork. Lone Wolf And Cub would, and still does, have a strong influence across various artistic forms. By 1972, the series was already adapted into a film, a huge success itself which launched five sequels.

Directed by Kenji Misumi (who directed four of the six films) worked from a screenplay written by Koike himself. Like the manga, Lone Wolf And Cub; Sword Of Vengeance is the story of Itto Ogami, the official executioner of the Tokugawa shogun, a coveted and high position. Seeking power, the Shadow Yagyu Clan frame Ogami and murder his wife. Ogami escapes with his infant son, swearing vengeance against the Yagyu clan, and becomes a wandering assassin for hire. Sword Of Vengeance is a well-made cinema classic, highly literary and intelligent, but is also as violent as a good grindhouse movie.
Sword Of Vengeance was followed up in a matter of months with Baby Cart At The River Styx. In fact Baby Cart In Hades and Baby Cart In Peril also came out in 1972. Then Baby Cart In The Land Of Demons hit in 1973 and White Heaven In Hell in 1974. That's an amazing turnaround time, especially considering the high production values across the franchise. All six films are undeniable classics, all a load of fun, and all highly re-watchable. The argument could be made Lone Wolf And Cub could is one of the best, most faithful comic book adaptations of all time. The films still hold up as smart and mature.
They weren't easy to see in America though, for decades. In 1980, Roger Corman gave American audiences a taste with Shogun Assassin, which was an edited together version of the first two films.
Last year the Criterion Collection released the whole collection in a gorgeous three-disc box set. Featuring killer artwork by Paul Pope and an in-depth booklet written by Patrick Macias. The list of features is typically impressive as Criterion releases go:
– New 2K digital restorations of all six films, with uncompressed monaural soundtracks on the Blu-rays
– High-definition presentation of Shogun Assassin, a 1980 English-dubbed reedit of the first two Lone Wolf and Cub films
– New interview with Kazuo Koike, writer of the Lone Wolf and Cub manga series and screenwriter on five of the films
– Lame d'un père, l'âme d'un sabre, a 2005 documentary about the making of the series
– New interview in which Sensei Yoshimitsu Katsuse discusses and demonstrates the real Suio-ryu sword techniques that inspired the ones depicted in the manga and films
– New interview with biographer Kazuma Nozawa about Kenji Misumi, director of four of the six films
– Silent documentary from 1939 about the making of samurai swords, with an optional new ambient score by Ryan Francis
– Trailers
– New English subtitle translations
– PLUS: A booklet featuring an essay and film synopses by Japanese pop-culture writer Patrick Macias
Both Blu-ray and DVD sets are currently $79.96 ( that's $20 off) on the Criterion site and they are worth every penny.