Published on March 15th, 2017 in: Americana, Current Faves, Music, Music Reviews, Reviews |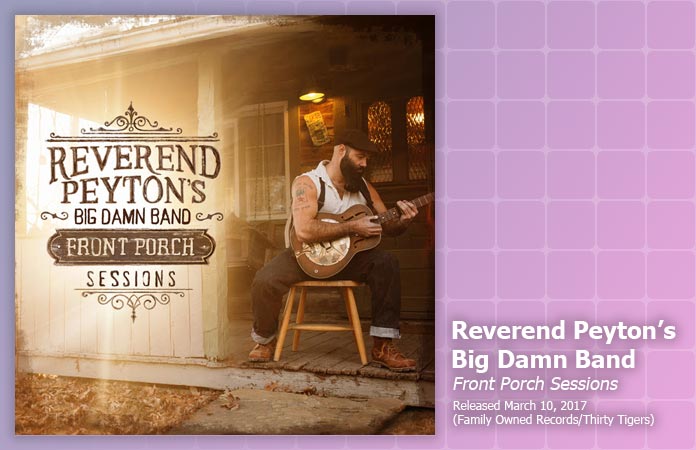 Unless Reverend Peyton and his Big Damn Band comes to your house and plays a set on your porch (or perhaps you end up on his front porch),  Front Porch Sessions  is as close as you'll get to that specific pleasure. It's an organic, charmingly effective album that mixes classic blues songs with The Rev's originals. It's thrillingly alive and a fine introduction for those who haven't been fortunate enough to make The Rev's (and his Big Damn Band) acquaintance yet.

The Reverend Peyton is an original. His songs are steeped in blues tradition, and there's a deep authenticity to his work. The stripped-down approach to  Front Porch Sessions serves to highlight this, showcasing The Rev's frankly incredible guitar work. The man is both bassist and guitarist, and while they're a three-piece band, The Big Damn Band contains multitudes (okay, so the BDB contains Washboard Breezy Peyton on washboard and vocals, and Maxwell Senteney on percussion, but it sounds like multitudes).
If  Front Porch Sessions was a book, it would be described as a slim volume, but it packs a potent punch. "We Deserve A Happy Ending" is one of the purest love songs you'll hear. It's not couched in flowery language, but instead is sweet sentiment wrapped in honesty. It's spare, bare-bones percussion, including the Rev's marvelous playing, and Breezy joining in on harmony (with Max on background hollers). It's a bright, happy blues number, which is an anomaly, because, well, blues. "One More Thing" is a litany of things that could go wrong and bring financial ruin to the protagonist. It's a tenuous balance that so many people strike; the worry that one more thing happens and we lose our livelihood. The guitar is just a bit off-kilter, and very effective. The lushness of The Rev's playing on "One Bad Shoe," another hard luck song, is almost pastoral and unexpected.
The choice of covers on Front Porch Sessions is particularly effective. Furry Lewis's "When My Baby Left Me" has such a massive sound it's amazing to think that the Big Damn Band is just three people. The guitar work is glorious and fluid and The Rev's testifying vocals are perfect for this song about the crushing nature of heartbreak. "Let Your Light Shine" is a reverential take on a Blind Willie Johnson song with both a foot-stomping beat and mellow guitar. The traditional "Cornbread And Butterbeans" is particularly athletic; it's a slice of life track that picks up in speed and liveliness. The Reverend Peyton's work is incredibly, impressively nimble.
There's a sparse funkiness to "Shakey Shirley," driven by percussive finger snaps. It's not the deepest well lyrically, but it has a pleasing repetitiveness. It's almost meditative. Finer are a pair of instrumentals: "It's All Night Long," a hand-clapping instrumental in which The Rev really gets cooking and "Flying Squirrels," an amazing bluesy boogie.
 Front Porch Sessions  is a fine addition to the Reverend Peyton's Big Damn Band's catalogue. It's an intimate album that focuses mainly on the Reverend Peyton's outstanding guitar work and the songs that made him who he is. When the Big Damn Band swings through your town, you really must go. Hearing The Rev play on an album is impressive, but watching him play (and the whole Big Damn Band) is straight up mind-blowing. You will walk away a devotee.
Front Porch Sessions was released on March 10 by Family Owned Records/Thirty Tigers.