Published on March 3rd, 2017 in: Current Faves, Music, Music Reviews, Reviews |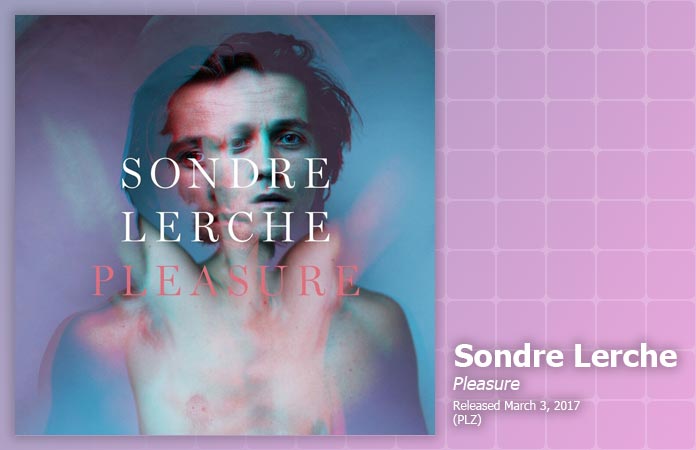 Sondre Lerche is going through some changes. His latest, Pleasure, bears the hallmarks of a breakup album: heartbroken, aching lyrics and a complete shift in musical style. Pleasure sounds nothing like any previous Lerche album, which, to be fair, touched upon a variety of musical styles. From the indie pop of his debut, Faces Down to the glorious jazz inflections of Duper Sessions, to the edgier kick of Phantom Punch, Sondre Lerche isn't shy about dipping into disparate genres. On Pleasure, he goes full on 1980s revival, faceted through his undeniable talent.

And he's not trying to hide his '80s affection. The opener, "Soft Feelings" starts out so similarly to "Bizarre Love Triangle" that I was shocked to hear the lyrics. It's electro pop, it's experimental, it's a departure. It's a Bowie-esque croon on the chorus, a wash of disco, a surprise jitter in the drum machine. With layers of vocals and swelling synths, it's very '80s New Romantic. It sounds like a Nagel print. The '80s sheen of "I'm Always Watching You" carries a Blow Monkeys edge of funk. The iciness of the production belies the obsessive sentiment to the lyrics. The jittery funk of "Hello Stranger" directly addresses the '80s pastiche, with a lyrical nod to Prefab Sprout. It's a study in glittery synths and a weird warpedness.
Pleasure sounds like a mix tape chopped up and respliced into something familiar and a bit off. "Baby Come To Me," with its clever lyrical rhythms is more than a little Prince-like (with a fascinating harp fadeout), and "I Know Something That's Gonna Break Your Heart"  has a groovy bass line to anchor a middle that if full of synths and crashes. It's slick, but also indulgent weirdness. "Serenading In The Trenches" is an appealingly percussion-led track with a charmingly loose vocal. Lerche isn't quite hitting the notes, but maybe, just maybe he doesn't want  to. "Serenading" is an oddity: percussive breaths, and an off-the-cuff, throw-everything-into-the-mix-to-see-what-happens sort of track. It's not Lerche's finest work, but it's pleasantly curious, with Princely yelps and layers of falsetto, and it does go a bit off the rails before the end.
If the first track you heard from Pleasure was "Violent Game," and you bought the album in olden times, it would be a bit of a shock. "Violent Game" is all urgent guitar and driving propulsion, and sounds, at first, like more typical Sondre Lerche. But it becomes ragged before devolving into an indulgent jam that just goes on too long. Any momentum is lost in the noodling/shredding guitar that is just… OK. Much better is "Siamese Twin." Dreamy production and Lerche's sleepy, breathy vocals buoy the trippy, melty track.
On Pleasure, Sondre Lerche masks heartache in big sounds and experimentation. It's quite a departure, but not unwelcome. Some tracks fall a bit flat and feel like their noisiness hides and unfinished state ("Bleeding Out Into The Blue"), but, as a whole, it's a bold enterprise. Lerche is a gifted artist with a sharp lyrical point of view and an exceptional voice. Pleasure  is an unexpected, atypical addition to his deep catalogue.
Pleasure was released on March 3 by PLZ.
Tour Dates:
03/03 Kick – Kristiansand, Norway
03/08 Munkehaugen – Arendal, Norway
03/09 Ælvespeilet – Porsgrunn, Norway
03/10 Energimølla – Kongsberg, Norway
03/11 Støperiet – Teie, Norway
03/15 Meieriet – Sogndal, Norway
03/17 Gregers – Hamar, Norway
03/18 Musikkflekken – Sandvika, Norway
03/24 Blå Grotte – Fredrikstad, Norway
03/25 Brygga Kultursal – Halden, Norway
03/29 Studentersamfunnet – As, Norway
03/31 Askim Kulturhus – Askim, Norway
04/12 Boston MA – The Sinclair
04/13 Hamden CT – The Ballroom at The Outer Space
04/14 Philadelphia PA – The Foundry at The Fillmore
04/15 New York City NY – Bowery Ballroom
04/17 Washington DC – U Street Music Hall
04/19 Detroit MI – Shelter
04/20 Toronto ON – The Garrison
04/21 Cleveland Heights OH – Grog Shop
04/22 Chicago IL – Lincoln Hall
04/23 Davenport IA – The Village Theatre
04/25 Minneapolis MN – 7th Street Entry
04/28 Vancouver BC – Biltmore Cabaret
04/29 Seattle WA – Columbia City Theater
04/30 Portland OR – Star Theater
05/02 San Francisco CA – The Independent
05/04 Los Angeles CA – Troubadour
05/05 Anaheim CA – The Parish at House of Blues
05/06 Phoenix AZ – The Crescent Ballroom
05/10 Austin TX – Antone's
05/11 Houston TX – White Oak Music Hall
05/12 Dallas TX – Club Dada
05/13 New Orleans LA – One Eyed Jacks