Published on March 3rd, 2017 in: Americana, Current Faves, Music, Music Reviews, Reviews |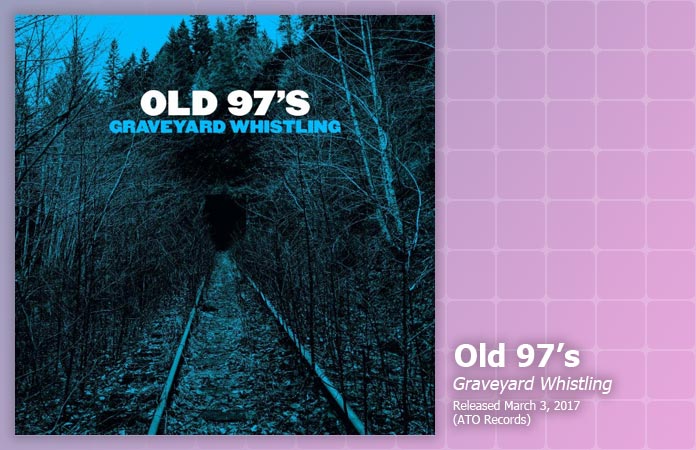 There's something enormously comforting about a new Old 97's album. You know what it will sound like: giant, resonant guitar, Rhett Miller's clever lyrics and busted yelp, a chugging beat. Songs to sing along with. There have been the barest of forays into other sorts of music, influences splashed on their otherwise perfect template, but if you can say one thing about Old 97's it is this: they are consistent.

Their newest album, Graveyard Whistling is not reinventing the wheel. It sounds precisely like an Old 97's album. In fact, it sounds like every other Old 97's album, and if you are an Old 97's fan, that's all you ask. No death metal; no ill-advised raps about bitches, money and weed; no polka tunes.
And for their 11th album, Old 97's are at, if not the  peak of their powers, certainly a peak. Graveyard Whistling wrestles with some heavy issues, namely mortality and spirituality, but even those things are cloaked in driving beats. The first single, "Good With God (Featuring Brandi Carlile)" is dark and ominous, with Miller's narrator hoping that he is "good with God" and Carlile, singing as the titular character, assures him that this is not the case. The flip side could be the hilarious "Jesus Loves You." It's not sacrilegious, it's sacrelicious. The age old question is asked, do you have to choose between Jesus or this guy with Lone Star in a can? It's clever and hysterical.
The opener, "I Don't Wanna Die In This Town" has a heavy urgency, with a relaxed, silkily seductive vocal from Miller (as well a fine rhyming of "here" and "mirror" which takes some skill). It chugs along darkly, with fine work from guitarist Ken Bethea, who supplies his trademark surf twang. The rhythm section of bassist Murry Hammond and drummer Phillip Peeples are as tight as ever.  On "All Who Wander," mournful pedal steel adds to the moody atmosphere. The track begins as a plaintive ballad before adding an arena sized, instantly hummable chorus.
It wouldn't be an Old 97's album without indelible characters and Graveyard Whistling  has them. The subject of "She Hates Everybody" sounds like a wonderful girl with a long list of people that she hates, and our narrator wonders when she'll turn on him. It's slyly charming. The protagonist of the raucous "Drinkin' Song" is someone we all know, you know the one who can't stay out of his own way? He's a mess, but his song is a wild ride with the best chorus: "Hell yes/hell yes/hell yes/ hell yes/right on/right on/right on." That fellow would like "Irish Whiskey Pretty Girls," a rowdy drinking song with shimmering fiddle and a Bakersfield beat. "Thank god for Irish whiskey / thank the devil for pretty girls" Miller sings raggedly. It's a big old rave up that falls into a jagged sing along; it's a song for the best bar you've ever been to that you can't quite remember where it was. The sweet, grin inducing, sing along closer, "Those Were The Days" is a perfect Old 97's song for now: we look back older and wiser to those days where we were young and fearless and stupid.
Don't ever change, Old 97s. It's a wonderful thing to know that you're out there, jangling through songs that are immediate classics, songs that are meant to be sung with an arm slung around a friend.
Graveyard Whistling was released by ATO Records on March 3.
Tour Dates:
3/2 – St. Petersburg, FL – The State Theatre
3/3 – Tallahassee, FL – Fifth and Thomas
3/4 – Atlanta, GA – Terminal West
3/21 – Seattle, WA – Neumos
3/22 – Portland, OR – Wonder Ballroom
3/23 – Eugene, OR – Wow Hall
3/24 – San Francisco, CA – The Fillmore
3/25 – San Luis Obispo, CA – The Fremont Theater
3/29 – Hermosa Beach, CA – Saint Rocke
3/30 – Los Angeles, CA – The Fonda Theatre
3/31 – Solana Beach, CA – Belly Up Tavern
4/1 – Big Bear Lake, CA – The Cave Big Bear
4/2 – Las Vegas, CA – Vinyl
4/5 – Scottsdale, AZ – Livewire
4/6 – Santa Fe, NM – Santa Fe Brewing Co
4/7 – Lubbock, TX – The Blue Light