Published on March 3rd, 2017 in: Americana, Country Music, Music, Music Reviews, Reviews, Singer/Songwriters |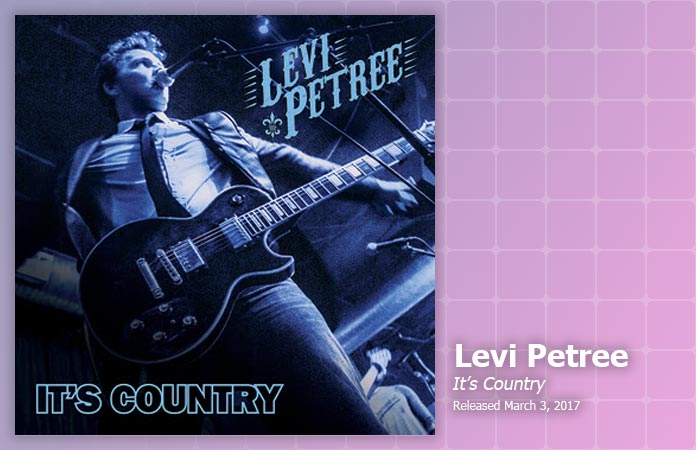 Levi Petree's debut album is called It's Country, but it isn't. It's a delicious melange of things that might fit neatly under the Americana umbrella: pastoral balladry, kick-ass stompers, folksy sunniness, and more than a little punk-rock snarl. They come together to make a debut that is strong and assured, with loads of personality.

Levi Petree is from Lafayette, Louisiana, and there's a hit of swampy garage rock that wanders through It's Country. The opener, "The Rapture" showcases Petree's gift for lyrics (the last verse is fantastic and shot through with humor) and opens in a strident, almost Proclaimers-like way. That swells into a barreling, swaggering rave up with soaring guitars and a great deal of appeal. Petree's lyrics on "What's It Gonna Take" are shattering. The song is about the theater shooting in his hometown, and he asks when is enough enough? When will change take place? How many more people have to die? It's heartfelt and moving and infuriating. The final line cuts right to the bone.
"Do What You Want" starts out sounding like the Sex Pistols, and becomes a pop-punky diatribe of one-sided friendship. It's got an early 1980s feel of the masters of confessional writing, like an early Elvis Costello without the angularity but with an earthy grit instead. It's deeply lovable and sounds like an instant classic. "Rockaway," too, feels classic. A sly charmer with accordion, it's an easy lope that bursts into a beautiful, Beatles-y technicolor stroll with utter sweetness.
It's Country is often a terribly fun album. "The Habanero Do-Si-Do"  is a witty and grungy story song, reminiscent of a Refreshments track. The punky closer, "Eyes So Blue" is a sing along that ends in a full on rave up of blistering vocals and giddiness. It's enormously fun.
Levi Petree's voice has a delightful timbre to it, and it's highlighted nicely on "Lover's Cove." It's a beauty of a ballad, lush and lovely, warm with sentiment. "Fight On" is both heavy and hopeful, lyrically, with bright guitar and a chugging beat. Petree's voice has the barest twang, and the sound of a singer unstuck in time; current and classic at the same time.
It's Country is one fine debut album. It firmly establishes Petree's world view and heart, as well as showing his versatility as a singer and songwriter. It's a Sunday morning album, but it's also a road trip album. It implores you to sing along, but it also wants you to just sit and listen. It's a good one.
It's Country was self-released on March 3.