Published on March 3rd, 2017 in: Current Faves, Music, Music Reviews, New Music, New Single, New Video |
By Tim Murr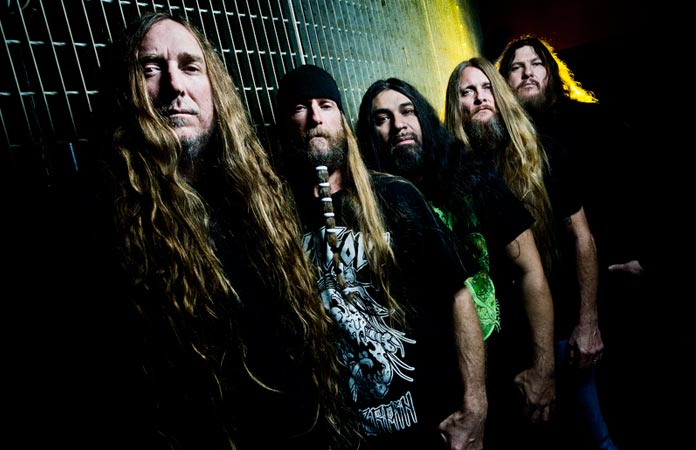 Photo © Ester Segerra
One of the original, biggest, and most significant death metal bands—Tampa, FL's Obituary—will release their latest album on March 17. The album is a follow-up to their 2013 release, Inked In Blood, their second release with Relapse Records. The band dropped the first single for the album, "Ten Thousand Ways To Die," back in October. It's a solid track, sure, but it almost pales in comparison to the rest of the album.

My primary memories of early Obituary were of their 1990 sophomore album Cause Of Death, which featured iconic Michael Whelan artwork  also used for an H.P. Lovecraft paperback collections) and the best music the genre had to offer. I also have great fondness for their third album, 1992's The End Complete, which I think was the stronger release. I didn't keep up with death metal as a genre, however; it just wasn't my thing. At that point in time, I was getting into punk and industrial and outside of Obituary and Sepultura I just wasn't finding much to love.
Jump ahead to now, and I was surprised to see a new Obituary album show up in my inbox so I played it right away. This isn't the same band; it's something even better. Obituary rips through ten tracks, only two of which break the four-minute mark. Musically, the group attacks the listener with technical proficiency and lightning-fast tempos. On the slower tracks like, "Lesson In Vengeance" and "Ten Thousand Ways To Die," they bring a '90s power metal vibe. The song writing is tight and the production is possibly the best on any of their albums.
For me, the stand out tracks are "Brave," "It Lives," and "Betrayed," but you won't be finding a throwaway track here. To be in the game more than 30 years on and release an album like this is rare. Hell, I'd rank it not too far behind Napalm Death's 2015 album Apex Predator-Easy Meat, which has been my favorite metal of the last five years or so. Obituary will be available on CD, vinyl, and digital on March 17. Be sure to check out the links after the tour dates.
There's also an official video for "Sentence Day" right here…
Tour Dates:
All dates with Kreator, Midnight, Horrendous
Mar 17: Charlotte, NC – Underground
Mar 18: Atlanta, GA – Masquerade
Mar 19: Tampa, FL – The Orpheum
Mar 21: Houston, TX – House of Blues
Mar 22: Dallas, TX – House of Blues
Mar 24: Phoenix, AZ – Club Red
Mar 25: Santa Ana, CA – Observatory
Mar 26: San Francisco, CA – The Fillmore
Mar 27: Portland, OR – Hawthorne Theater
Mar 28: Seattle, WA – Neptune
Mar 29: Vancouver, BC – Rickshaw Theater
Mar 31: Calgary, AB – MacEwan Ballroom
Apr 01: Edmonton, AB – Union Hall
Apr 04: Denver, CO – Summit Music Hall
Apr 06: Minneapolis, MN – Cabooze
Apr 07: Chicago, IL – House of Blues
Apr 08: Indianapolis, IN – The Vogue
Apr 09: Cleveland, OH – House of Blues
Apr 11: Toronto, ON – Opera House
Apr 12: Montreal, QC – Club Soda
Apr 13: Boston, MA – Paradise Rock Club
Apr 14: New York, NY – Irving Plaza
Apr 15: Philadelphia, PA – Theatre of the Living Arts
Jun 16-18: Clisson, FR – Hellfest 2017
Aug 4-6: Corroios, PRT – VOA Heavy Rock Fest
Aug 10-13: Derby, UK – BloodStock
Aug 16-19: Dinkelsbühl, GER – Summer Breeze 2017
Official links:
Official Obituary Website
Obituary on Facebook
Obituary on Twitter
Obituary on Instagram
Obituary on Bandcamp