Published on February 24th, 2017 in: Current Faves, Metal, Music, Music Reviews, Reviews |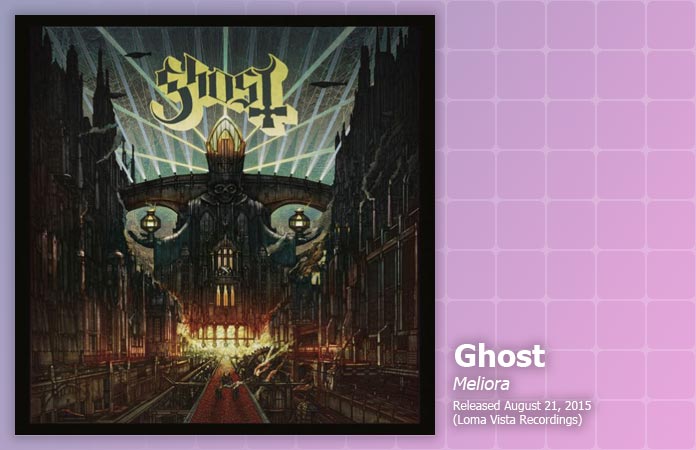 Forgive me, Papa Emeritus III, for I have sinned. Upon first hearing Ghost's latest album Meliora, I dismissed it as pedestrian and perhaps even representing a stumble backwards for you and your Nameless Ghouls. O how wrong I was! Additional time spent worshipping at its sooty, cloven hooves has revealed my mistake. It is indeed Glory Incarnate.
While Ghost's first album, the cleverly titled Opus Eponymous, introduced the world to the band's unique blend of Satanic lyrics, syrupy vocals, and sharp guitar solos, their "sophomore psalm," 2013's Infestissumam, showed that the band's brand of evil was evolving to include psychedelic-tinged organ music. Meliora reveals the full flower of what fans of Ghost have always suspected: they are as much of a hidden threat as any conjured by fundamentalist Christians. Their music might seem less obviously scary than heavyhitters from their death and black metal peers, but it's no less diabolical. The songs on Meliora are as catchy as Satanic Panic.
Opening tune "Spirit," devoted to the "Green Fairy" absinthe, includes a quote from an Edgar Allen Poe poem and Gothic, ghostly harmonies. Tracks like "From The Pinnacle To The Pit" (dig that monstrous bass riff!) and the sinister "Mummy Dust" have the power to induce the creeps, but there's a melancholy in the madness on Meliora. "Cirice" feels like a throwback to early 1980s metal at first, but alternates that quality with a romantic melody complete with tinkling piano and timpani. It's followed by the heartbreakingly beautiful harp solo of "Spöksonat," which leads into "He Is," a rapturous paean to The Infernal One that is both uplifting and downright poignant.
"Majesty" starts like a Deep Purple jam, but soon turns into straight-up prog rock, as if Rush had gone full Beelzebub back in the early 1980s, but with Roger Joseph Manning Jr. on vocals. "Devil Church" is the kind of organ music you'd hear in the place referenced in its title, while "Absolution" boasts a choir of dark angels, malevolent metal guitar crunch, and gleefully grim lyrics as Papa Emeritus III alternates between a hellish hiss and sublime, soaring vocals. "Deus In Absentia" provides a gorgeous end to Meliora's grandeur, complete with Gregorian chant-like vocals.
There may still be unbelievers out there, those who criticize Ghost for being all shtick and no substance, a band who relies on the visual trickery of corpsepaint, costumes, and masks to conceal the fact that these emperors of the underworld wear no clothes. Oh, that way madness lies! Baudelaire once said, "The finest trick of the devil is to persuade you that he does not exist." When you find the songs on Meliora trapped in your skull and catch yourself singing lyrics like "The world is on fire / and you are here to stay and burn with me" out loud, you will realize it's too late: you've already been seduced by their Satanic spell.
This review was originally published on Dirge Magazine.