Published on February 17th, 2017 in: Current Faves, Music, Music Reviews, Reviews |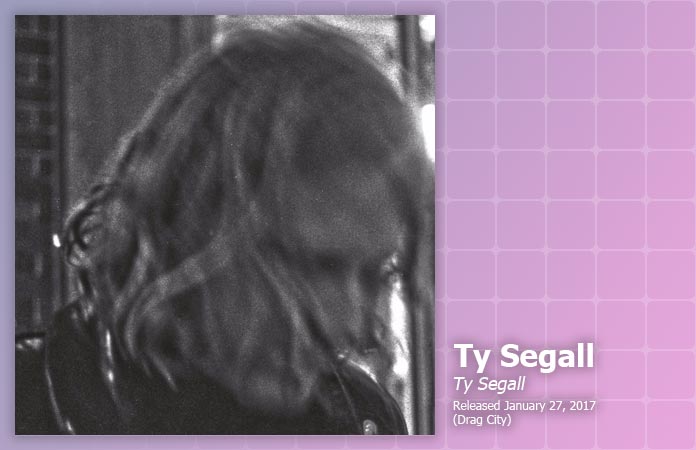 Now I see clear and have no fear / I know what I must do
—Ty Segall, "Warm Hands (Freedom Returned)"
There's no such thing as a typical Ty Segall release. The singer/songwriter/musician extraordinaire has often explained that every time he tackles a new album, he does so from a totally different starting point than the previous one. This would explain why 2014's Manipulator sounds very different from last year's Emotional Mugger, or how Sleeper was probably not the follow up to Twins that everyone expected.

Ty Segall has ditched the jittery veneer of Emotional Mugger along with "backing band" The Muggers and given us a somewhat more stripped-down, self-titled album. Still, there are hooks galore, jammy solos, gorgeous harmonies, punk rock flourishes, deceptively nonsensical lyrics, and self-reflexive bits of humor. Ty Segall even covers his own song.
"Talkin'" is a reworking of Emotional Mugger's "Mandy Cream," here transformed into a country-rock flavored number with slightly different lyrics. But the point is the same: trash talk is just the projection of one's own insecurity. While Segall doesn't get overtly political in his music (though he clearly has opinions on the current clusterfuck that is US politics), a song about projection is about as relevant as it gets, not to mention a "message" that bears repeating.
In addition to singing about hair (a continuing theme in Segall's music) and freedom, there are also a few references to fame ("I want you to be a big star" from "Break a Guitar" and "He can show you how to be famous" from "Warm Hands (Freedom Returned)"). Segall's lyrics are frequently as inscrutable as they are fascinating, and the songs here are no exception, which makes the straightforward simplicity of "Papers" seem like a charming anachronism ("But my papers they depend on tape/I stuck them to the wall") paired with an outstanding melody.
Although Segall has always been influenced by Bowie and T. Rex (as his last two albums have proved, in addition to that Ty Rex stuff), he seems to treat the output of the two musicians as genres of their own, ones to which he continues to contribute with his own music. "Orange Color Queen" is perhaps the peak of Segall's T. Rexstacy. It's a gorgeous love song, something many might not associate with his music, but which he handles exquisitely.
The most beautiful track on Ty Segall, however, is undoubtedly "Take Care (To Comb Your Hair)." Unlike Emotional Mugger, Segall's vocals throughout this album are free of distortion and heightened affectation; this song features one of his most poignant performances ever and reminds us that yes, his voice really is that good.
The Grammys aired earlier this week, accompanied by the airing of grievances from people complaining that most new music is terrible. Yet this would imply that they've heard everything new music has to offer, a near impossibility when so much of it isn't featured on the Grammys, mainstream radio, or the GoodLife Gym playlist. Such sweeping generalizations make it difficult to reconcile the term "popular music" with all those bands that are quite popular even if they aren't big enough hitmakers to be recognized by The Recording Academy. Ty Segall exists in that nebulous realm for now, but could he, like Beck or Jack White, eventually parlay indie-rock popularity to mainstream recognition?
A couple of reviewers have noted the "greatest hits" nature of the new album with one calling the album a "perfect introduction to his vast discography." Ty Segall might well be the album that finally makes the uninitiated sit up and take notice of his remarkable talents.
Ty Segall was released on January 27, 2016 via Drag City.
Tour Dates:
Mon. Feb. 27 – Oakland, CA @ Fox Theater
Wed. March 1 – Portland, OR @ Aladdin Theater
Thu. March 2 – Seattle, WA @ Neumos
Fri. March 3 – Seattle, WA @ Neumos
Mon. May 8 – Albuquerque, NM @ Sister Bar
Wed. May 10 – Tulsa, OK @ Cain's Ballroom
Thu. May 11 – Indianapolis, IN @ Irving Theater
Sat. May 13 – Chicago, IL @ Metro
Sun. May 14 – Chicago, IL @ Thalia Hall
Wed. May 17 – Brooklyn, NY @ Warsaw
Thu. May 18 – Brooklyn, NY @ Warsaw
Fri. May 19 – Brooklyn, NY @ Warsaw
Sat. May 20 – Philadelphia, PA @ Trocadero Theater
Sun. May 21 – Pittsburgh, PA @ Mr. Small's Theater
Mon. May 22 – Louisville, KY @ Headliner's Music Hall
Thu. May 25 – Nashville, TN @ Mercy Lounge
Fri. May 26 – New Orleans, LA @ One Eyed Jack's
Sat. May 27 – Austin, TX @ Stubb's Waller Creek Amphitheatre
Mon. May 29 – Phoenix, AZ @ The Pressroom
Thu. Aug. 3 – Sun. Aug. 6 – Happy Valley, OR @ Pickathon
Fri. Aug. 18 – Biddinghuizen, NE @ Lowlands Festival
Thu. Aug. 24 – Berlin, DE @ Astra
Thu. Aug. 31 – Miranda De Ebro, ES @ Ebrovisión Festival