Published on February 10th, 2017 in: Culture Shock, Current Faves, Music, Music Reviews, Reviews |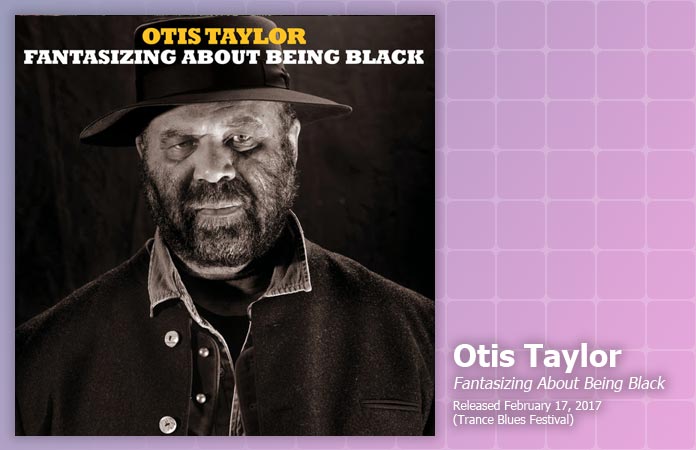 "After 15 albums, i've taken all of my thoughts about the history of racial injustice and created a musical interpretation for modern times," says trance blues artist Otis Taylor. His latest, Fantasizing About Being Black is shattering and thought-provoking. By looking backwards, Otis Taylor has made an album that is unfortunately still prescient.

"Haunting" is the word that I kept coming back to while listening to Fantasizing About Being Black. The tracks are spare, telling stories with evocative, repetitive lyrics; lyrics that are not explicit in their meanings, trusting the listener to fill things in. It's stark, moving, and traces the black experience in America and the attendant horrors. Otis Taylor has made an unflinching and honest album that is mesmerizing and crushing, and one that bears close attention in our current climate.
Each song is thought provoking and timely. It's a wrenching experience. The quietly roiling "Banjo Bam Bam" is a shattering story of an African-American slave in shackles, losing his mind, and pleading "Let me go." It's visceral, propelled by Taylor's banjo, and overwhelming. A companion piece could be the stunning "D To E Blues," a perfectly spare, utterly intimate yearn for freedom. Anne Harris supplies whipsaw violin that slices through the quiet. The mesmerizing blues of "Jump Out Of Line" tells the story of Civil Rights marchers ("Got a sign for freedom") who don't want to get out of line because they may be brutalized. Taylor's voice is a velvety emotive husk.
Taylor has reinterpreted some of his previous material for  Fantasizing About Being Black. "Twelve String Mile," a meditation on the invisibility of the black man in the 1930s, is hypnotic. Everything changes and nothing changes, and the big man with the dark skin is unseen. The viscerally propulsive "Walk On Water" feels ancient and lived in. The immersive "Jump Jelly Belly" is based on the recollections of Retired General Jack Watson in WWII, leading a battalion of African-American troops tasked with unloading cargo on the open seas. It's funky and driving with a hypnotic beat and hushed cornet.  The gritty psychedelia of "Hands On Your Stomach" is driven by swirling guitar from Brandon Niederauer, and the story—of a slave who will not have her mind controlled—unspools organically and with care.
Fantasizing About Being Black is affecting and moving. The stories told are evocative, like the deeply poignant "Jump To Mexico," a heartbreaking ballad of a man leaving the country because he knows he will be killed if he stays in his interracial relationship. Jerry Douglas peppers it with gorgeous slide guitar. "Roll Down The Hill," with its dreamlike guitar lick, is fierce; he'll get pushed down, he'll get back up, and he might come back with a stick in his hand.
Fantasizing About Being Black  is an important album. At this unsettled time, Otis Taylor has made an album that speaks truths that are uncomfortable, wrapped in engaging, glorious trance blues. It's uncompromising and unflinching in its honesty. Fantasizing About Being Black  is not to be missed.
Fantasizing About Being Black will be released on February 17 by Trance Blues Festival.