Published on February 10th, 2017 in: Current Faves, Music, Music Reviews, Reissues, Retrovirus, Reviews |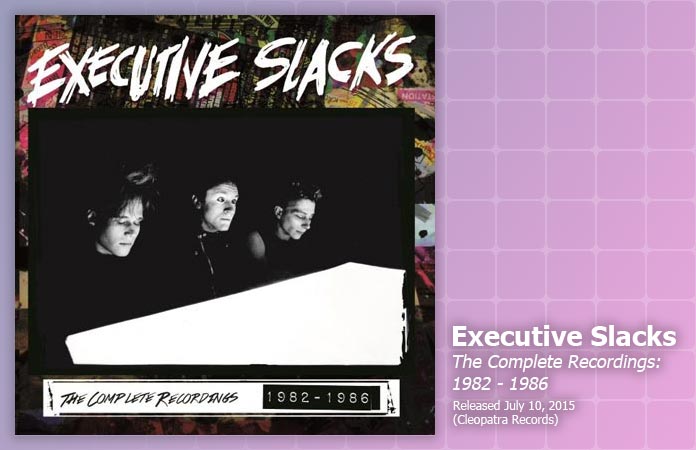 Fans of industrial music have likely heard all the heavy-hitters already: Throbbing Gristle, Test Dept., Einstürzende Neubauten, Cabaret Voltaire, Skinny Puppy, and beyond. Last year, Dark Entries re-released the eponymous debut EP from Philadelphia's Executive Slacks, who are rarely mentioned in the same breath as those other seminal bands, if they are mentioned at all. Originally released in 1983 on Red Records, the release was an appetizer that contained just four songs.

Now Cleopatra Records has served up a multi-course meal in a new two-disc set from Executive Slacks. Called Complete Recordings, it spans only four years (1982 – 1986), but includes 36 tracks. From the nervy new wave of "Cinema" to the band's rousing cover of Gary Glitter's "Rock and Roll," it's all in here.
The original trio of Executive Slacks—Albert Ganss, Matt Marello and John Young—connected as fellow art students in the early 1980s. After a tour for their first LP, Nausea (produced by Youth of Killing Joke), Ganss left the band and was replaced by percussionist Bobbie Rae. A potential deal with Warner Bros. in the wake of their 1986 Fire & Ice album caused singer and guitarist Marello to worry that things were becoming more business than pleasure and he left, too. Young soon hired Athan Maroulis as the new frontman, but the band broke up for good in 1990.
The experimental style of Executive Slacks had already fully flowered by the time of their first recordings and this is apparent in the repetitive, nervy music and cheeky lyrics of opening track "The Bus":
Thank you! For pretending an itch.
Now I can be in my own space,
And ignore everyone else.
Oh no! Our legs are touching,
Touching on the bus.
It's hard to resist the dark allure of song titles like "So Mote It Be" and "Sexual Witchcraft," but they both take themselves less seriously—both musically and lyrically—than one might imagine, with spoken and shouted words over a driving beat, interspersed with spiky guitars. "Our Lady" sounds far more like what would come to be known as industrial, with heavy percussion and guitar, along with piercing synths, not to mention Marcello's gruff vocals. The same goes for the throbbing bass in "I'm Coming," a song which should have been blasting in dance clubs everywhere back then.
"In and Out" is the first track from the Nausea album, released in 1985, and represents a huge progression for Executive Slacks. It features the distorted snippet of a sample from the guitar in Led Zeppelin's "Whole Lotta Love" and a break beat that pushes it closer to hip hop territory than pure industrial. With the triple assault of guitars, synths, and Marcello's vocals, not to mention drum machines and straight-up scratching, it comes far closer to pioneer JG Thirlwell's (Foetus) "Today I Started Slogging Again," which came out just a few years prior.
While industrial music is often defined by its percussion, the double drums in both "Nausea" and "Maggot" are a real standout, recalling the Burundi style utilized by Adam and the Ants. It's easy to understand why Youth became enamored with Executive Slacks; they would have made a fantastic double bill with Killing Joke.
The haunting vocals of "Smoking Man" bring things down to a low roar of discontent, while "Electric Blues" and "Fire & Ice" prefigure Jesus and Mary Chain's late '90s output. "Ecce Homo sounds like early Siouxsie and the Banshees, with its John McGeoch guitar line, while the acoustic guitars in instrumental track "Cold" feel like late-period Bauhaus. None of this is meant to imply that Executive Slacks were ripping off anyone; on the contrary, they firmly established a sound that was informed by their peers but would undoubtedly influence future musicians.
Two good examples of this are "Wide Fields" and "Solemn Dilemma," in which one can hear the seeds of Ministry and even Nine Inch Nails. Both can be found on 1986's Fire & Ice, which was the closest Executive Slacks ever got to breaking through into the mainstream. The album received much college radio play and the band's aforementioned cover of "Rock and Roll" was included in an episode of Miami Vice. Fire & Ice also includes "Lower," a quasi-Skinny Puppy dip into Barry White territory and the incredible "Say It Isn't So," which, in a fair and just universe, should have been a massive hit. Marcello stretches his vocal range into falsetto territory here, accompanied by a spectral keyboard melody, and a genuinely catchy guitar hook.
Complete Recordings also includes four outstanding live tracks recorded in Hamburg in 1985, which prove that Executive Slacks was not just a studio concoction.
I discovered what was then called "alternative" music in 1985 via local college radio station WTUL New Orleans. Between WTUL, Night Flight, and MTV, I was exposed to many different genres, sub-genres, and sub-sub-genres of music that weren't played on mainstream radio, music that was difficult to find in most record stores. I don't remember hearing Executive Slacks back then, nor do they appear on any of the dozens of tapes I recorded from WTUL, which is why this release is so exciting and essential. Hopefully Complete Recordings will provide them with the accolades they deserve, no matter how long overdue.
Complete Recordings 1982-1986 was released by Cleopatra Records on July 10, 2015 and is available on Amazon.
This review was originally published on Dirge Magazine.