Published on February 3rd, 2017 in: Let Us Now Praise Noise, Music, New Music, Video |
By Tim Murr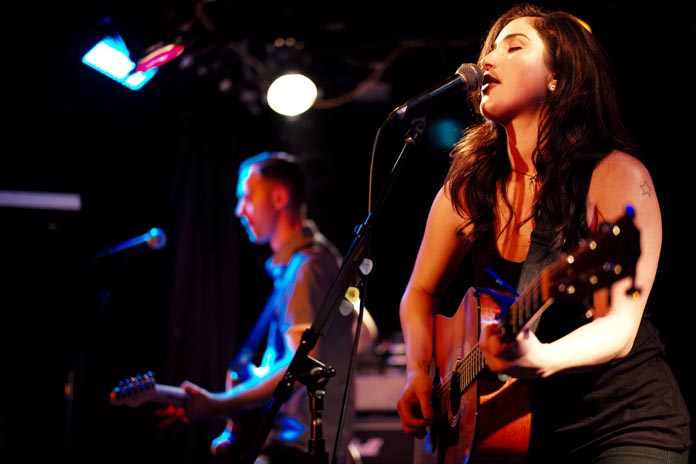 Jade Jackson © Andrew Stuart
Jade Jackson "Motorcycle," (Anti- Records)
Over at The Bluegrass Situation you'll find the video for the debut single from Americana artist Jade Jackson. The song, "Motorcycle," is the lead track from the forthcoming album produced by Social Distortion's Mike Ness. "Motorcycle" is scrappy but soft-spoken and feels like a dusty western noir. I'm really looking forward to this album; if "Motorcycle" is any indication Jackson will be an artist to watch in 2017.
Overkill, The Grinding Wheel (Nuclear Blast Records)
Thrash veterans Overkill return on February 10 with The Grinding Wheel. The first single, "Our Finest Hour," is exactly what you want/expect from Overkill, which is lightning-fast, squealing-tires-on-pavement, aggressive, and confrontational classic thrash metal. You can check out "Our Finest Hour" below. The album is currently up for pre-order on digital, digi-pak, CD, and vinyl. The vinyl comes in four variants; black, yellow, green, and splatter. You can pre-order from Nuclear Blast Records.
Mastodon, "Sultan's Curse"
In keeping with the "coming soon" theme of the day, Mastodon released their first single for their March 31 album Emperor Of Sand a few days ago and you can preview it on Loudwire. It's called "Sultan's Curse" and sounds like the Mastodon we all know and love. I'll admit that nothing the group has done since Leviathan has exactly thrilled me as much as their metal adaptation of Moby Dick, but that hasn't stopped me from being excited every time a new album is announced. In addition to the video in the link, Loudwire also has some info on the album itself. Spoiler alert: it sounds pretty great.
Iron Maiden brings The Book of Souls Tour back to North America
Maiden remains one of the best live bands ever. Their heavy and ambitious Book Of Souls album is a highlight of their nearly four-decade career and with their latest tour they promise to bring back all the Eddies. I saw them a couple years ago with Alice Cooper (who also still knows how to put on a hell of a show) and it was a blast! It's absolutely worth the experience. (And Ghost is opening!—Ed.)
JUN 03: BRISTOW, VA; JIFFY LUBE LIVE;
JUN 04: PHILADELPHIA, PA; WELLS FARGO CENTER
JUN 07: NEWARK, NJ; PRUDENTIAL CENTER
JUN 09: CHARLOTTE, NC; PNC MUSIC PAVILION:
JUN 11: TAMPA, FL; AMALIE ARENA
JUN 13: NASHVILLE, TN; BRIDGESTONE ARENA
JUN 15: CHICAGO, IL; HOLLYWOOD CASINO AMPHITHEATER
JUN 16: MINNEAPOLIS, MN; XCEL ENERGY CENTER
JUN 19: OKLAHOMA CITY, OK; CHESAPEAKE ARENA
JUN 21: HOUSTON, TX; TOYOTA CENTER
JUN 23: DALLAS, TX; AMERICAN AIRLINES CENTER
JUN 24: SAN ANTONIO, TX; AT&T CENTER
JUN 27: ALBUQUERQUE, NM; ISLETA AMPHITHEATER
JUN 28: PHOENIX, AZ; TALKING STICK RESORT ARENA
JUL 01: SAN BERNARDINO, CA; GLEN HELEN AMPHITHEATER*
JUL 03: LAS VEGAS, NV; T-MOBILE ARENA
JUL 05: OAKLAND, CA; ORACLE ARENA
JUL 07: SALT LAKE CITY, UT; USANA AMPHITHEATER
JUL 09: LINCOLN, NE; PINNACLE BANK ARENA
JUL 11: KANSAS CITY, MO; SPRINT CENTER
JUL 12: ST LOUIS, MO; HOLLYWOOD CASINO AMPHITHEATER
JUL 15: TORONTO, CANADAvBUDWEISER STAGE
JUL 16: QUEBEC CITY, CANADAvVIDEOTRON CENTRE
JUL 19: MANSFIELD, MA; XFINITY CENTER
JUL 21: BROOKLYN, NY; BARCLAYS CENTER