Published on January 31st, 2017 in: Current Faves, Music, Music Reviews, Reviews |
By Tim Murr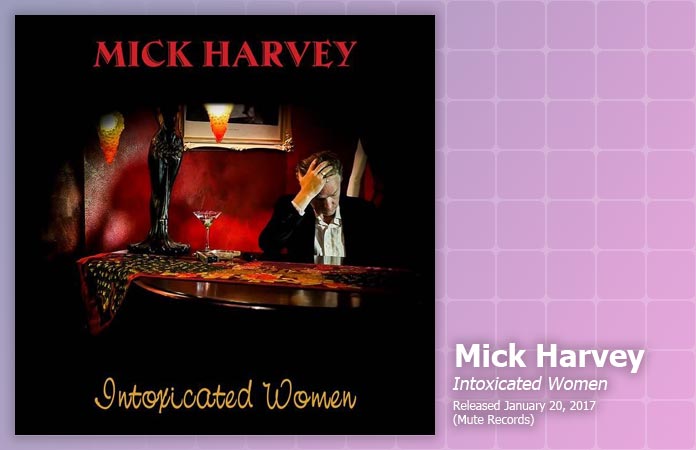 Multi-instrumentalist and songwriter Mick Harvey will likely be best known as Nick Cave's longtime collaborator, from their first 1band The Boys Next Door, to the Birthday Party, to Nick Cave And The Bad Seeds. Harvey worked with Cave for 36 years, but he's also had a distinguished solo career in his own right with Crime And The City Solution, The Wallbangers, and under his own name. It seems whatever Harvey has touched has been at the very least a fascinating addition to the annals of rock and roll.

Harvey has released his last collection of translated Serge Gainsbourg covers, called Intoxicated Women. This is a project Harvey began back in 1995 with the deliriously delicious Intoxicated Man. It's an album that sounded like nothing else at the time and is a great amount of fun to listen to, as was the follow up, Pink Elephants.
Serge Gainsbourg was a true renaissance man and a towering figure in French popular culture (as well as Charlotte Gainsbourg's dad). Gainsbourg never gained the kind of exposure in the States that he so readily deserved, because his songs were sung in his native tongue, which makes Harvey's translations all the more important. Gainsbourg was also a controversial figure who went through many professional and personal highs and lows. He passed away in 1991 from a heart attack at the age of 63.
The songs on Intoxicated Womenare an emotional mixed bag, lush, sensual, and easy to get lost in. Harvey is joined on the album by Andrea Schroeder, Jess Rebeiro, Xanthe Waite, Lindelle-Jayne Spruyt, Sophia Brous, Solomon Harvey, and Channthy Kak.
Intoxicated Women was released by Mute Records on January 20. You can stream the album on Spotify and order a copy from Mute Records. While there doesn't seem to be an official video for this album there is one for "Deadly Tedium" from the third volume of Gainsbourg songs called Delirium Tremens.