Published on January 19th, 2017 in: Current Faves, Music, Music Reviews, Reviews |
By Tyler Hodg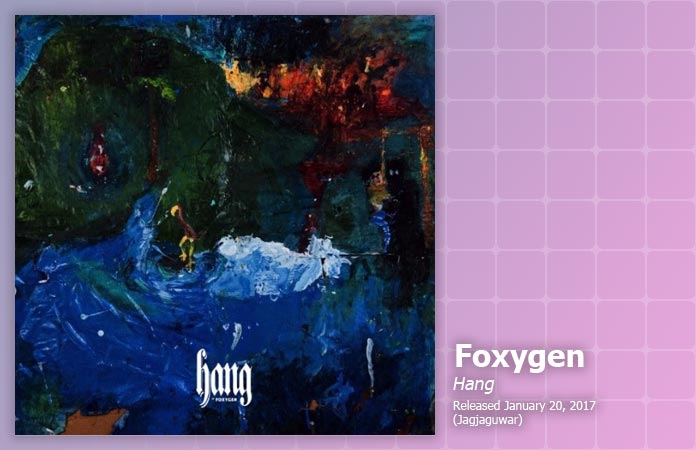 If ELO, ABBA, and the Rolling Stones had a baby, it would be Foxygen, but don't believe that they are any sort of rip-off. The duo's latest effort, Hang, is a symphonic powerhouse that not only borrows from music of yesteryear, but also delivers a sense of authenticity and originality that only comes around so often. With a 40-piece orchestra accompanying all eight (typically) upbeat tracks, Foxygen has released one of the most fearless and valiant records in recent times.
The album opens with "Follow the Leader," a soulful track with a mesmerizing groove. The orchestration is bright and shiny, while the drum and bass combo relentlessly pushes the song in a forward motion. In the closing moments, a heavy brass sound breaks through, making an already full-sounding track sound and feel larger than life.
While "Follow the Leader" sets the record's tone early on, that doesn't mean it stays on a set path. In fact, the second song, "Avalon," includes a ragtime intro that bursts into a sing-a-long that will be stuck in your head whether you want it to be or not. Hang once again changes with subsequent tracks such as the ballad-esque "Mrs. Adams" and the unorthodox composition of "America," and continues the trend of reinvention until the last note of the last song, "Rise Up."
There are quite a few factors that make Hang spellbinding. When played in sequence, it has a natural progression, and at the same time, the songs themselves have no set pattern. To successfully pull off one of these feats is impressive;, accomplishing both is an utter rarity. While some listeners may have favorites, no track sticks out like a sore thumb, especially when the record is listened to from start to finish – which is, arguably, the proper way to experience it.
Foxygen is sure to win a lot of people over with Hang. (And I mean a lot.) It's audibly soothing even when it has a harder edge, and is accessible enough for any music lover. Because it doesn't stick to a certain formula and goes places other records don't, Foxygen's Hang is an early contender for record of the year.
Hang will be released on January 20 from Jagjaguwar.
Tour Dates:
Wed. Feb. 22 – Amsterdam, NL @ Paradiso
Thu. Feb. 23 – Berlin, DE @ Columbia Theater
Fri. Feb. 24 – Brussels, BE @ Orangerie
Sat. Feb. 25 – Paris, FR @ Le Trabendo
Mon. Feb. 27 – London, UK @ Koko
Sat. March 18 – Mexico City, MX @ Vive Latino
Sun. March 19 – Mexico, MX @ Vive Latino
Tue. Mar. 21 – Richmond, VA @ The National
Wed. Mar. 22 – Washington, DC @ 9:30 Club
Fri. Mar. 24 – New York, NY @ Terminal 5
Sat. Mar. 25 – Boston, MA @ The Paradise
Sun. Mar. 26 – Philadelphia, PA @ Union Transfer
Tue. Mar. 28 – Toronto, ON @ Opera House
Thu. Mar. 30 – Columbus, OH @ Newport Music Hall
Fri. Mar. 31 – Chicago, IL @ Vic Theatre
Sat. Apr. 1 – Madison, WI @ Majestic Theatre
Sun. Apr. 2 – Minneapolis, MN @ First Ave
Tue. Apr. 4 – Denver, CO @ Gothic Theatre
Wed. Apr. 5 – Salt Lake City, UT @ The State Room
Fri. Apr. 7 – San Francisco, CA @ The Independent
Sat. Apr. 8 – Los Angeles, CA @ The Fonda
Sun. Apr. 9 – Santa Ana, CA @ The Observatory
Tue. Apr. 11 – Phoenix, AZ @ Crescent Ballroom
Thu. Apr. 13 – Dallas, TX @ Trees
Fri. Apr. 14 – Austin, TX @ The Mohawk
Sat. Apr. 15 – Houston, TX @ White Oak Music Hall
Mon. Apr. 17 – New Orleans, LA @ One Eyed Jacks
Tue. Apr. 18 – Atlanta, GA @ Terminal West
Wed. Apr. 19 – Asheville, NC @ Orange Peel
Thu. Apr. 20 – Carrboro, NC @ Cat's Cradle
Fri. July 14-Sun. July 16 – Louisville, KY @ Forecastle
Fri. July 28 – New York, NY @ Panorama