Published on January 17th, 2017 in: Let Us Now Praise Noise, Movies, Music, New Music, Trailers, Video |
By Tim Murr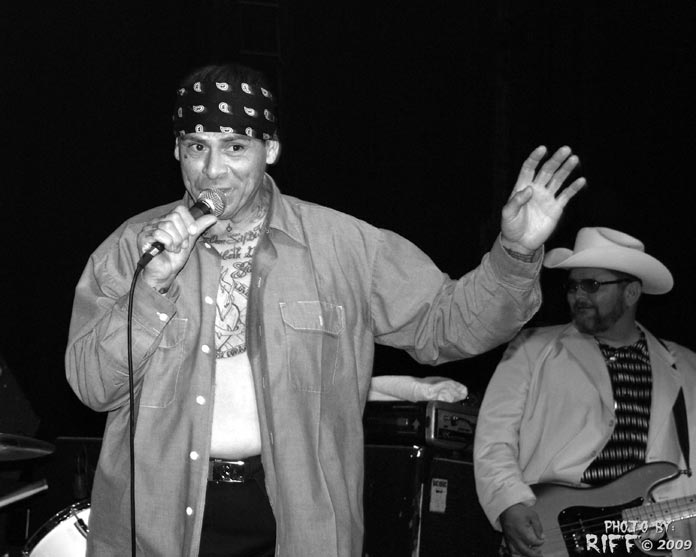 Gabby Gaborno; Photo © Riff55
Dark Palms, Smoke (Bandcamp)
The Pacific Northwest's Dark Palms return with a four-song EP that expands the group's sound in fantastic ways. Smoke opens with a title track that sounds like Black Sabbath by way of Hüsker Dü with a Funhouse Stooges digression. "Heroes" has a push and pull rhythmic thing going, almost as if the song is fighting against being buried alive. "Salton Sea" is more of a straight-forward rocker, like it could have been on the band's previous release, Hoxbar Ghost Town, but there's an aged quality to it, like a hot rod running against a desert wind.
The album closes with "Margarita And The Master" which borrows its title from the Mikhail Bulgakov novel about the Devil visiting the atheistic Russia. I haven't read the book, so I can't comment on the lyrics and if they actually reference the novel, but the song conjures an interesting notion. All four tracks are damn good and Smoke is a great companion to the group's debut from last year.
Werewolves In Siberia, Transcontinental Road Race (Bandcamp)
Ah, Werewolves In Siberia, one of the most kick-ass synth-wave projects out there… This album hits Bandcamp today to coincide with the release of Death Race 2050. You get three tracks: the title track, plus two versions of "Frankenstein, The Indestructible," one with a sample from the original film and one without. The trailer looks like a direct sequel to Roger Corman's original Death Race 2000, and it looks fucking awesome. The EP is pretty great itself, as one would expect from WiS.
RIP Gabby Gaborno
A while ago during my hiatus from Popshifter, Gabby Gaborno, lead singer of the Cadillac Tramps and Manic Hispanic, passed away after years of struggling with health problems. He was a great singer and frontman and both bands are well worth your time to seek out if you're unfamiliar with them. From interviews I've read Gabby seemed like a really cool, nice guy. My heart goes out to his family and friends.