Published on January 10th, 2017 in: Blu-Ray, Current Faves, DVD/Blu-Ray Reviews, Horror, Movie Reviews, Movies, Reissues, Retrovirus, Reviews |
By Tim Murr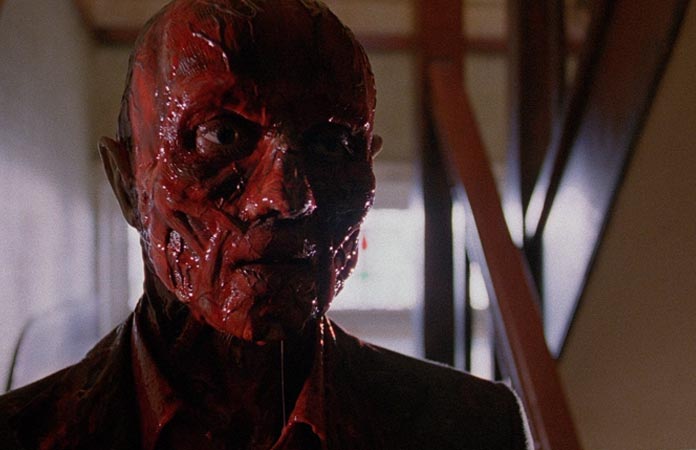 "The box. You opened it. We came. Now you must come with us, taste our pleasures."
Those iconic words spoken by Pinhead in the directorial debut of Clive Barker are still chilling nearly 30 years after they were first heard. The film Hellraiser, based on Barker's own novella The Hellbound Heart, is a harrowing, shocking, graphic slab of supernatural erotic body horror. It divided critics and thrilled horror aficionados and launched a franchise that still, for better or worse, survives today, not to mention the various comic book series and tie-in books from Barker and several others that continue to be published in regular intervals.

Hellraiser is a landmark film, made by an author who had suffered through two disappointing adaptations of his work. So he insisted that he would make the next one himself. It's hard to imagine another director that could have brought such a story to life.
Barker is a bit of a Renaissance man: author, painter, director, and photographer. He's has a restless mind and a seemingly limitless imagination. His work has branched off into several different directions, but in 1986 when production began on Hellraiser, he was firmly entrenched as a horror guy. More than that, Stephen King had proclaimed him the future of horror. This was no small praise and no small amount of pressure to lie on a man's shoulders, particularly when it came from the guy who penned The Shining, Carrie, Pet Semetary, and It.
Frank Cotton is a man in search of ultimate pleasure; he's a sex fiend who seduced his brother's wife. In Morocco, he purchases a mysterious puzzle box (called the Lament Configuration or Lemarchand's Box, but we aren't given that much information in the first two films) and takes it home. Obviously there is something special he's expecting with the solving of the box, but Barker keeps everything vague, which is smart, because it makes the shock of what comes next all the more frightening.
Once the box is opened, Frank is ripped apart and four strange figures appear to survey the human carnage. They are dressed in S&M black leather, with various mutilations to their bodies. They are the Cenobites. They are there, then they are gone.
Sometime later Frank's brother Larry (Andrew Robinson) and his wife Julia (Clare Higgins) arrive to take ownership of the house, unaware of what had become of Frank (as the carnage was supernaturally cleaned by the Cenobites). As the couple is moving in, Kirsty (Ashley Laurence), Larry's daughter from a previous marriage, arrives and we see there's tension between her and stepmother Julia. It doesn't help that Julia is being tortured by memories of her brief, but intense affair with Frank. She's even being drawn to the room where Frank died. And that's where she is, lost in thought, when Larry bursts in with a nasty cut on his hand, dripping blood all over the floorboards.
The blood, we see, begins a horrific process: Frank's slow and painful (not to mention gut-churning) resurrection. Barker unflinchingly treats us to Frank's reverse decay. It's the blood that brought him back, but only as far as a skeleton with some meat. He's going to need more and he'll need Julia's help to get it.
There are more than a few problems with that plan though. He wasn't just resurrected, but he also escaped the Cenobites and once they realized, there would be hell to pay.
Despite what the posters and VHS/DVD box art would lead you to believe, Hellraiser is not about Pinhead and the Cenobites, in fact, they are barely in the film at all. It's about the dark love story between Frank and Julia, with Kirsty and Larry caught in the middle. It's about the frayed edges of reality and the lengths a person will go to fulfill their most sinister desires. Kinky and compelling, disgusting and enthralling, Hellraiser was peerless within the horror genre.
Dimension Films wanted their own A Nightmare On Elm Street and thought they found it in Hellraiser, but the movie and it's ensuing sequels were nothing like the slasher films of the era. It actually had more in common with the thinking man's horror of David Cronenberg. This is not meant to disparage other horror films as dumb, but by 1987 the big slasher franchises were settling into a by-the-numbers approach and weren't lifting horror into loftier heights the way Barker, Cronenberg, John Carpenter, and a few other visionaries like Brian Yuzna and Stuart Gordon were doing.
Happy with the finished film, the reception, and box office take, Dimension was committed to a Hellraiser sequel. Julia was the real villain of the first film and Dimension saw her as its Freddy Krueger, a role Higgins was uninterested in, but everyone knew what the public wanted and that was more Cenobites. So for Hellbound: Hellraiser II, the roles of Pinhead (Doug Bradley), Female (Grace Kirby in part 1/Barbie Wilde in Part 2), Butterball (Simon Bamford), and Chatterer (Nicholas Vince) were expanded.
Hellbound does exactly what a good sequel should do: honor the original while expanding and deepening the lore. It starts only hours after part one with Kirsty waking up in the Channard Institute (a mental hospital) while the police investigate the gruesome scene at her father's house. We are introduced to doctors Philip Channard (Kenneth Cranham) and Kyle MacRae (William Hope). It would be hard to divulge much of the plot without spoiling part one for those who haven't seen it, so I'll say this: Hellbound is epic, operatic, gory, scary and one of the finest horror films I've ever seen. Screenwriter Peter Atkins and director Tony Randel do a superb job creating a sequel that can stand shoulder to shoulder with the original.
The same can't be said for part three, Hell On Earth. The problem starts with the simple fact that Dimension had, since the beginning, wanted their own Nightmare. Well, that's just not what Hellraiser is. Pinhead gets uncomfortably shoehorned into the Freddy role, and while Doug Bradley is excellent, when I first watched this one I hated it. I held quite a grudge against it for years until two years ago when I binge-watched the whole franchise with my wife.
I have very different feelings about Hell On Earth these days and now believe that it's been unfairly maligned. No, it's not nearly as good as one or two, but it is still a worthy sequel and along with part four (not included here), it helps form a good frame for the events in one and two, before the franchise heads off in a slightly different direction in part five.
The extras in this box set are exciting on paper, but become daunting upon actually trying to watch all of it. Although most people probably won't try to cram a half a day worth of content in a short amount of time to try and reach an editorial deadline. I mean, just scroll ahead and check out the list of goodies you get with this set.
It's just a staggering amount of content, lovingly assembled and packaged in a gorgeous displayable box. That's above and beyond even for Arrow who almost always go above and beyond on their releases. This is hands down 2016's best release. Yes, it was available previously in the UK, but due to region rights issues wasn't available in the US until mid-December.
If anything, what I think this set does is really high light the "otherness" of Hellraiser as a horror film franchise. It's not like Friday the 13th or Halloween or Texas Chainsaw Massacre. Thirty years on, Hellraiser is still a force of nature as a cinematic experience. It's a real work of art that, like the Lament Configuration, is not to be taken lightly.
Hellraiser: The Scarlet Box Limited Edition Trilogy was released by Arrow Video on December 16, 2016.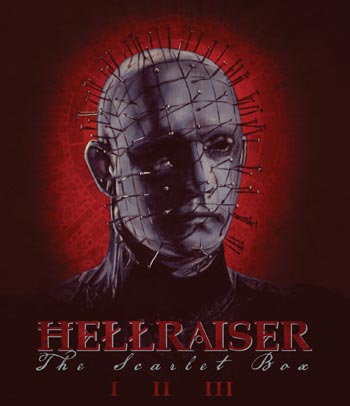 Four-Disc Limited Edition Contents
Brand new 2K restorations of Hellraiser, Hellbound: Hellraiser II, and Hellraiser III: Hell on Earth
Uncompressed PCM Stereo 2.0 and Lossless DTS-HD MA 5.1 sound for Hellraiser and Hellbound: Hellraiser II
Lossless DTS-HD MA 2.0 sound for Hellraiser III: Hell on Earth
English subtitles for the deaf and hard of hearing for all three films
Limited Edition bonus disc
Exclusive 200-page hardback book with new writing from Clive Barker archivists Phil and Sarah Stokes
20-page booklet featuring never-before-seen original Hellraiser concept art
Limited Edition packaging with new artwork from Gilles Vranckx
Set of five exclusive art cards
Foldout reversible poster
DISC 1 – HELLRAISER
Brand new 2K restoration approved by director of photography Robin Vidgeon
Audio commentary with writer/director Clive Barker
Audio commentary with Barker and actress Ashley Laurence
Leviathan: The Story of Hellraiser – brand new version of the definitive documentary on the making of Hellraiser, featuring interviews with key cast and crew members
Being Frank: Sean Chapman on Hellraiser – actor Sean Chapman talks candidly about playing the character of Frank Cotton in Barker's original
Soundtrack Hell: The Story of the Abandoned Coil Score – Coil member Stephen Thrower on the Hellraiser score that almost was
Hellraiser: Resurrection – vintage featurette including interviews with Clive Barker, actors Doug Bradley and Ashley Laurence, special make-up effects artist Bob Keen and others
Under the Skin: Doug Bradley on Hellraiser
Original EPK featuring on-set interviews with cast and crew
Draft Screenplays [BD-ROM content]
Trailers and TV Spots
Image Gallery
DISC 2 – HELLBOUND: HELLRAISER II
Brand new 2K restoration approved by director of photography Robin Vidgeon
Audio Commentary with director Tony Randel and writer Peter Atkins
Audio Commentary with Randel, Atkins and actress Ashley Laurence
Leviathan: The Story of Hellbound: Hellraiser II – brand new version of the definitive documentary on the making of Hellbound, featuring interviews with key cast and crew members
Being Frank: Sean Chapman on Hellbound – actor Sean Chapman talks about reprising the role of Frank Cotton in the first Hellraiser sequel
Surgeon Scene – the home video world premiere of this legendary, never before-seen excised sequence from Hellbound, sourced from a VHS workprint
Lost in the Labyrinth – vintage featurette including interviews with Barker, Randel, Keen, Atkins and others
Under the Skin: Doug Bradley on Hellbound: Hellraiser II
On-set interview with Clive Barker
On-set interviews with cast and crew
Behind-the-Scenes Footage
Rare and unseen storyboards
Draft Screenplay [BD-ROM content]
Trailers and TV Spots
Image Gallery
DISC 3 – HELLRAISER III: HELL ON EARTH
Brand new 2K restoration of the Original Theatrical Version [93 mins]
Alternate Unrated Version [97 mins]
Brand new audio commentary with writer Peter Atkins
Audio commentary with director Anthony Hickox and Doug Bradley
Hell on Earth: The Story of Hellraiser III – making-of documentary featuring interviews with Atkins, Keen and actor Ken Carpenter
Terri's Tales – brand new interview with actress Paula Marshall
Under the Skin: Doug Bradley on Hellraiser III: Hell on Earth
Raising Hell on Earth – archival interview with Hickox
On-set interviews with Barker and Bradley
Never-before-seen Hellraiser III SFX dailies
Theatrical Trailer
Image Gallery
Hellraiser III comic book adaptation [Disc gallery]
DISC 4 – THE CLIVE BARKER LEGACY – LIMITED EDITION EXCLUSIVE
Clive Barker short films Salomé and The Forbidden
Books of Blood & Beyond: The Literary Works of Clive Barker – horror author David Gatward provides a tour through Barker's written work, from the first Books of Blood to the recent The Scarlet Gospels
Hellraiser: Evolutions – a brand new documentary looking at the evolution of the hit horror franchise and its enduring legacy, featuring interviews with Scott Derrickson (director, Hellraiser: Inferno), Rick Bota (director, Hellraiser: Hellseeker, Deader and Hellworld), Stuart Gordon (director, Re-Animator, From Beyond) and others
The Hellraiser Chronicles: A Question of Faith – short film
200-PAGE BOOK – 'DAMNATION GAMES' – LIMITED EDITION EXCLUSIVE
Exclusive 200-page hardback book with new writing on Hellraiser and the Barker universe from Barker archivists Phil and Sarah Stokes – including chapters looking at Barker's early work, the genesis and production of the first three films in the Hellraiser series and much more, all illustrated with stills and rare material from the Barker archive