Published on January 6th, 2017 in: Best Of Lists, Culture Shock, Movies, Music, TV |
By Julie Finley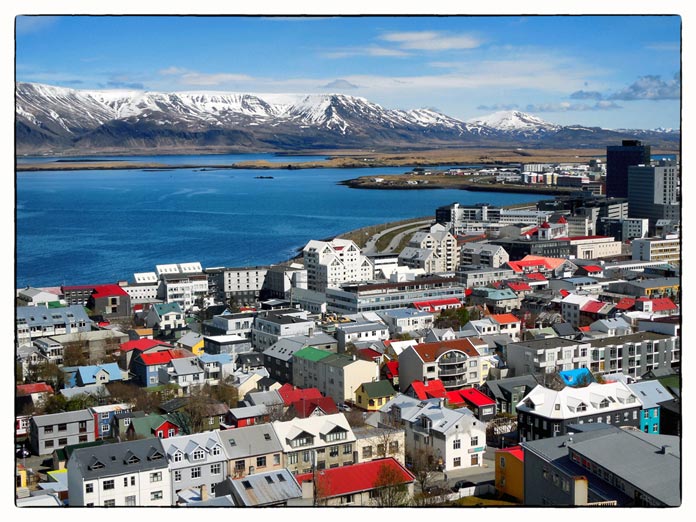 Photo of Reykjavik, Iceland © Julie Finley
This year was unbearable in so many ways it is hard to even compute mentally. Too much LOSS! I am not going to go off on a tangent about what was bad; if you lived through this year, you know how bad it was!
Despite so many mishaps, there were actually some things I enjoyed this year. I decided to divide these up by cultural experiences, music releases, TV shows, and movies.

CULTURAL EXPERIENCES
Reykjavik, Iceland: I travelled to Iceland in early May, and it was an incredible trip. I didn't do any daredevil/extreme outdoors stuff, nor did I go to a music fest. Reykjavik (as well as regions around it) has so much to do and see culturally and—I will be quite frank—I don't think it gets enough credit for it. It's an expensive country, but worth it. I know more and more people are visiting these days, but when I was there, it wasn't mobbed with tourists. It was a good time to go as it was cheaper than it would have been during the summer, and I had about 18-20 hours of daylight per day the entire time I was there. Weather was about 50 degrees Fahrenheit, which was tolerable. It's a very walkable city, and extremely safe and clean. Reykjavik also has a lot of record stores (concentrated around the center), more so than any other city I have visited in the past 20 years. I didn't see the Aurora Borealis, but I plan on going back, so I will see that eventually.
Tom Jones, October 1, 2016 @ Hard Rock Rocksino, Northfield, Ohio: I truly wish I could have filmed this one, because it is probably the first and last time I will ever see Sir Tom. This show was so long overdue for me. I have wanted to see him live since I was a child, and at the age of 40, I finally did, and it was more than I could've ever imagined. He is just absolutely incredible live. I can't believe how strong his voice is at 76 years of age. That voice is so perfect that it almost seems like it couldn't possibly be for real! When I saw the announcement for the show coming up in my region I thought I was hallucinating. There was zero hesitation given towards shelling out for tickets: it was expensive and I am poor, but it was TOM JONES. No way would I miss that!
"Weird" Al Yankovic, June 24, 2016 @ Akron Civic Theatre, Akron Ohio: I am ashamed of myself for not ever seeing Weird Al live until now. Every time he has ever toured around wherever I was living, there was always something that got in the way of going to a show. Because it seems like every icon of my youth seems to be dropping dead, I felt I had better go see Weird Al before it was no longer an option. Needless to say, it was a blast! It was also great to see Weird Al perform "Dare to be Stupid" in hazmat-gear a la Devo, especially since Akron is where Devo hails from. Nice touch!
Chris Isaak, July 13, 2016 @ Hard Rock Rocksino, Northfield, Ohio: I got to see Chris again this year, but didn't film it. He was (as before) magnificent: incredible performance, hilarious banter, and stellar suits. Chris Isaak is no slouch and knows how to entertain.
FAVORITE MUSIC RELEASES FROM 2016
David Bowie, Blackstar: This is probably on everyone's list, but it truly belongs on everyone's list, and not because he is no longer with us: the album is a masterpiece!
The Cult, Hidden City: This is an excellent album that seems to have fallen off the radar. I would say it is some of the band's best work since Sonic Temple.
Mick Harvey, Delirium Tremens: This is volume 3 of Harvey's Serge Gainsbourg tributes and I was quite surprised he revisited this project. When Pink Elephants (Volume 2) came out in the mid 1990s, Mick proclaimed that he had pretty much done all there was to do in regards to covering Gainsbourg. However, Mick had been slowly working bits and pieces of this idea back into his live performances, and then did a few full-on live tribute shows in the past few years. He came back with Delirium Tremens, and not only is it excellent, but it is actually quite different in sound than Intoxicated Man (Volume 1) and Pink Elephants. Mick went for a different approach, and the results were equally as fantastic as what he had already accomplished.
FAVORITE TV FROM 2016
Stranger Things, on Netflix: This is of the few shows that I can honestly say that the hype is well-founded.
Trailer Park Boys, on Netflix: I know this is not a new show, but it is still on the air, and still hilarious. I can watch any episode, from any season, and still laugh until I almost piss myself. The most recent season had the boys go "Out of the Park," and it was basically like a European travel show starring Ricky, Bubbles, and Julian. The one in Stockholm where they are forced to try Surströmming was particularly hilarious. It was like Rick Steves, but without anything helpful; the only drawback is that it was missing Mr. Lahey and Randy.
The Killing Season, on A&E: I don't care for the actual filmmakers of the show, but I find what they are trying to do (help solve or shed some light on unsolved serial killer cases, specifically the Long Island Serial Killer of Gilgo Beach) to be some important filmmaking. It covers more than just a typical outline of a crime documentary; these filmmakers delve into parts unknown, and it could actually be quite dangerous for them, but yet I felt compelled to watch the entire season.
The Man in the High Castle, on Amazon Prime: I got into this at the end of 2015, and thought it was probably one the best TV dramas I had ever seen! It has an outstanding plot, acting, pacing, sets, and truly believable special effects. I waited all year for the new season, and I am now making my way through it (almost done, two episodes to go at this point). If you have Amazon Prime, you need to see this show!
Otto8FM, Italian Music Channel: I found this by accident on a private channel on Roku called "Musicman" which has MTV-like channels from around the world. This is basically a commercial-free channel that plays non-stop music videos from the 1980s only, much like MTV was in its infancy. They don't shy away from obscure bands either, because none of this music is currently charting. However, it is clear that whoever curates the selections has their favorites. For me, it has rekindled an appreciation for various groups that I didn't really appreciate much the first time around, or helped me discover stuff that I never bothered with (or never heard of) when I used to watch MTV as a child. For instance, I have a new found love for Sylvester, as well as Simple Minds, neither of whom I paid much attention to when I was younger. I have this channel on every day… and I am not kidding. It's great to put on when I don't have time to devote to an actual show.
FAVORITE MOVIES FROM 2016
The Witch: One of the best horror films in ages, and like Stranger Things, the hype it received was well-deserved.
The Boy: This is a creepy horror film, but not gory. It was uncomfortable the way that Lars and The Real Girl was, but full of tragic horror.
Bad Santa 2: The long-awaited, and fabulous sequel to the 2003 film. No it wasn't as good as the first one, but how could they top the first one, really? I saw it in an empty theater which was great: I could basically howl with laughter and bother no one.