Published on December 16th, 2016 in: Cartoons, Pro Wrestling, Reviews, TV, TV Reviews |
By Tyler Hodg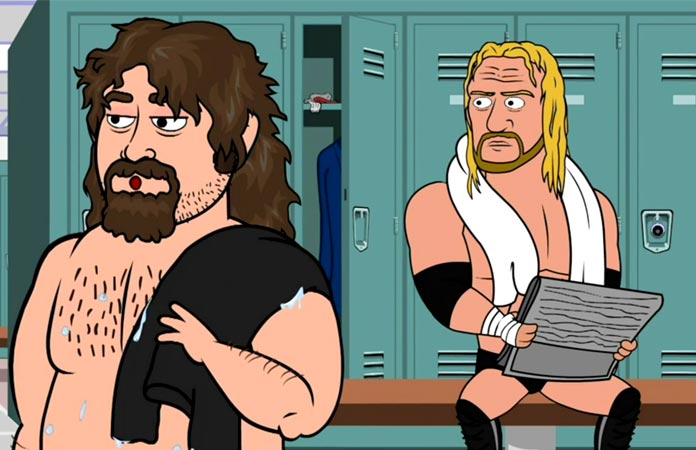 WWE Story Time, a collection of tales from former and current WWE wrestlers set to cartoon depictions, has proved itself to be a decent source of humor and entertainment within its two installments. The issues I had with the debut episode, such as the poorly rendered animation, subdued subject matter, and short length, have not been rectified; however, the stories themselves make the second episode better than its predecessor. For this reason, it's best to examine the anecdotes individually, and to continue using this format with reviews of future episodes.

Please Don't Call Your Father
Bubba Dudley returns for the second episode of WWE Story Time to tell everyone about the time that a ride with Shane McMahon made him incredibly unnerved; the boss' son decided that calling his father at 3 a.m. and making wrestlers—some half in the bag—talk to him would be a brilliant idea.
I expected more from a story that includes Bubba and Spike Dudley, Tommy Dreamer, and Shane O'Mac. It is anticlimactic, with the big punchline being a drunk Spike smashing the cell phone after realizing it was actually his boss on the phone, and although Bubba is charismatic in the ring, his storytelling falls flat.
That's the Worst Flight I've Ever Been On
What could go wrong on a flight from Alaska to Russia with a plane full of WWE wrestlers? According to Big Show, everything: the plane was rickety and flown by soon-to-be expired pilots, there was turbulence that rocked Dean Malenko silly, and Paul Heyman just wouldn't shut up.
The story isn't unlike anything you've heard before, so its saving grace is the line from Ric Flair (who is imitated by Big Show) about how it was the "worst plane flight" he's ever been on. This is, of course, coming from the man who survived two plane crashes. It's the characters who make this story interesting, not the actual event itself.
Mud Wrestling
Imagine spending 30 minutes finding objects to prop up a vehicle out of mud, only to find out the driver was on two-wheel drive, not four. Mark Henry was unfortunate enough to have this happen to him, with car-captain Jack Swagger being the target for his anger.
Similar to "That's the Worst Flight I've Ever Been On," this story is made entertaining by the thought of the wrestlers in this situation. Swagger seems like the type of tool that would forget to put the car in four-wheel drive, and an angry Henry (who apparently is actually the sweetest man ever) fits right into his in-ring persona.
First Class Socko
Mick Foley got flack for using dirty socks as Mr. Socko in the ring, so instead, he switched to clean ones that were then used as part of his personal wardrobe. While wrestling fans may find this amusing, according to Foley himself, a man next to him on a first-class flight wasn't exactly thrilled to look down and see a happy face on his neighbor's foot.
Foley is one of the most charismatic people, on-screen and off, and this story is so "him." The concept that this man was actually cheap enough to continue to use the socks that were stuffed in his colleagues' mouths is pure comedic gold, not to mention, Foley's delivery is one of a kind.
Frugal Foley
Double shot of Mick! "Frugal Foley," the second story about Dude Love, Mankind, Cactus Jack, or whichever Foley moniker you wish to use, was similar to its predecessor, but had a meatier substance thanks to Triple H's retelling. He recalled a tale of when Foley used his ring gear to dry off after a shower, then put the clothes back on, banked his flight money, and drove to the next town with a massive bag of popcorn as his only means of food, all in the name of saving money.
"Frugal Foley" is the funniest story from the second episode, and the lame animation actually adds to the character that Triple H depicts. With those elements combined, there are legitimate laugh-out-loud moments that make you appreciate the existence of WWE Story Time.
As the show progresses, it would be nice to see the women of the WWE represented in some capacity, considering they have yet to make an appearance. There is no doubt that they have some interesting stories to tell, and if the company is serious about pushing the "woman revolution," they have to provide opportunities for it and them to flourish.