Published on December 9th, 2016 in: Current Faves, Holidays, Music, Music Reviews, Reissues, Retrovirus, Reviews |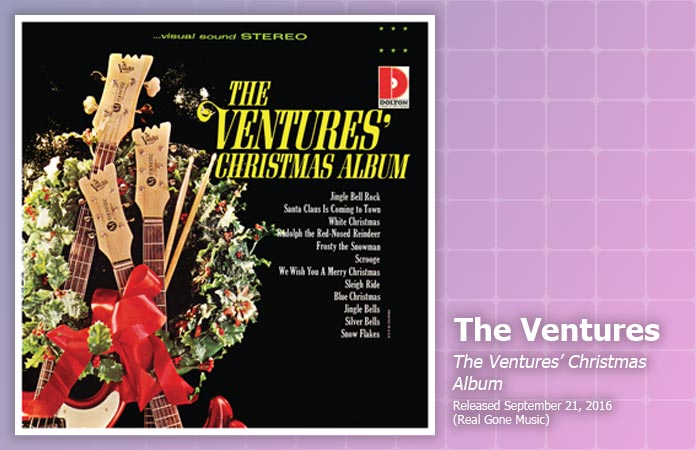 Do you lament the lack of surf/Christmas music on your playlist? Are your instrumental Christmas albums just a little too staid? Did you know the Ventures put out a Christmas album in 1965? Did you know that it was called The Ventures' Christmas Album and that Real Gone Records is reissuing it on CD? Did you also know that it is enormously, utterly fun?

The Ventures' Christmas Album hits all those perfect Ventures hallmarks: surfy guitar, great technical playing, and the band's penchant for starting a song with a signature guitar lick from another tune before effortlessly sliding into their song. Here, this becomes perhaps one of the most fun things about this decidedly fun album: picking out what songs they're throwing into the classic Christmas songs.
The Ventures' Christmas Album is presented in both mono and stereo (the Ventures recorded in stereo before it was the industry standard, landing albums on the mono and stereo charts; did you even know that was a thing?). It's also fun to endlessly switch between the mono and stereo versions and play "spot the difference."
"Sleigh Ride" opens with a bit of "Walk Don't Run" and becomes furiously, surfily cheerful. Bells play on "Sleigh Ride" and throughout the whole album, tinkly and a bit shrill, but they work nicely in the context.
It's an incredibly entertaining album. "Rudolph The Red-Nosed Reindeer" meets the Beatles' "I Feel Fine" with that delicious lick popping up here and again and the result chugs along delightfully. "Frosty The Snowman" gets propulsive and starts with a bit of "Tequila." "Wooly Bully" starts "Santa Claus Is Comin' To Town" and it just flies, driven by sleigh bells. The Ventures's take on "White Christmas" wouldn't be out of place in a David Lynch movie. There's a little bit of organ buried in the mix, and it's a fairly straightforward outing.
The Ventures' version of "Greensleeves" is "Snow Flakes," and it wouldn't be the Ventures without reverb guitar. It's both haunting and funky, which is a difficult thing to pull off. "Jingle Bells," too, is surprisingly funky with a great, looping bass line. It sounds loose, but in a Ventures sort of way. They left nothing to chance, which is why they always sounded immaculate.
There are a couple of creepy moments on The Ventures' Christmas Album, because that is always welcome at Christmas time. "Silver Bells" is a low key version of the classic, that is pretty, until the refrain "silver bells" is run through a vocoder. The effect is both creepy and awesome. Creepier still is the original "Scrooge." It begins with a barked "Humbug!" and eerie laugh, before throwing down with gunfighter guitar and a slide whistle. It's better than it sounds.
The Ventures' Christmas Album is delightful from start to end. It's a great addition to your Christmas repertoire and may be one of the only Christmas albums that you'd want to listen to in the heat of summer.
The Ventures' Christmas Album was released on September 21 from Real Gone Music.