Published on December 9th, 2016 in: Current Faves, Music, Music Reviews, Reissues, Retrovirus, Reviews |
By Emily Carney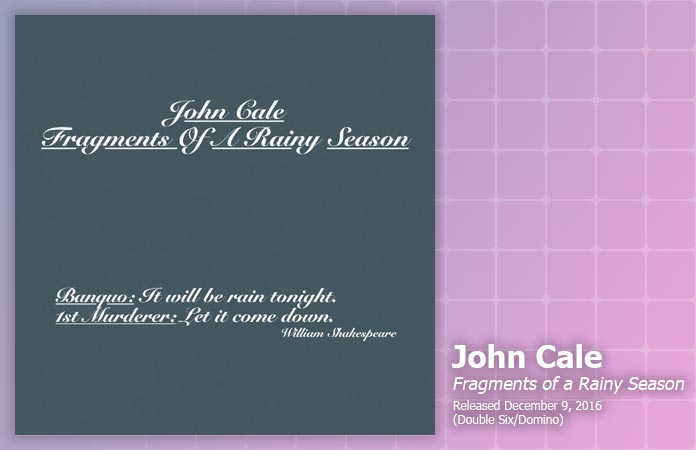 The biography supplied with this reissue of John Cale's 1992 stripped-down live album, recorded at various venues, states: "Fragments gives us Cale at his most melodic and moving, a mellowed and certainly a soberer man in a Yamamoto jacket and a lopsided haircut running through a selection of his prettiest songs." While there's no doubt that Cale was soberer at that time (having cleaned up his act following the birth of his daughter in 1985), this reviewer will disagree slightly with the bio, only in that not all of the songs on this offering are prettier. It's also possible that Cale has never truly sonically mellowed out.

While the man does offer more "song-like" studious offerings, such as three Dylan Thomas poems set to music ("On a Wedding Anniversary," "Lie Still, Becalmed," and "Do Not Go Gentle into that Good Night"), with "Style It Takes" (from his album with his former Velvet Underground band mate Lou Reed, Songs for Drella) and "Paris 1919," Cale also inserts some of his more chaotic mid-1970s offerings including "Guts" and "Fear (Is A Man's Best Friend)." While some of his output from that period was inconsistent, he addresses that era with class and dignity in his live performances, while unapologetically honoring the "spirit of crazy."
"Guts," perhaps one of the best-known, most hysterical songs about adultery ever (based on a true story, it begins: "The bugger in the short sleeves fucked my wife"), loses none of its anger and pathos even with an "unplugged" accompaniment, and ends with Cale's anguished screams. "Fear" also loses none of its bite with its piano-induced chaos, and will disappoint no one familiar with Cale's "Island trilogy" albums (1974's Fear, 1975's Slow Dazzle, and Helen of Troy from the same year).
… And of course, there's Cale's now-classic version of "Hallelujah," written by Leonard Cohen. This song has since been covered countless times by various artists, and according to a transcript of the Revisionist History podcast, has dozens of verses; author Malcolm Gladwell enthused, "One night, Cohen is playing this version at the Beacon Ballroom in New York and the musician John Cale happens to be in the audience. Cale is a legend, used to be in The Velvet Underground, a really pivotal figure in the rock 'n roll avant-garde. He hears this song come out of Cohen's mouth and he's blown away. So he asks Cohen to send him the lyrics. He wants to do a version of it. So Cohen faxes him 15 pages—who knows what the lyrics actually are at this point!"
Cale's version is now recognized as the definitive cover of the song, and its piano-driven passion and beauty on Fragments remain nothing short of enthralling, made more touching and bittersweet by Cohen's recent sudden passing. It's the perfect ending to one of the best, most intriguing live albums by any artist. Cale, like the late Cohen, doesn't have to wait until the afterlife to be considered immortal. Fragments of a Rainy Season is an essential addition to Cale enthusiasts' libraries.
Fragments of a Rainy Season was reissued on December 9, by Double Six/Domino, and also contains previously unreleased outtakes.