Published on December 9th, 2016 in: Action Movies, Listicles, Movies, Science Fiction |
By Tyler Hodg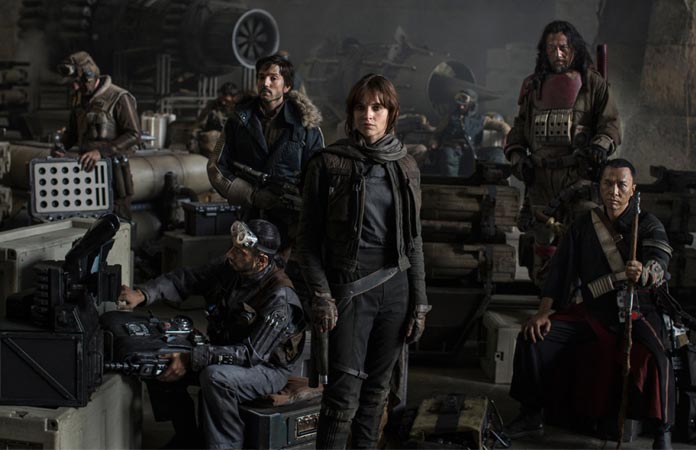 With the release of Rogue One: A Star Wars Story approaching quicker than Poe Dameron's X-Wing, it's easy to forget the film will hit theatres in less than two weeks.
That's why I have compiled simple and entertaining ways to get well-versed on the film, all while saving the full experience for the big screen.

Get your tickets now
No, Rogue One will not be as successful and demanded as Star Wars: The Force Awakens; however, it may still be difficult to walk into the theatre on opening weekend and purchase tickets. Some fans reserved their entry nearly a month ago, and many theatres across North America have already sold out. Don't be left in the dark because you didn't plan ahead; use an app or visit the theatre in person to make sure you get to experience the film as the phenomenon it should be.
(Re)watch Star Wars Episode IV: A New Hope
An age-old question birthed from in the opening text scroll of A New Hope will finally be answered in Rogue One: Who stole the plans to the Death Star and lodged them into R2D2? While the plot line is only touched upon in the first film made in the series, it may still be good to go back and re-watch the classic to see how the fruit of Jyn Erso (Felicity Jones) and her crew of Rebel fighters' labor eventually pays off. If anything, it's just a fantastic movie and will get you into the Star Wars spirit.
Play Star Wars Battlefront Rogue One DLC
Do you have a PlayStation 4, Xbox One, or PC? If so, do you have Star Wars Battlefront? If you answered no to any of those questions, you may need to reevaluate your priorities. The most recent game in the franchise is the most immersive and exhilarating to date, and with the now available Rogue One DLC, players can run the lush beach on the planet Scarif, play as characters including Jyn Erso (!), and test out the new mode Infiltration. Admit it: that's some pretty cool stuff.
Avoid spoilers at all costs
There is nothing worse than getting excited for a film, and then learning all of its twists and surprises accidentally. It may be beneficial to stay off websites and social media outlets such as Reddit, Twitter, and Facebook, because some people just don't have any spoiler filters. Personally, my rule for a major movie is not to post any plot details anywhere between 2-4 weeks after release, but not everyone has that kind of courtesy. If you care about experiencing the film the way it should be, a social disconnect may be the best option.
Lower your Darth Vader expectations
Darth Vader may be one of the most iconic characters in cinematic history, but don't expect too much of him in Rogue One. Although some reports say he may have a greater role than originally thought, it's better to keep low expectations and have them met, rather than have high hopes and having them crushed a la The Joker in Suicide Squad. If anything, the best thing to do is to look forward to what other colorful characters are introduced into the franchise's lore.
Rogue One: A Star Wars Story raids theatres on December 16.