Published on December 2nd, 2016 in: Cartoons, Pro Wrestling, Reviews, TV, TV Reviews |
By Tyler Hodg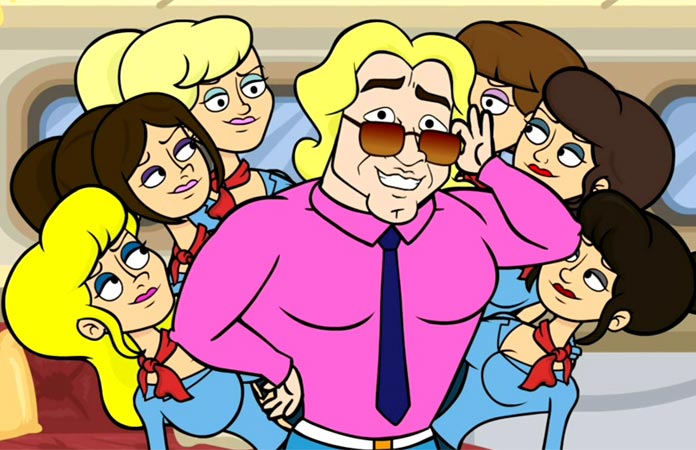 Shocking: WWE wrestlers have gotten themselves into some crazy situations on the road, and are fantastic at telling their tales. This is why WWE Story Time, a brand-new show on the WWE Network, is a brilliant concept; it features legendary Superstars sharing personal anecdotes over a cartoon reenactment. But despite the appropriate marriage of spoken word and visualization, there are too many minor issues with the show to want to "mark" out about it.
The first noticeable flaw about the debut episode of WWE Story Time is its length. At under 12 minutes long, the show feels more like a preview or sneak-peek, rather than the final product. Of course, there is something to be said about wanting more; however, a viewer paying a premium price shouldn't feel like they're watching a somewhat forgettable YouTube video. Since the show appears on the WWE Network, there are no rules saying that the length can't be extended in future iterations, and with a wealth of great tales to be told, hopefully the company can deliver more substantial episodes in the future.
Another issue with show is its attempt to take explicit stories and subdue them to appeal to a wider audience. The first recount comes from Ric Flair, where he recounts a past flight where he was aboard a plane full of promiscuous women—not exactly kid-friendly, but WWE has tried to make it as PG as possible (what a surprise!). The following stories from Bubba Ray Dudley, Ron "Faarooq" Simmons, and Jake "The Snake" Roberts all feature mature subject matter, but receive the same treatment as the Nature Boy's.
To help combat the "dirty" tales, WWE pairs the words with goofy depictions of the wrestlers. While the show's lighthearted tone feels natural, the animation doesn't. It is simple and clean, but often comes off as unfinished. The show looks more like a school project rather than a product of a multi-billion dollar company.
With all of that said, WWE Story Time has potential. Its concept is fantastic and the enthusiasm of the storytellers is infectious, but certain elements of the show are disappointing, such as its length, watered-down content, and mediocre animation. You don't have to skip WWE Story Time, but don't rush to watch it.