Published on November 18th, 2016 in: Current Faves, Holidays, Music, Music Reviews, Reissues, Reviews |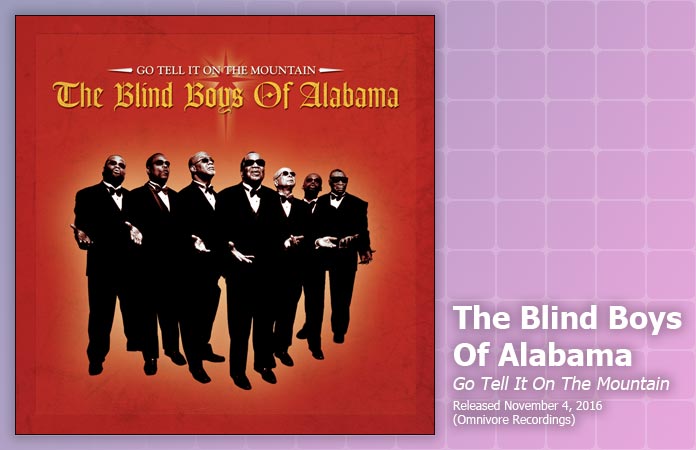 It took until 2003 for The Blind Boys Of Alabama to release a Christmas album, but the wait was worth it. Now, Omnivore is reissuing Go Tell It On The Mountain with bonus material (as they do and do so well) in time for your holiday playlist, and it is a welcome addition.

Go Tell It On The Mountain has what you'd expect from a Blind Boys Of Alabama album: soulful vocals in preternatural harmonies covering the finest of hymns and in this case, Christmas songs. But as an added bonus, the Blind Boys are joined by an impressive array of other artists: Tom Waits, Aaron Neville, Mavis Staples, George Clinton, among several. These musicians usually fit into the Blind Boys' style, often seamlessly, and bring an intangible something extra to the songs. It's quite inspired.
And it's a wonderful Christmas album. These are heartfelt, gorgeously arranged songs. Solomon Burke's blistering, testifying lead vocals on Harry Connick Jr.'s "I Pray On Christmas" are fantastic, and he works so well alongside the Blind Boys. There's a killer Hammond organ solo from John Medeski and a charming story in the liner notes about the recording of the song (the liner notes, as always, are fascinating). The title track features Tom Waits (who needs to release a Christmas album so badly). He really sells it with his gruffness over the Blind Boys soothing tones. Waits with the Blind Boys makes something Earthly and angelic. It's stunningly great. Mavis Staples and Jimmy Carter take the lead on "Born In Bethlehem" and together, they sound absolutely-meant-to-be. It's thrilling and lively and bubbling. A joyousness that works like a finely tuned, catchy machine. The Blind Boys take on "Silent Night" is sublime. Double bass from Danny Thompson provides form and punctuation, but it's the voices of the Boys that elevate it. It's spare and majestic.
The Blind Boys Of Alabama do a capella flawlessly on Go Tell It On The Mountain. The opener, "Last Month Of The Year" begins with stunning a capella that bursts into a full band swing. It's vibrant and exciting, and terrifically catchy. Aaron Neville is a perfect fit to sing with the Blind Boys on "Joy To The World." His performance is gloriously light and anchored by their rich vocals. It is perfection. It is goose-bump inducing. The bonus track of "My Lord What A Morning" is dazzling. They are wholly in tune and there are overtones. It's incredible.
The tracks that are a bit outside the Blind Boys of Alabama's bailiwick are fascinating. Michael Franti supplies spoken words for "Little Drummer Boy" and the Blind Boys sing, hushed, underneath. It's jazzy and spare with gorgeous harmonies and Franti's silky voice propelling the song. George Clinton supplies an interesting, inventive reading of "Away In A Manger" alongside Blind Boy George Scott (who gives a lovely, stirring vocal) and Robert Randolph on guitar. "White Christmas" becomes a scatty, loose version with Les McCann taking the lead. His piano work chimes.
Go Tell It On The Mountain is consummate work. The Blind Boys Of Alabama's oeuvre cried out for a Christmas album, and it is delivered superbly here. Their work together stands the test of time, being perfectly timeless and always relevant. Go Tell It On The Mountain is the kind of album you need to make your Christmas playlist immaculate.
Go Tell It On The Mountain was released by Omnivore Recordings on November 4.