Published on November 18th, 2016 in: Blu-Ray, Documentaries, DVD/Blu-Ray Reviews, Movie Reviews, Movies, Music, Reviews |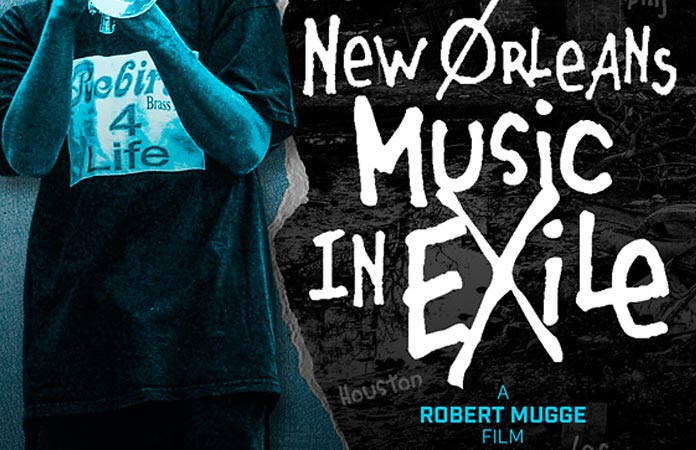 Though it was made in 2006, New Orleans Music In Exile, is finally getting a Blu-ray release. The film, made by famed music documentarian Robert Mugge (Last Of The Mississippi Jukes, Gospel According To Al Green, The Kingdom Of Zydeco, among a great many), was shot in the rather immediate aftermath of Hurricane Katrina: two months later. Mugge and his crew had open access to a who's who of New Orleans musicians and luminaries as they try to pick of the pieces of their lives and careers.

The lineup of musicians that Mugge interviews is staggering: Kermit Ruffins, Irma Thomas, Dr. John, Big Chief Monk Boudreaux, Eddie Bo, Marcia Ball, et al. He interviews these musicians in the far-flung places that they landed after Katrina: Austin, Houston, Memphis, as well as back home in New Orleans. The New Orleans footage is particularly crushing as we watch Irma Thomas examining the devastation of her club the Lions Den and her home.
The footage of Hurricane Katrina never loses its impact. People being rescued from their roofs, houses and cars underwater, homes slid off of their foundations, piles of detritus that made up peoples' lives – it's horrifying. As Basin Street Records founder Mark Samuels says while he takes the viewer on a tour of his ruined house, "Everybody lost something."
And so much was lost, including a part of New Orleans's identity, at least for a while. The musicians that were displaced by the storm do what musicians do: they play, even when far from home. The Iguanas took up a residency in Austin (and Austin was happy that New Orleans artists were there) and in one indelible sequence, Kermit Ruffins plays a mournful "When The Saints Go Marching In" in Houston.
There are heartening, moving moments in New Orleans Music In Exile, showing how the city pulled together to provide help for one another. The charity MusicCares is a small focal point, exploring how they helped musicians get back on their feet by providing clothes, money, and instruments. The most moving moment came near the end of the film, as the city is rebirthed. The bands are coming back and the joyousness of the interviewees is palpable.
New Orleans Music In Exile  features some ripping, if long-winded performances. It's a hard line to tread: it's a documentary about music, but the thing that bogs it down is full performances of songs. A bit of editing might have been useful. It's fascinating subject matter, but it gets draggy and some of the musical performances sound terrible (World Leader Pretend's performance at the Voodoo Fest in Memphis sounds awful and goes on way too long).
Still, New Orleans Music In Exile  is an important document. It's a film about a little explored facet of the devastation of Hurricane Katrina (in documentary form. One might argue that David Simon's Treme was about little else) and captures some of the greatest musicians of our generation in a harrowing time. It's ultimately hopeful, but it's a hell of a fight to get there.
New Orleans Music In Exile was released by MVD Entertainment Group on November 18.