Published on October 28th, 2016 in: Current Faves, Music, New Music |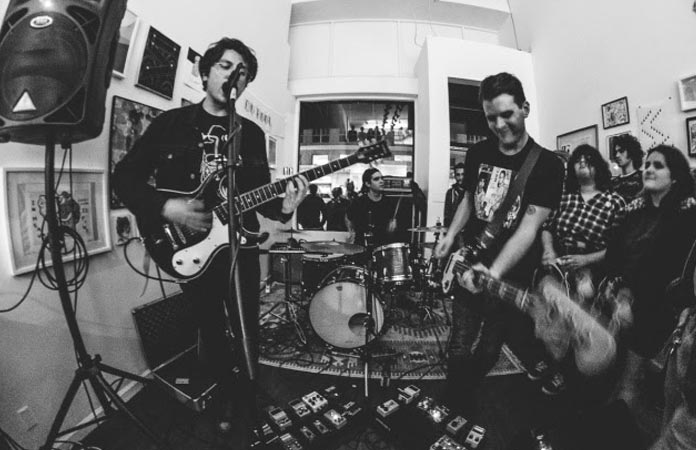 Mall Walk is a funny name for a band that takes their music pretty seriously. The trio of Nicholas Clark (drums), Daniel Brown (bass), and Rob I. Miller (vocals, guitar) hail from Oakland, CA and have a post-punk vibe, angular guitars, and the kind of addictive hooks that are like catnip for me.

Their debut album, Funny Papers, is out today from Mt. St. Mtn., who also brought us the terrific Male Gaze. It was produced by Monte Vallier (Wax Idols, Weekend, The Soft Moon). Check out the fantastic "Sleeping In Shifts" (make sure you stick around for the end of the song because that's when it gets even better).
Funny Papers is available in a limited edition vinyl run of 250, so make sure you order your copy from Mtn. St. Mtn. ASAP. The band will embark on a west coast tour of the US in early November.
Tour Dates:
11/5 – Oakland, CA @ Eli's Mile High Club w/ Marbled Eye, Tiny Head
11/10 – Ventura, CA @ Bombay Bar & Grill w/ Spires
11/11 – Los Angeles, CA @ Honey Trap Warehouse w/ Howardian
11/12 – Los Angeles, CA @ Permanent Records (free in-store)
11/16 – San Francisco, CA @ PressureDrop.tv Live Stream
12/2 – Portland, OR @ Pop Tavern w/ Landlines, Marbled Eye, Dr. Identity
12/3 – Seattle, WA @ Office Space w/ Nail Polish, Marbled Eye
12/12 – San Francisco, CA @ The Independent w/ Pylon Reenactment Society, Cruel Summer