Published on October 28th, 2016 in: Current Faves, Horror, Movie Reviews, Movies, Reissues, Retrovirus, Reviews |
By Tim Murr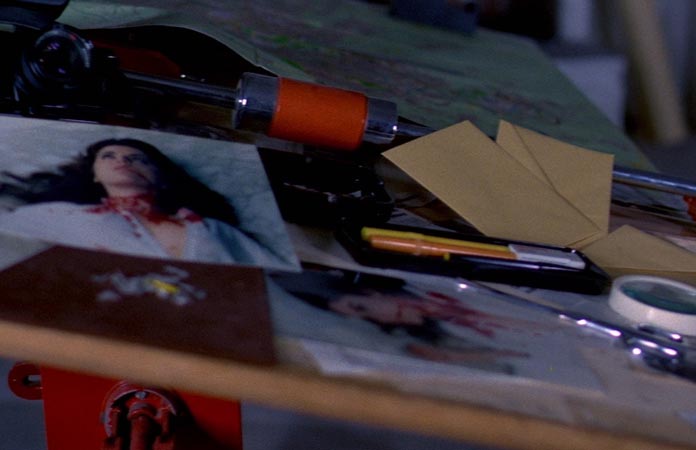 Tenebre is Italian horror master Dario Argento's return to the genre he helped create with a style and vicious edge rarely equaled even by himself. In it, American thriller author Peter Neal (Anthony Franciosa) steps off the plane in Italy and into a mystery straight out of one of his own books, literally. A killer is using passages from his newest book, Tenebre, to commit vicious murders and apparently attempting to impress Neal by sending him clues after each murder. In classic Giallo style Neal becomes an amateur detective trying to solve the murders himself.

The new Blu-ray release from Synapse Films is drop-dead gorgeous and exactly the sort of release the format is meant for. The last time I watched Tenebre it was on VHS under the mundane American title Unsane. Synapse has done an impeccable job of bringing to life the colors, the cinematography, and the real heart of Argento's masterpiece. Say what you will about Argento when it comes to the logic of his storytelling or some of the plot devices, but you can't say he doesn't know how to shoot a movie. In fact, Tenebre features one of the most amazing single take tracking shots anyone has pulled off since Orson Welles' Touch Of Evil.
Also starring John Saxon (A Nightmare On Elm Street), and Daria Nicolodi (Deep Red), Tenebre is Argento with something to prove and with maybe a chip on his shoulder after the disappointing box office failure of Inferno and his father/producer's refusal to fund the final film of the Mother trilogy, demanding instead Argento deliver a new Giallo.
Tenebre also features the very interesting world in which the characters reside; Argento shot no landmarks in Rome, instead only shooting around modern architecture and in mostly empty streets to give the city an eerie, futuristic vibe ("five or more years in the future," claimed Argento to Cinefantastique. [I found the passage in Maitland McDonagh's book Broken Mirrors/Broken Minds; The Dark Dreams Of Dario Argento]).
"Tenebre occurs in a world inhabited by fewer people," said Argento, "with the results that the remainder are wealthier and less crowded." The result is further from Mario Bava's influence than Argento has ever been, which makes Tenebre an even purer, more original Argento film. In fact, it's likely the tipping point where everything he'd worked up to came together brilliantly and everything after rests in its shadow.
The disc doesn't have as many features as Synapse's earlier steel book release, but it does feature the fascinating feature length documentary Yellow Fever; The Rise And Fall Of The Giallo, which features multiple interviews with directors and genre experts, including Argento himself. The one most relevant to this review is Richard Stanley's (Hardware) take on what Tenebre must have represented for Argento personally. It's a must see and this Blu is a must own.
Tenebre was released by Synapse on September 13.