Published on October 21st, 2016 in: Holidays, Music, Music Reviews, Reviews |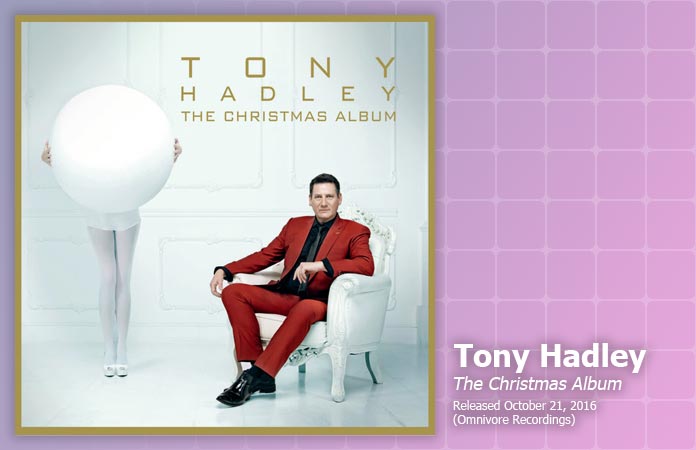 As the front man of Spandau Ballet, Tony Hadley was the purveyor of slick, soulful songs. His rich voice was perfect for their tracks of intrigue, drama, and yearning love. And, as Tony Hadley's The Christmas Album shows, he's still soulful and slick.

An artist isn't expected to reinvent the wheel with a Christmas album. A fully deconstructed version of "Jingle Bells" is not usually a favorite on Christmas playlists. And on The Christmas Album, Tony Hadley does not reinvent the wheel. Instead, he presents a very middle-of-the-road album, with some lovely moments and some moments that don't work.
When it does work, The Christmas Album is a nice diversion. Hadley's vocals are heartfelt over shimmering guitars on the Greg Lake chestnut, "I Believe In Father Christmas," and his take on "White Christmas" is a easy delight. The closer of "Ave Maria" is quietly gorgeous. "Santa Claus Is Coming To Town" hews close to the Bruce Springsteen version, and it swaggers in a rather elegant way. Hadley's duet with a breathy Kim Wilde, "Have Yourself A Merry Little Christmas" soars when he belts (he's always been quite the belter).
The Christmas Album, though, is often very bloodless. Passionless. The opener, "Shake Up Christmas" is a bit soulful and rocky, like mid 1990s George Michael, is perfectly inoffensive. It's decidedly middle-of-the-road, like Hadley's duet (with Nina Zilli) on the Pogues classic, "Fairytale Of New York." It's a dignified take that sands off the rough charm of the original. These people are going to a decidedly different bar than Shane McGowan and Kirsty MacColl. "Silent Night" is best when Hadley's voice is at the forefront, but the song cranks up the cringe when synths meet wind chimes later in the track. Hadley goes full on Spandau Ballet on "I Don't Want To Spend One More Christmas Without You," and it is the best part of the throwback, late '80s feeling, middling song.
Then, there are the songs that are nominally Christmassy. Perhaps they mention winter in the lyrics. Perhaps there's a specific feeling that is yearning to be evoked, that doesn't quite get there. "Every Second I'm Away" is overwrought, with smarmy sax and strings, and it's all too much. "Stay Another Day," too, doesn't hit those Christmas feelings (or lyrics) and is firmly in the middle-of-the-road. Yet "Somewhere Only We Know" benefits from Hadley's impressive vocals.
The Christmas Album was previously only available as an import and has now unfurled its snowy branches upon the United States, complete with three additional tracks. Tony Hadley's made a serviceable Christmas record with some high points (he still has a fabulous voice) and some points that are better off not made.
A Christmas Album was released on October 21 from Omnivore Recordings.