Published on October 21st, 2016 in: Current Faves, Music, Music Reviews, Reissues, Retrovirus, Reviews |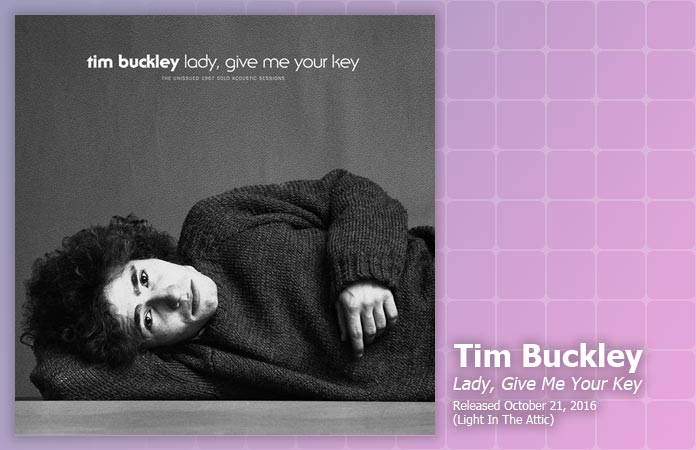 We live in wondrous times. Tim Buckley has been gone since 1975, and yet, here we are in 2016, with never before released Tim Buckley material coming from Light In The Attic Records on October 21. How is it possible?

Lady, Give Me Your Key is comprised of two different sessions, both previously unreleased, both from 1967 acoustic sessions. The first seven tracks are culled from producer Jerry Yester's (who produced Buckley's 1967 Goodbye And Hello) personal archives. Two of the songs, "Sixface" and "Contact," are the sole recordings of those tracks. Two more songs, "Lady, Give Me Your Key" and "Once Upon A Time" were recorded for a single that never came to fruition, but "Once Upon A Time" did surface in a different version on a 2009 box set. The remainder of the seven songs were demos for Goodbye and Hello, and these versions are acoustic demos. And they are superb.
Buckley's guitar is percussive and propulsive, and it matches the high lonesomeness of his versatile voice so well.  These demos are intimate and engaging, from the studio chatter on the title track, to the achingly dreamlike "Once I Was." The latter tells a story in few words, but those words are richly evocative. The soaring and passionate, "I Never Asked To Be Your Mountain," gives goosebumps, and "Pleasant Street" is simply stunning.
The next six tracks are from an acetate recorded at Madison Sound Studios in Midtown Manhattan. Two copies were known to exist, but only one survives. Again, this is the first time these tracks have appeared, and represent some songs that were re-recorded for Goodbye And Hello ("Knight-Errant," "Carnival Song," and the wonderfully fiery "No Man Can Find The War," which not only protests the Vietnam War, but also protests the protestors as well) as well as songs which disappeared from Tim Buckley's repertoire entirely. There's an appealingly "dirty record" sound to these acetate recordings, which only helps accentuate the impressiveness of Buckley's music. The guitar sound is glorious, specifically on "Marigold, and the thrilling "I Can't Leave You Lovin' Me."
Light In the Attic rounds out the package of rarities with liner notes comprised of a conversation between the producer of Lady, Give Me Your Key, Pat Thomas, Tim Buckley's producer Jerry Yester, and Buckley's collaborator, Larry Beckett. The conversation is illuminating and insightful, and very candid.
It seems like 2016 is poised to be the year of a Tim Buckley resurgence. And high time it is. Lady, Give Me Your Key is an exciting document for Buckley completionists and also a good starting point for those wanting to dip their toes in Buckley's oeuvre.
Lady, Give Me Your Key was released by Light In The Attic on October 21.
http://lightintheattic.net/releases/2631-lady-give-me-your-key-the-unissued-1967-solo-acoustic-sessions