Published on October 21st, 2016 in: Current Faves, Feminism, Music, Music Reviews, Reviews |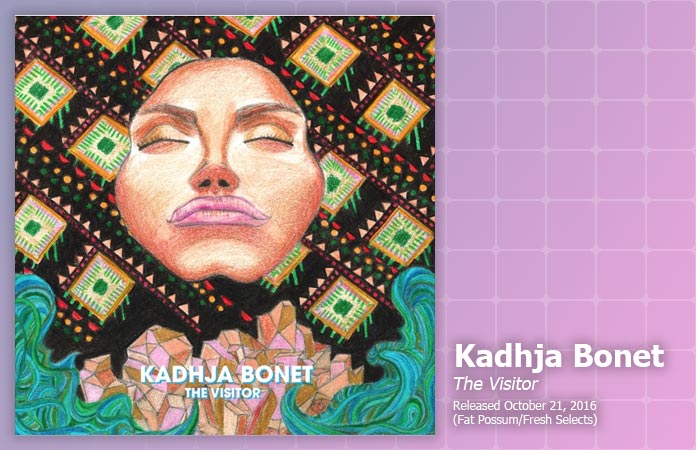 Kadhja Bonet's debut, The Visitor, is timeless and otherworldly; pulling the lucky listener into a spacey, jazzy world of poetic lyrics and Bonet's stunner of a voice. It's a bit psychedelic, it's definitely jazz influenced, and it's a cinematic type of soul that no one else is making.

Bonet wrote and arranged all of the tracks on The Visitor, (save for "Portrait Of Tracy," a Jaco Pastorius melody that she wrote lyrics for) as well as playing over half the instruments, and producing. The result is incredibly self-assured and fully realized. It's Kadhja Bonet's world, and we're just lucky that she's letting us catch a glimpse (or earful) of it.
There's a late 1950s, early '60s Abbey Lincoln feeling to "Honeycomb," like the opening titles for a very dreamy movie. Bonet's voice is stunning, velvety and timelessly gorgeous, over spacey harmonies. It's a lithe voice with an appealing airiness, beautifully enunciated. The electronic flourishes of "Fairweather Friend" bring to mind Jacco Gardner, a baroque slow jam in space, with Bonet's warm flute running counterpoint to her sumptuous vocals.
The Visitor  is lush with Bonet's layered vocals. "Gramma Honey" is awash in them, and they swoon and swell with poetic lyricism. The song that begins as isn't the song that ends, all electronic bloops and a drum line that goes delightfully off-kilter. The titular track is haunting; emotive strings brush against her ethereal voice. It's unlike anything that is being made right now, and it's captivating.
Kadhja Bonet's upper register is utterly lovely on "Nobody Other." Her voice is the focal point to the folky/jazzy love song  with airy flute and acoustic guitar. "Portrait Of Tracy" is a marriage of bright dreaminess, arresting and terribly pretty. "Fransisco" brings to mind Moon Safari-era Air, but with Bonet's singular voice.
You won't hear another album like The Visitor, not any time soon. What Kadhja Bonet is doing is thrilling. She's wholly original, yet wholly familiar. She has a raw, exciting talent and a fully-formed worldview that makes her one to watch.
The Visitor was released by Fat Possum/Fresh Selects on October 21.