Published on October 6th, 2016 in: Horror, Movie Reviews, Movies, Reviews, Tyler Talks Horror |
By Tyler Hodg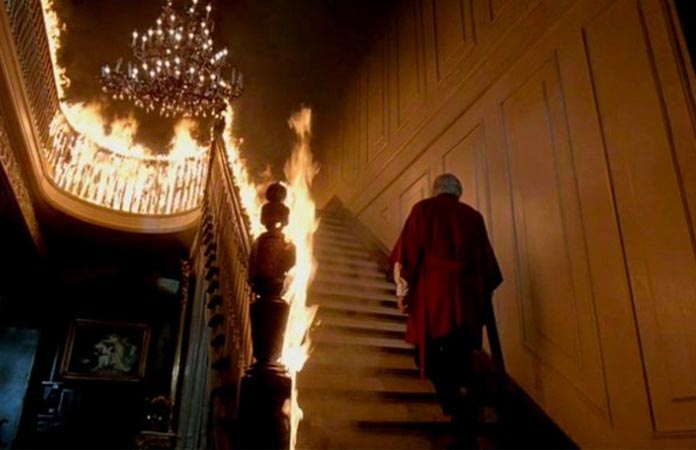 Hi, my name is Tyler Hodgkinson and I am a total horror n00b.
In this series, I'll be taking a look of classic, cult classic, and modern horror films with ignorant eyes. Its concept is scary simple.

I had not heard of The Changeling until Less Lee Moore, the founder and editor-in-chief of Popshifter, mentioned it might be a good cult classic to check out. A quick Google search revealed that it is a Canadian-made physiological thriller from 1980; naturally, I approached this expecting something so bad that it's good. But aside from a lame opening sequence featuring one of the most awkward death scenes ever, The Changeling is an intelligent, suspenseful ride.
In case you're as ignorant as I was, here's a brief synopsis: John Russell, a music professor who lost his wife and daughter in a car accident, moves into a secluded mansion. It is there that strange events begin to occur. The piano plays itself, objects move around at their own free will, and window panes shatter from a mysterious pressure; Russell then begins to understand that a local townsperson may have been correct when she said the house "doesn't want people."
I know what you're thinking: isn't that the plot to every horror film? Well, sort of; it sure seems to be an overused theme. However, The Changeling is different. In fact, one of the scariest aspects of the film was not knowing its patterns.
In modern horror movies, it's easy to tell what's going to happen because they are all essentially carbon copies of each other, which is something that I'm getting frustrated with as I begin to dive deeper into the genre. But The Changeling is more of a horror-thriller. It doesn't need gore or cheap jump-scares to deliver a terrifying experience. Instead, most of the terrifying moments in the movie come from the juxtaposition of calm visuals and villainous classical music (until the house goes bat-shit crazy on John Russell in the climax).
The Changeling is definitely a product of its time. This is best exemplified in a sequence that depicts the death of a young boy in the mansion. I can't think of another movie that actually shows a child die, let alone be murdered. The scene is unsettling, but adds a rare type of creepiness to the story.
I still don't understand the full appeal of cult classic horror films, but The Changeling is the first step. The story is revealed at a brilliant pace, and builds to an insane climax that is less corny than it has the right to be. For those reasons, among others, I have no clue why this film has cult status in the first place.