Published on September 30th, 2016 in: Critics/Criticism, Film Festivals, Horror, Movie Reviews, Movies, Reviews, Uncategorized, Upcoming Movies |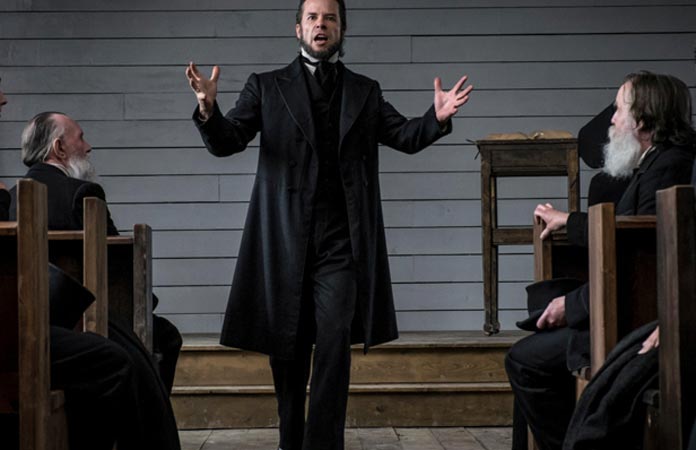 Though Westerns are generally not my thing (I consider the genre's zenith to be 1988's Young Guns, which is effectively an issue of Tiger Beat in Stetson hats), I was drawn to Martin Koolhoven's Brimstone on the strength of the cast and early buzz that its extreme content would fit appropriately in TIFF's audacious Midnight Madness programme, if not for its sprawling running time. In both cases, I wasn't disappointed. Koolhoven's script is as heartbreaking and well-acted as it is uncompromisingly brutal and terrifying, and his cast, led by Dakota Fanning and Guy Pearce, execute the difficult material perfectly.

As much, and probably more so, a horror film as it is a western, the startling brutality on display in Brimstone's 2.5 hour running time will be a lot to take for some people. It's unrelenting, and when you think it's reached its peak (or, rather, depth), it introduces some other savage element, all resonating from Pearce's portrayal of the sadistic, monstrous, and incestuous preacher known only as The Reverend. Leaving the character without a proper name and without a single doubt that he's pure evil—there's no ambiguity here, and if you empathize with him at any point during the film, please seek help—makes him a true horror villain, though one could argue that even the Leatherfaces and Kruegers and Voorheeses of the world have more nuance and pitiable backstories than The Reverend does.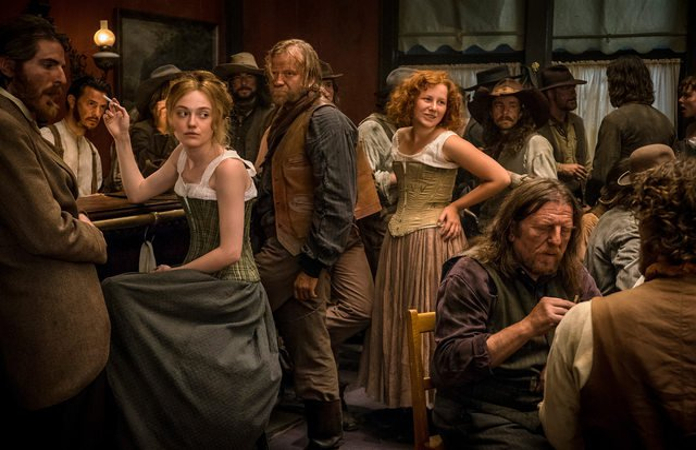 To play off such a monstrous character, Koolhoven gives us Fanning's Liz, a frontier midwife who is mute for a large part of the film, and conveys many of her lines in sign language. As her story develops, her character's inward and outward strength provide an anchor against the pitch-black sadism, much of it solidly in the "torture porn" territory that largely fell out of fashion in horror years ago, and which punctuates the rest of the film. Fanning's wordless reactions to The Reverend's violence (sexual, physical, and emotional) against various women—and a few men, but mostly women—throughout the film are all that's necessary to convey the terror and revulsion he inflicts on his many victims. In the end, Liz demonstrates a resilience and determination that put many of horror's "final girls" to shame.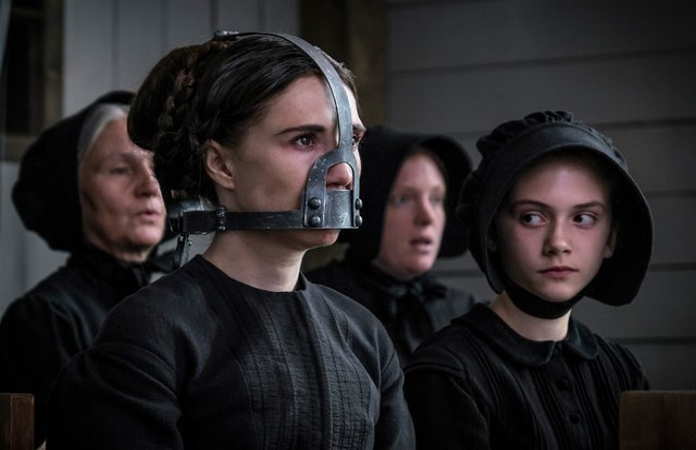 Backing up Fanning and Pearce, and somehow managing to find a project even more ceaselessly violent than their day jobs on princess rape drama Game of Thrones, both Kit Harington and Carice Van Houten perform admirably in Brimstone. Without spoiling anything, neither of their characters has a particularly good time here, with the former experiencing one of the most gruesome scenes in an already gruesome film. Emilia Jones, who's had smallish roles in Ben Wheatley's High Rise and a few TV credits, is also a standout here as young sex worker Joanna, and will definitely be an actor to watch in the future.
Koolhaven tells Liz and The Reverend's stories in reverse order, chronologically, while splitting it into chapters named "Exodus," "Retribution," "Revelation," and "Genesis" to further (and perhaps unnecessarily) hammer home that Brimstone is an indictment of religious fanaticism and its ability to justify the most monstrous of actions. There's a lack of subtlety in that theme for sure, but you're also watching a movie called Brimstone so… maybe that's to be expected?
Brimstone, as I hope I've communicated here, isn't going to be for everyone. It's a tough watch and a long slog, but by the end I found it rewarding. Koolhaven's ability to bring out what I think is Dakota Fanning's best performance yet is impressive and makes me excited for his next project. Pearce's Reverend is as compelling a villain as I've seen onscreen this year and is worth the price of admission alone, for me. If you have the stomach for it, it's more than worth taking the deep dive into religious depravity on offer in Brimstone.