Published on September 30th, 2016 in: Current Faves, Metal, Music, Music Reviews, Reviews |
By Tim Murr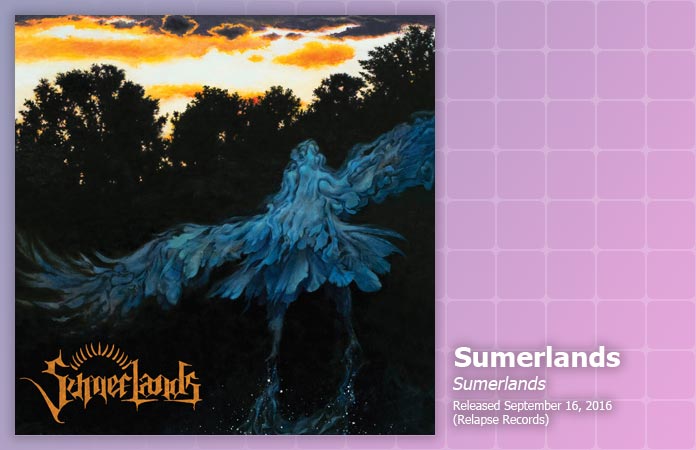 I hope Philadelphia, PA is super proud of Sumerlands, whose debut album just dropped. Their self-titled LP, released by Relapse Records and also available on the group's Bandcamp page, is pure metal that hits all the sweet spots. The group does a fantastic job balancing the sounds of classic metal from the 1970s and '80s with the technical aesthetics of modern metal. In other words, imagine classic Black Sabbath being produced today.

Speaking of Sabbath, vocalist Phil Swanson sounds like a cross between Ozzy Osbourne and Scott "Wino" Weinrich of St. Vitus. The group's sound clearly comes from power metal and the New Wave Of British Heavy Metal with some doom tendencies.
While there's no filler here, there are some stand-out tracks. "The Guardian" has an '80s Ozzy feel, but heavier, while "Haunted Forever" gives off a Blind-era Corrosion Of Conformity vibe, with a bit of Hunter-era Mastodon. My favorite track is "Spiral Infinite," which has the same kind of quality of Sabbath's "TV Crimes" or Iron Maiden's "Be Quick Or Be Dead" that I went nuts for in high school.
With clean vocals, no songs over five minutes, top-notch production, and zero ballads (unless you count the instrumental outro/cool down "Sumerlands"), I'm hard pressed to find anything to bitch about here. I've had the album on repeat most of the afternoon.
Phil Swanson (vocals), Arthur Rizk (guitar, synths), Justin De Tore (drums), John Powers (guitar), and Brad Raub (bass) are the men that form this Voltron-like super group. And while their sound pulls very heavily from bygone eras, don't be fooled: Sumerlands have a vital, fresh sound. This album is a damn good shot in the arm for old school-loving head bangers.
Sumerlands was released September 16 by Relapse Records. Check out the band's Facebook page for more details.