Published on September 30th, 2016 in: Current Faves, Music, Music Reviews, Post-Punk, Reviews |
By Tim Murr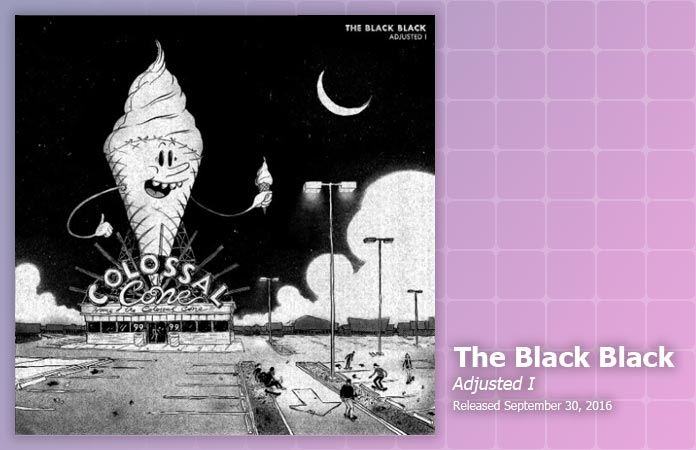 When the song "Meticulous" exploded from my speakers, I said "Shit!" and stopped the song, turned the volume up, backed the track up to the beginning, and let it fly. Because, shit, you gotta play something like this loud! The Black Black debuted in 2014 with their LP Boogie Nights. Now they've returned with a fantastic EP that will blow your doors off.

Hailing from Brooklyn, NY, The Black Black creates groove-oriented thrash rock with infectious melodies and harmonies. They balance their intelligent approach to lyrics and song structures with a production sound that reminds me of the heyday of bands like Killdozer and Big Black. In fact, "Meticulous" specifically reminds me of Big Black. "Territorial Trappings" with its mid tempo driving groove, heavy bass and Gang Of Four meets Dead Kennedys guitars is an instant dance-floor classic. "You Are My Personal Pronoun" doubles down on "Territorial Trappings" with a nervous, anxiety-ridden chorus and spooky guitar lead, running headlong until the song starts to unravel at the end. "Blasting Caps" is another thrasher with a Big Black/Killdozer vibe. It feels like spinning out of control and seems to get wilder as the song goes on.
And then it's done. Four songs. That's it. Adjusted I doesn't leave you dissatisfied, but needing more. It's the only mark against the album for me. Jonathan Daily (guitar and vocals), Sean McRee (bass), and Tomoyasu Ikuta (drums) ought to be pretty proud of this release because it kicks ass in all the ways the best post-punk can. The Black Black impressed the hell out of me and I'm definitely going to track down Boogie Nights.
Adjusted I was released on September 30 and is available on Bandcamp. You can also follow the band on Twitter (@TheBlackBlackNY).