Published on September 23rd, 2016 in: Current Faves, Music, Music Reviews, Retrovirus, Reviews |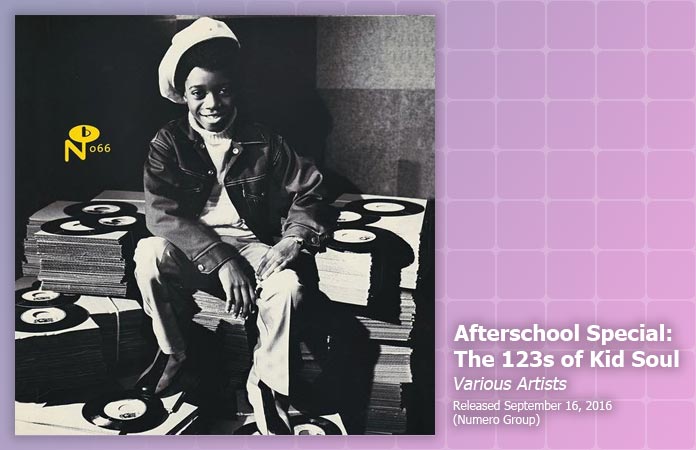 Have you ever listened to an album that is so charming that you just can't bear it? I have. The fine folks at Numero Group have added to their considerable catalogue of genius compilations with Afterschool Special: The 123s of Kid Soul. Think: bubblegum pop + funk = sheer delight. Think: the Jackson 5. Think: infectious beats, voices so sweet you just want to curl into a ball and giggle, and true love. It's hard for me to be objective; it's so darling.

Have you ever wondered what it would sound like if a child covered a Gil-Scott Heron song? You need wonder no more. Brother's Rap tackle "The Revolution Will Not Be Televised" and it's both bracing and adorable. There are several socially conscious moments on Afterschool Special (as the songs are taken from the early 1970s). The Dynamics, who tell the pusher man in their baby voices (and bilingually, at that) that "I Am Free, No Dope For Me." It's the cutest anti-drug song you'll hear. "We Don't Dig No Busing (The Busing Song)" from the Greer Brothers is emphatic and funky. The Greer Brothers skews a bit older than many other bands on Afterschool Special, and the lead singer gives it his all to great effect.
The opening track is just a corker. "I'm A Special Kid" from Bethlehem Center Children's Choir is a call and response with snaps and handclaps and a delightful sweetness to it. Our protagonist is a special kid and there are all kinds of reason why, but engagingly enough, not all of the reasons are about him (he does nice things, and goes to the mountains, and special people help him, like doctors and dentists and teachers). It's so charming it made my eyes well up. I hope those kids grew up OK and have had very happy lives. The closer, too, is painfully precious.  "James Brown" is billed as Nancy Dupree with a Group of Youngsters. Simple piano  and a chorus of chirpy voices spill biographical details about James Brown ("His hair was slick and shiny!") with great earnestness. Please send help; the song has killed me dead.
The Jackson 5 cast a long shadow over Afterschool Special.  Scott Three's "Runnin' Wild (Ain't Gonna Help You)" has that Jacksons feeling with sugary harmonies and infectious energy. Future Kind's "Simon Says" is like the Jackson 5 in space—a grooving funk and echoed vocals. It's just off-kilter enough to be super enjoyable. "Girl Why Do You Want To Take My Heart" from Magical Connection sounds quite like "I Want You Back" and the lead singer has a cute-as-a-button voice. Brotherly Five has the name just about right, and "Losing My Girl" has a sassy, percolating beat, as well as these strange horn sounds that sound like a car running over rumble strips on the side of a highway.
It wouldn't be a Numero album without some odd ducks. "Guessing Game" from Jimi Hill sports some bizarre production. The levels aren't quite right. There's a lot of weird treble that's a bit off-putting, but the lead singer has a charming voice. The amazingly named Brighter Side Of Darkness supply the slow jam "Because I Love You." Spoken lyrics with horns are colored by fuzzy production. It feels like a song for a much older singer. Cash's "I Love You Still" percolates with lots of layers of things happening that don't quite go together and the result is a little funky and a little ridiculous.
"Love Got A Piece Of You" from Five Ounces Of Soul sound like it should be in a '70s movie with muscle cars and some serious business going down. It's got wah wah guitars and an appealing slink, plus killer organ work and a rich atmosphere. It almost feels out of place on Afterschool Special, as it has great maturity and skill. Little Man & The Inquiries's "Funky Breakdown" is wildly funky (as one might hope with the title). The lead singer's voice is saccharine, but the backing vocals are the winner here: bored sounding girls singing "Right on."
From beginning to end, Afterschool Special: The 123s Of Kid Soul is pure fun. It's terribly earnest and dear with a great feeling of joy. I can't recall an album that made me smile this hard from beginning to end.
Afterschool Special: The 123s Of Kid Soul was released by Numero Group on September 16.