Published on September 7th, 2016 in: Current Faves, Music, Music Reviews, Reissues, Retrovirus, Reviews |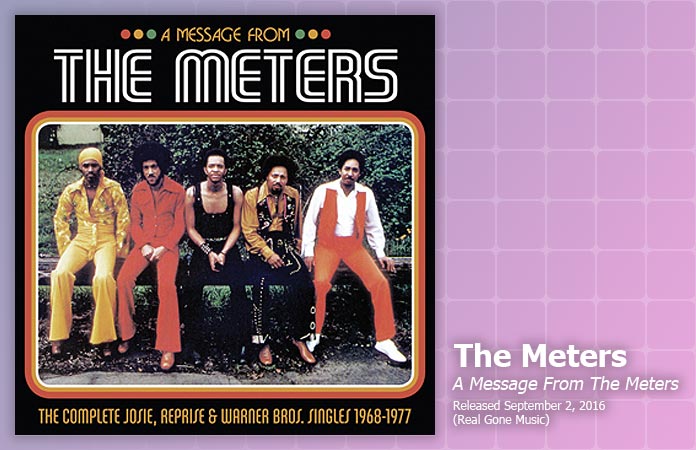 We truly live in an age of miracles. You can stroll down to the record store and pick up A Message From The Meters: The Complete Josie, Reprise & Warner Brothers Singles 1968-1977, and then you will hold in your hot little hands, a collection of ALL of the Meters's singles, with B-sides. And you will be given a fantastic entry point to the best funk band of all time (Oh yes, I will die on that hill because it is a true fact). You could even download it digitally, if that's your jam, and then you'll at least have it. But the point is, you need this album.

Who are the Meters? The Meters are the greatest funk band of all time (as mentioned above) and from New Orleans. Imagine this: a low-down, super tight rhythm section, organ that sounds like it is played by the funkiest of angels, and endlessly clever guitar playing that isn't showy but is assured. The Meters were comprised of guitarist Leo Nocentelli, organist Art Neville, and the killer rhythm section of drummer Joseph "Zigaboo" Modeliste and bassist George Porter, Jr.
A Message From The Meters is a fascinating document, taking a band that was brilliant and inimitable in the first place, and showing their evolution to an even funkier incarnation. It seems impossible, but they somehow become looser, funkier, more amazing.
The album begins with a string of instrumental hits on the Josie label, presented here in the original Mono, starting with the Allen Toussaint and Marshall Sehorn produced numbers from 1968. From the full on New Orleans-ism of "Cissy Strut" and the giddy guitar of "Ann," these early tracks are strictly instrumental. They're tidy bits of music and short, jammy, funky as hell slices of a kick-ass band. Zigaboo Modeliste's drumming is so spot on, so perfectly in the pocket that it's otherworldly.
It's a full-on vibe. When percussion-like vocals are added to "Look-Ka Py Py," the track is the perfect, face full of funk. It's leisurely, letting the groove build organically with grunts and whistles, and an admirable looseness. There's the inspired lunacy of "Chicken Strut" with some of the finest chicken noises committed to vinyl. The song boasts such satisfying organ from Art Neville and the quite subtle guitar of Leo Nocentelli.
"Hand Clapping Song" made it to #89 on the pop charts, but it is high time for a revival. Unison singing, hand clapping, and the rock-steady bass of George Porter, Jr. all make it impulsively listenable, daring you to get up and get moving. The deep, liquid groove of "A Message From The Meters" is sinuous in the right places, as is the repeated rhythm of the chorus "We got to get together/get together" that chugs like a train. Is the best count off of any song the count off in "Good Old Funky Music"? Probably so. The song has an admirable, ramshackleness to it. It feels improvised; it feels like a hymn.
When they moved to Reprise Records, the Meters began recording in Stereo. "Cabbage Alley" finds Art Neville doing his best Professor Longhair doing "Tipitina" filtered through polyrhythms, second-line drumming, and a churning funk. It's magical, as is the glorious, jittery guitar riff of "The Flower." "Hey Pocky A-Way," thetraditional New Orleans song, with allusions to Mardi Gras Indians, is bright with horns and a pounding piano, and a breakdown featuring incredible percussion. It's a clean, smooth version of the song. The charming "They All Ask'd For You" is sung by Zigaboo Modeliste. It has a dance hall, throwback feeling that can't help but bring a smile. Its B-side, "Running Fast (Long Version)" is a sultry slice of swampy funk that brings to mind Earth, Wind and Fire at their finest.
Their later stuff moves into unfamiliar territory, like the better-than-the-title-suggests "Disco Is The Thing Today." With big horns and that undeniable disco beat, it's not a terrible song (because, hey, it's the Meters), but far better is the B-Side, "Mister Moon," which piles on the groove and balmy night feelings.
Of the 40 tracks on A Message From The Meters, there's not a miss. It's a fun, well-rounded collection of an under-heralded, yet incredibly influential band (seriously, they deserved to be in the Rock And Roll Hall Of Fame years ago and it's appalling that they're not). You may not know these songs yet, but you will love them.
A Message From The Meters: The Complete Josie, Reprise & Warner Brothers Singles 1968-1977 was released by Real Gone Music on September 2.