Published on August 26th, 2016 in: Current Faves, Music, Music Reviews, Post-Punk, Reissues, Retrovirus, Reviews, Underground/Cult |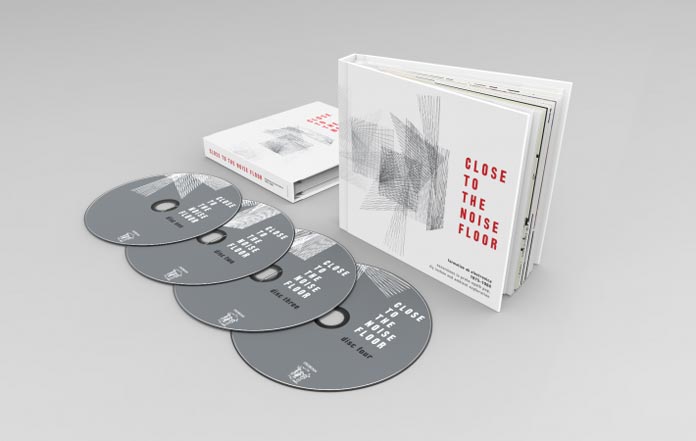 Cherry Red Records has done it again. This time, their triumph comes in the form of Close to the Noise Floor, a four-disc set which gives music junkies a taste of the "quiet electronic revolution that took place across the UK in the late 1970s and early 1980s." The contents are staggeringly impressive and endlessly fascinating, with each disc flawlessly sequenced and boasting its own unique essence.
There will be bands on here familiar to anyone who was into New Wave electronic music in the 1980s or that genre's more experimental and post-punk predecessors: Blancmange, British Electronic Foundation, Chris & Cosey, John Foxx, The Human League, OMD, Throbbing Gristle. Yet there are even stranger and more delightful treasures hidden within these four discs, the kinds of songs that you'll wish you had heard back in the day… or for those of you who are older and more musically savvy, the songs that you haven't heard since back in the day but which are you now thrilled to hear again.
Although some of the bands included on this compilation were recording in the late '70s, there are several who were active in the early 1980s. When I think about how bands like Bourbonese Qualk were recording and performing "God With Us" in 1983, the same time that Duran Duran released Seven and the Ragged Tiger, my mind is slightly blown.
Another interesting facet to the music is the fact that a lot of it was created for live performances and would change each time it was played. In that respect, it's more like performance art than something meant to be captured forever with a permanent recording, especially considering the zero-budget nature of many of these tracks (with many distributed on small runs of cassette-only releases). It's amazing that some of this music survived this long. But I'm certainly glad it did.
Disc One evokes an overall feeling of unease, with the majority of the tracks being extremely grating and minimalist with few vocals. This isn't to say that it's terrible—on the contrary, it's delightful—but radio-friendly it is not. Highlights include the unsettling "Sedation Strokes" by Malcolm Brown which includes an eerie, repeated noise that sounds like either harsh saxophone or someone screaming, and O Yuki Conjugate's ironically titled "Disco Song," featuring a mournful bugle sound that has been distorted into something approaching whale song.
If you like vocals with your strange music, you'll love Disco Two. While there is some solid material here, it's hampered slightly by some of the mildly pretentious and/or outright goofy songs such as British Standard Unit's cover of Rod Stewart's "Do Ya Think I'm Sexy." It probably sounded terribly edgy in 1979 but just comes across as a bit cringe worthy now. (Then again, I'm a fan of The Nip Drivers' punk cover of The Sweet's "Fox on the Run," so what do I know?)
A major exception is John Foxx's "A New Kind of Man," an incredibly compelling and catchy track with a great chorus. Another excellent track is The Human League's "Being Boiled," which only hints at the band's future pop star status. It's hard to believe they were producing such quality tunes as far back as 1978, but here's the proof. The B-side to OMD's "Electricity" single from 1979, "Almost," like many of the tracks on Disc Two, benefits from a great hook. Andy McCluskey's distinctive vocals are on full display.
My favorite is probably Disc Three, with tracks that function more like soundscapes or scores to horror and sci fi films, many of which seem to be influenced by prog rock (something which should surprise younger generations who think that punk and post-punk were created as a "fuck you" to that genre of music). Paul Nagle's "Ynys Scaith" sounds like a haunted house album, while O Yuki Conjugate's "Sedation," with its samples and almost kitschy flavor, feels like a precursor to early Steroid Maximus.
Adrian Smith's "Joe Goes To New York" is my favorite on this disc, and possibly the entire collection. It's spooky and low key yet infinitely listenable. I also like how in the liner notes Smith admits that he "doesn't know who Joe is or why he went to New York."
The most challenging set of tracks is found on Disc Four, which features lots of off-putting sounds and few actual melodies, even though certain tracks develop something approaching melody. This disc also contains selections that just don't seem to fit anywhere else.
Although "In The Army" by Blah Blah Blah is so puerile that it's practically unlistenable, it's a minority here. The Throbbing Gristle song, "What A Day," is, as expected, astonishing, but Muslimgauze's "Muslim Gauze Muslim Prayer" is a mild revelation, like what might have happened if Japan veered towards experimental music instead of slick Euro-pop. The final track, "Mzui (Excerpt)" from BC Gilbert, G. Lewis, and Russell Mills is crazy, hilarious, and fantastic all at the same time and must be heard to be believed though if you're curious I'll give you two clues: bird calls.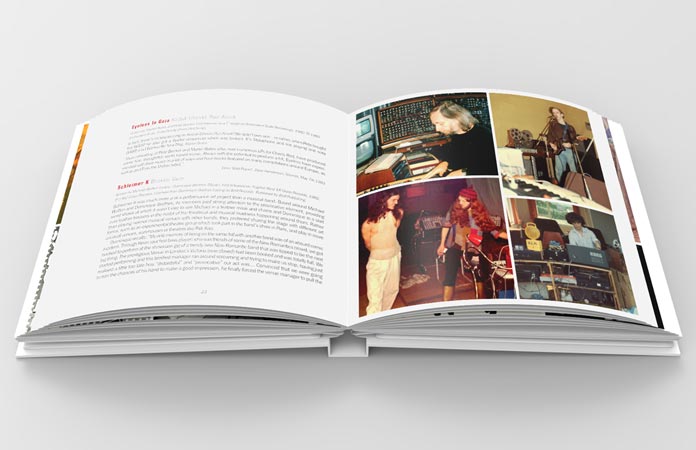 This review represents just a sampling of the wonderful music found within Close to the Noise Floor; I held myself to describing only the best ten tracks otherwise you'd be reading a novel right now. Speaking of which, the liner notes included in this beautifully packaged release are top notch. There are insights from both the musicians included and music journalist Dave Henderson, who introduces the compilation with his insightful memories of the time period.
Think of Close to the Noise Floor as a Time-Life musical compilation for people who spent more time listening to weird music and making mix tapes in their bedrooms than they did listening to mainstream radio. It's a must-have for anyone interested in post-punk, electronica, or just plain unclassifiable music.
Close to the Noise Floor was released by Cherry Red Records on April 29.