Published on August 26th, 2016 in: Current Faves, Metal, Music, Music Reviews, Reissues, Retrovirus, Reviews |
By Hanna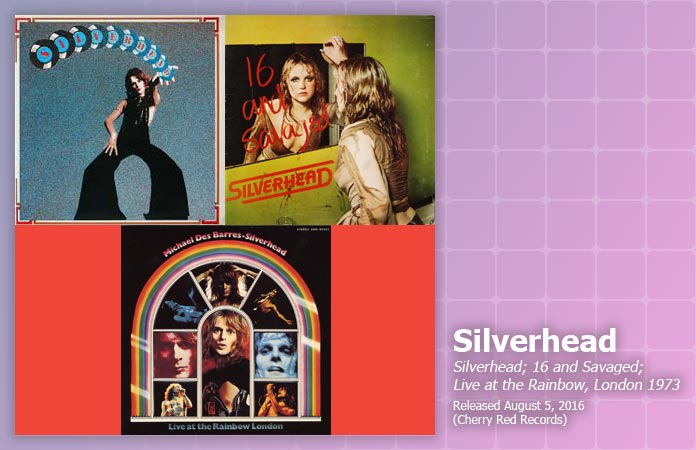 Though largely without commercial success at the time, Silverhead were influential by metal and hair metal, besides also being a well-loved glam rock band. Singer Michael Des Barres is a cult figure in music and acting, having combined a fairly successful career in both, and Nigel Harrison of Blondie also started his career in Silverhead.
This series of releases by Cherry Red includes the entire Silverhead discography: the two released albums, Silverhead and 16 and Savaged, some single mixes, live tracks, and B-sides. The series is rounded out by a live album, Live at the Rainbow, London 1973.
This re-release is also part of Cherry Red's resurrection of the Purple Records label. Purple Records was started in the early 1970s to release Deep Purple's records, as well as records by bands in which they were interested. This is the label Silverhead originally signed to and which released their albums.
Silverhead were an odd band; a glam rock act from England that didn't sound much like an English glam band. Their signature sound is heavy, blues-influenced rock—high energy with quite intricate musicianship—and Michael Des Barres's distinctive sharp, sneering vocals over it. Lyrics and themes seem less important than the energy and drive of the music, and a lot of the time the guitar sound and des Barres's vocals make the words really difficult to make out anyway, and the lyrics aren't included in the liner notes.
Despite the pre-punk singing style, Silverhead don't actually sound punk adjacent at all, unlike other heavy glam acts like the New York Dolls or the Heavy Metal Kids. Nor do they have the retro feeling of acts like Mott the Hoople. If anything, they sound more like heavy metal acts like Black Sabbath or Led Zeppelin. Perhaps for this reason, the liner notes written by music journalist Malcolm Dome, seem reluctant to let Silverhead be a part of glam rock, even saying in the notes for Silverhead that "To suggest this was a precursor of glam is to do the album a massive disservice" which is silly considering the album came out in 1972, far past the start of glam and making them at most relatively early in the genre.
The Silverhead disc consists of the first album, two singles off that album and several live tracks courtesy of Des Barres's own collection. The first album is the best work out of their discography. It has a more elaborate production which makes it varied and sophisticated, and the whole thing seems more finished than their other work. Most of the songs are fairly simple but well-crafted fast rock songs with narratives about odd characters and the rock 'n' roll lifestyle; "Long Legged Lisa," "Ace Supreme," "Rolling With My Baby" and "Underneath The Lights" are examples of this.
Yet the two most interesting characteristics of this album and Silverhead's musical style in general are the tempo and style changes. "Rock n Roll Band," the reworked version of "Will You Finance My Rock n Roll Band" (the song Des Barres performed to persuade Andrew Lloyd Webber to manage him) switches tempos back and forth, while "In Your Eyes" moves from a slow song to a boogie number. Occasionally, the musical contrasts highlight irony or comment on the song. "Johnny" starts out as a social justice ballad before becoming a kind of parody of that genre. "Sold Me Down the River" has some great self-mocking lyrics, while "Wounded Heart" has a more sophisticated sound than the other songs, with a deep melancholy feeling.
This disc also contains the single mixes of "Ace Supreme" and "Rolling With My Baby." Both sound better in the single mix than in their album versions; they are sharper and include more instrumentation and a different balance. "Rolling With My Baby" has a fantastic horn part added on it. "Oh No No No," a B-side, is another rough rock track. There are also added live versions of three album songs which showcase the fast, raw energy of Silverhead live, showing that they can sound good without the production when they rely on energy and drive.
The second disc starts with the second album, 16 And Savaged. 16 And Savaged's most prominent characteristic is having a title and an album cover that approach Spinal Tap levels of bad taste. On the whole, it doesn't sound as good as the first album because of different production and because of a mixing mistake which turned the bass up too loud. There is less room for style changes and the other touches of experimentation that make the first album stand out. However, the driving tempo and heavy blues rock sound are the same, and of the same high standard.
In terms of humor, the music doesn't rely on musical changes or self-commentary this time around, but mostly on innuendos ("More Than Your Mouth Can Hold," "Bright Lights"), though it has its earnest moments as well, as in "This Ain't A Parody" which is about the difficulty of becoming yourself and staying true to yourself. "Bright Light" has the interesting tempo changes as well, and "Only You" is a solid power ballad.
"16 And Savaged" ruins the end of the album by being very confusing. It sounds like it's about a young girl getting sexually abused but also about the resulting bad consequences for her, ranging from weird to too realistic. That's an odd choice for what seems like an attempt at joking, outrageous shock rock. It's just thrown out there without context or justification, and as a listener, you just have to deal with it.
The extra tracks included on the 16 And Savaged disc fare better. They consist of two tracks about Hollywood stars: "James Dean," which is a funny tribute, and "Marilyn Monroe," which is a bit Hollywood Babylon with its over the top voyeuristic tone. Two Michael Des Barres solo songs are included which are poppy in sound and more slickly produced. Both seem like great commercial rock, though a lot less raw than his work with Silverhead.
The final release in this series is Live At The Rainbow, London 1973, a reissue of a 1975 release. The title is slightly misleading, since it consists of two different live performances, plus a couple of unreleased tracks.
The first part, Live At the Rainbow, consists of mixed tracks from both albums and "James Dean." The Rainbow live versions are actually great; they're fast and daring and as good as anything on the first album. The BBC sessions sound less rough, and because of that aren't as charming as the live tracks. Still, it's a good session containing mostly songs from the second album. The version of "Rolling With My Baby" sounds especially good, showing that the song kept developing with each performance.
The release is rounded out with two previously unreleased live songs; one a version of "James Dean" and the other a really ferocious cover version of "Roll Over Beethoven" that shows off their strength as a live band.
The booklets for each CD are really interesting; each tells the story of the band and the background of the music. The liner notes from Malcolm Dome are informative and contain a lot of quotes from new interviews with band members. There are also a lot of wonderful pictures of everyone in the band in various states of nakedness and wearing more white face paint and rouge than an 18th century prostitute.
The Silverhead album, included on the first disc, is truly an important work of glam rock and metal; it's interesting, well made, and at times really funny. The second album, 16 And Savaged, doesn't add anything to what the first one offers, though the extra tracks included on this disc in this series are definitely great to own. The live performances on Live At The Rainbow, London 1973 are more for completists or fans of the rougher, metal side of Silverhead's sound, as they show the appealing, high-energy drive of the music that gets softened in the recording process.
It was the aim of this release to offer a definitive version of the Silverhead discography, and that is what this series represents.
All three Silverhead albums were reissued by Cherry Red Records on August 5.