Published on August 26th, 2016 in: Blu-Ray, Current Faves, DVD/Blu-Ray Reviews, Horror, Movie Reviews, Movies, Reissues, Retrovirus, Reviews |
It's been a good year for Oliver Reed fans. Though the actor passed away in 1999, there have been several recent reissues of his work on Blu-Ray. First, there was Ken Russell's The Great Composers box set from the BFI, which includes the rarely-seen but significant Reed performance in The Debussy Film. Then there was Hired To Kill, which Arrow Video reissued on May 17. And then, there's Venom, reissued May 31 from Blue Underground.
I should make it clear that those last two movies are not exactly examples of Oliver Reed at his finest.
Anyone who's followed Reed's career knows about his alcoholism and the associated alcoholic shenanigans, which made many directors wary of hiring him (and with good reason: the story of Reed exposing himself and urinating during the filming of a scene on the set of Hired To Kill is not something one can easily forget or dismiss).
However, that's not to say that such late-period Oliver Reed movies aren't without their charms. Venom, released in 1981, is one such film.
Originally set to be directed by Tobe Hooper, and eventually helmed by Piers Haggard (Blood on Satan's Claw), Venom was adapted from the 1977 novel of the same name by Alan Scholefield. As you can probably guess from the title, it's about a poisonous snake: the Black Mamba. In this case, it's about a Black Mamba who ends up in the hands of a little boy who likes to collect odd and unusual pets.
Philip Hopkins is the son of a well-to-do couple and although he seems like a sweet kid, he's asthmatic and a bit coddled and thus his parents—who seem to be away often on business—spoil him by letting him keep these pets in his bedroom (one wonders if the asthma isn't caused by having rabbits, Guinea pigs, and snakes in his bedroom, but I digress).
Philip's hobby crosses paths with the livelihood of herpetologist Dr. Marion Stowe when the harmless African house snake Philip has ordered gets switched with the deadly Black Mamba that's headed to Dr. Stowe. In the midst of all this, the Hopkins' maid, Louise (Susan George) and chauffeur David (Reed) are plotting to kidnap Philip for ransom. The criminal mastermind behind the scheme is Jacmel, played by Klaus Kinski, whose blond hair and oversized khaki trench coat make him look like David Bowie's understudy in the "Modern Love" video.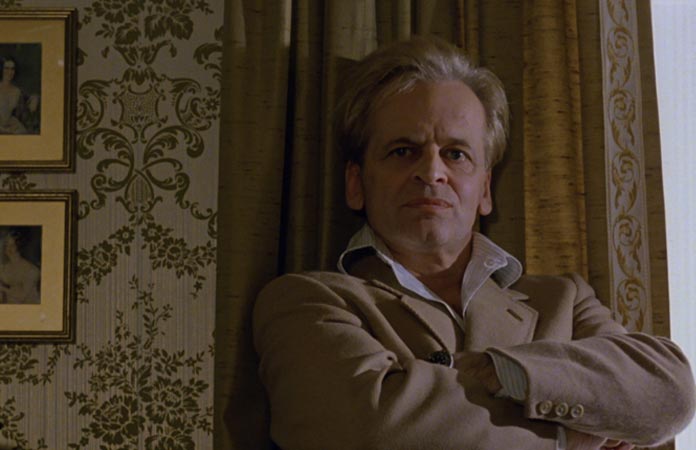 Besides the oddity of Klaus Kinski as David Bowie, seeing Oliver Reed in a chauffeur's uniform will make any horror fan give pause. After all, his character in 1979's Burnt Offerings (out on October 6 from Kino Lorber, Ollie fans!) has flashback-induced panic attacks about the evil chauffeur (played by the reliably creepy Anthony James) he recalls from his childhood. It also just seems weird to have a man who looks like Oliver Reed to be standing around in a chauffeur's uniform, especially when he opens his mouth and his distinctive, mellifluous voice comes out, one which seems better suited to Shakespeare than swearing at Klaus Kinski. Of course, Kinski does slap him in the face twice, so who could blame him?
Venom feels like a crime thriller inside of a kidnap drama inside of a disaster movie, which gives it an odd tone, but one that's still enjoyable. A lot of this has to do with the cast. Besides Reed, whose character loses his marbles early on and turns into a rage beast, there's Kinski, who's also kind of a dick (and gets to perform in the most gratuitously hilarious death scene you'll ever see). There's also Sterling Hayden as Philip's grandfather, who just happens to be an ex-safari hunter and a snake expert.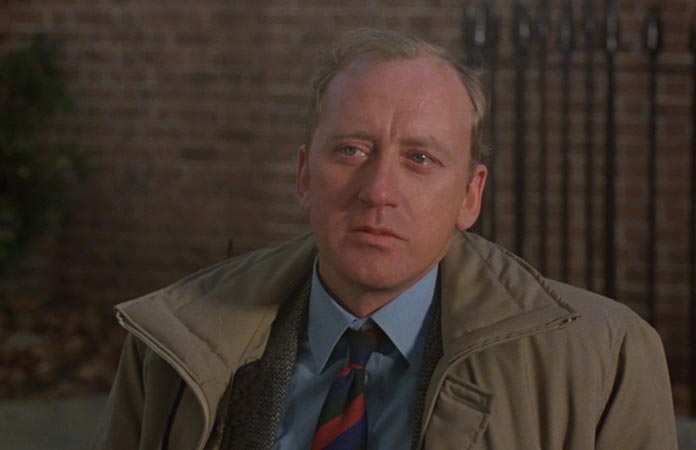 The most enjoyable character, however, is definitely Nicol Williamson (Excalibur) as the harried police commander William Bulloch, the very essence of someone who is done with your shit. Williamson elevates the movie into something more than just a weird snake disaster crime kidnap movie with stunt casting.
Speaking of that snake, according to the film, Black Mambas are violent, paranoid, and unpredictable, which is awfully similar to Reed's character in the film. Perhaps the infamous scene of Reed getting bitten in the crotch by the Black Mamba was just professional jealousy.
Venom's special features are very slim—a commentary track from director Haggard, a fun essay from well-known horror historian and critic Michael Gingold in the booklet of the Blu, and the original trailer—but it's still worth it for fans of any of the main cast members.
Venom was reissued by Blue Underground on May 31.