Published on August 19th, 2016 in: Current Faves, Music Reviews, Reissues, Retrovirus, Reviews |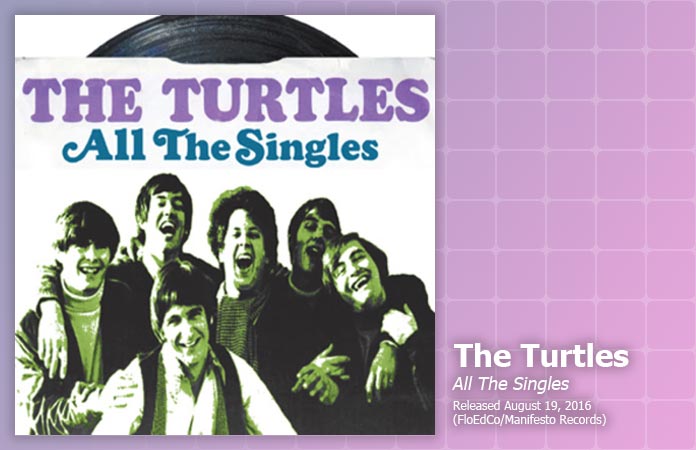 It's time to give the Turtles another listen. And, lucky for you, their long out of print albums are being rereleased in a handy six CD box set, The Complete Original Albums Collection. If you're not feeling that completist, a double CD set, All The Singles just might do the trick (what it did for me was make me want to get the six CD set, thankyouverymuch).
The Turtles singles are indelible: "Happy Together," "It Ain't Me Babe," "Elenore," "She'd Rather Be With Me," et al. Their timeless pop hooks, gorgeous harmonie, and clever lyrics are part of the sonic landscape. They're classics. But what we learn from All The Singles is, the Turtles were doing some insane stuff on their B-sides.
All The Singles does what is says on the tin (which isn't a tin, but a cardboard sleeve, and that's quite beside the point): it collects the A and B sides of all the original Turtles 45s, from 1965-1970, in the same mixes as the initial singles straight from the original masters. In addition to that, it collects the tracks that were prepared for release as singles but were either released regionally or not at all. On top of that, throw in extensive, insightful liner notes from Andrew Sandoval, and you've got yourself a gumbo. Or Turtle soup.
An afternoon spent listening to the Turtles is a well-spent afternoon. The honey sweet vocals of Howard Kaylan are pure pleasure; he has one of the finest, most versatile voices in rock (though it's not a rock voice, exactly. That man can flat croon). Listen to "She's My Girl" and come back. What a voice. Listen to him soar.
While they started as a folk band, the Turtles were adept at many other styles. There's the straight up Merseybeat of "Almost There" and "Your Maw Said You Cried," which sounds a bit more like the Dave Clark Five's jangle. "Wanderin' Kind" sounds like a Byrds song (the liner notes are hysterical: Howard Kaylan says "My boot heels had never wandered in their life. I didn't know what wanderin' was all about. It was sort of a protest song, but I had nothing to protest.") It's still a folky treat.
As the Turtles moved away from folkier music and to more good time party pop, their sound became more elegant. "You Baby" is a gem, cosmopolitan-feeling with glorious harmonies and organ. I could listen to this song endlessly; the production by Bones Howe is delightful. Their version of "So Goes Love," a Goffin/King song (also recorded by the Monkees and also shelved) has a dark edge to it, with velvety harmonies and stunning easiness to it. It's a shame it wasn't released as a single.
"Happy Together" is such an amazing piece of music: muted horns, that quirky feeling on the verses, the sunny chorus cloaked in sadness, oboe that winds through like a cobra. It's so richly layered—there's so much stuff happening—it's like a master class of pop music writing and production. The stunningly cinematic "You Know What I Mean" nestles alongside "Happy Together" in perfection. It's a magnificent diamond of a song: exquisite vocals building from simplicity to a swirling planet of opulence, with electric sitar and impressive drumming (Johnny Barbata is brilliant). It's spectacular.
There's just so much to love on All The Singles. There's the curiousness of "Grim Reaper Of Love" (a bizarre choice for their fourth single). The atmospheric, beautifully baroque "Like The Seasons" (penned by Warren Zevon) is rich and affecting. The loping psychedelia of "Think I'll Run Away" is burnished by Kaylan's dreamy vocals. "Elenore," produced by Chip Douglas, has that Turtles feel: minor key verses with smart lyrics ("You're my pride and joy, etcetera" is, c'mon, that's just clever) that burst into sunny, powerful choruses. Their version of "You Showed Me" is deliciously dark.
Then, there's the bizarre side of the Turtles. "Gas Money" is garagey, surfy and shambolic. It has some appalling sax playing, but so much spirit. "Rugs Of Woods And Flowers" is straight-up ridiculous, with overdramatic vocals. It's quite pastoral, though. "Sound Asleep" is called a "collage of various musical thoughts" in the liner notes, and it marks a point where the Turtles begin to self-produce. It does not bode well. However, Kaylan and Mark Volman also recorded with Frank Zappa extensively, and it becomes clear upon listening to the more curious of Turtles tracks just how that would happen. "Umbassa The Dragon" is all tribal sounds and ridiculousness. Sometimes, having someone tell you no is a good thing.
All The Singles is a intriguing album. The hits are here, and you could definitely buy it just for those. But the hidden gems ("Chicken Little Was Right," "Buzz Saw," "House On The Hill," Judee Sill's "Lady-O") are such a treat. The Turtles deserve another look. They were subversive, fascinating, and criminally underrated.
All The Singles was released on August 19 from FloEdCo and Manifesto Records.