Published on August 19th, 2016 in: Action Movies, Comics, Current Faves, Movie Reviews, Movies, Reviews |
By Tim Murr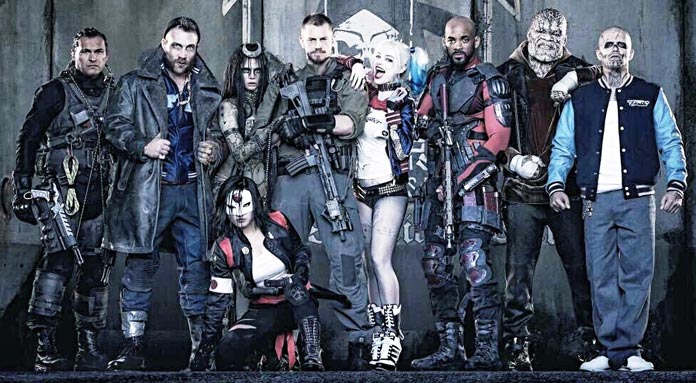 The premise is simple and we've seen it before, most notably in the film The Dirty Dozen: take a handful of bad guys, throw them together for a suicide mission, and voila, instant action film. In the case of Suicide Squad, the mission is to get inside Midway City and extract an important someone who is trapped downtown during some kind of terror attack. Of course, the threat is much larger and weirder than anyone would admit to, so this loose cadre of crazy criminals has to learn to be team players on the fly in order to complete the mission… and if they don't, well, the man in charge, Rick Flagg will just blow their heads off with the push of a button.
The push for this film seemed a bit premature, considering there have thus far been only two films in the new official DC Cinematic Universe (Man Of Steel and Batman v Superman: Dawn Of Justice) and we've been introduced to none of the villains featured in Suicide Squad, but it actually doesn't matter.
If anything, going from the two Superman films into Suicide Squad was actually pretty refreshing. Establishing the idea that these people have been around for a while and have some extensive histories (much like Zack Snyder did with Batman in BvS) was a good idea. I think when people talk about "superhero movie fatigue" they probably mean "origin movie fatigue." Suicide Squad gives us just enough background to move us forward, thus keeping the storyline constantly rushing forward with no dull parts. Even scenes with Amanda Waller having dinner or meeting at the Pentagon to push her Task Force X agenda are shorter and more interesting than say, the congressional hearing scene in BvS.
While Suicide Squad is far less operatic in scope than the Snyder films and far more gleeful about the action, there still remains an undercurrent of a darker, more downbeat story that keeps the film from feeling radically different from BvS. This is the biggest difference between the Marvel and DC films: people are excited when Iron Man shows up; people shit themselves when Batman shows up. Marvel pulls their PG-13 closer to PG; DC pulls their PG-13 closer to R.
There's been much wailing and gnashing of teeth across the internet about these differences, such as complaints that the DC films are too dark or that they aren't as fun as the Marvel films. When I look back to when I started collecting comics in 1986 or '87, I see a Marvel that has always been brighter with more public-friendly superheroes and a DC that had started to move into darker, more serious minded storytelling in the '70s, culminating with The Dark Knight Returns and The Watchmen in the mid-'80s.
From there the DC universe, despite family-friendly mainstays like Superman and Captain Marvel (Shazam), has been a damned dark place. The current film universes captures these moods quite well. So it doesn't come down to Marvel vs. DC, or DC needing to be more like Marvel. Marvel and DC are doing just fine doing what they do. It comes down to a mere matter of preference.
In both Suicide Squad and BvS we get real DC movies, in that this is a world where it's easy to imagine the Joker beating Robin to death with a crowbar or viciously crippling Batgirl. As violent as any of the Captain America films have been, it's hard to imagine the villains making their evil plots so personal or scary, at least outside of Marvel's Netflix shows. It's worth nothing, however, that those characters, particularly Daredevil and Punisher, have always been the oddballs in the MU. DD has been through way more hell than many of his counterparts and Punisher has always been appalling and frightening.
I don't know if I would agree with the notion put forth that Suicide Squad is the best DC film so far, but I think it's much more accessible than Man of Steel or BvS. Yes, you need more information about these characters if you're not a long time comics fan (or if you haven't watched the CW's Arrow or The Flash, which already introduced some of these characters). You need more info than you would with Batman or Superman, whose stories are so engrained in our pop-consciousness that we all just know them if even we don't care about them, but not much more info beyond that.
The members of the Suicide Squad are not terribly complex characters at face value, or as we meet them, and the complexity plays out at a natural pace across the film's running time. So we don't get nor need a massive info dump, like we got with Green Lantern. Director David Ayer (Training Day) has built a strong action film with a colorful cast of characters and a powerful, if not slightly vague, villain He also did some foundation laying for future DCU films, and deepened the DCU lore, all with a simple premise and a straight-forward action film, and he kept a romantic subplot running throughout.
Is Suicide Squad flawless? No. I think there were some storytelling shortcuts that were unnecessary; characters being thrown in with little or no background; and the main villain and their big plan not being fully developed or explained clearly enough, but those are fairly minor complaints as such decisions help to propel the story forward at a faster pace.
And that's no great sin. Even Italian horror master Dario Argento admitted he would sacrifice plot and character development for a cool shot. So while I would have liked maybe ten more minutes of these characters outside of the mission, Ayer didn't fuck up, he boiled it down to the essentials.
As for the cast, Ayer assembled a great bunch of actors to fill the rather large shoes of these characters. Margot Robbie and Jared Leto are super fun as Harley Quinn and The Joker. Though we've gotten live action versions of Harley on both Birds Of Prey and Arrow, we've never seen her in costume and being full-on Harley. Robbie throws herself into the role and is both genuinely funny and scary. And while she definitely reaches back to the character's animated roots, she also gives Harley a fairly definitive live action life all her own.
Leto, the fourth man to become a live action Joker, takes the Clown Prince of Crime in a radically different direction from Heath Ledger's performance in The Dark Knight, as well as a radical different direction from Jack Nicholson in Tim Burton's Batman and Cesar Romero in 1966's Batman TV series. At first sight, Leto is somewhat off-putting, with the silver teeth and face tattoos, but Batman has probably knocked or broken most of his teeth by now, and you get over the tattoos once you see just how good Leto is.
There was a lot of online trepidation about Will Smith playing Deadshot, because people can't seem to remember the fact that he has played a lot of really good dramatic roles over the years and they won't let him grow up from his Fresh Prince persona. Oh, and he's black. To which I answer with this: Anthony Hopkins played Othello in the early '80s, so shut up. Honestly, aside from the usual Smith charm that he seems completely incapable of suppressing, he doesn't play Deadshot much different from the TV version on Arrow, played by Michael Rowe. (If I could, I'd like to take this moment to wag my finger at DC/WB for taking the Suicide Squad away from the Arrow-verse. To avoid confusion? Come on! All of The Flash's second season was dealing with multiple earths! Give us back our Suicide Squad!) Smith is a very good Deadshot, capturing the complexity and inner turmoil of the character straight from the comics' page.
Jay Hernandez (Diablo), Jai Courtney (Captain Boomerang), and Adewale Akinnuoye-Agbaje (Killer Croc) all do a great job of bringing their characters to life and remaining fairly faithful to the comics' roots.
Courtney's Captain Boomerang is the most changed, as he's grimier and funnier than I've seen him before. Boomerang's sole appearance in the TV-verse was more comic accurate, but Courtney is more fun. Diablo was sort of the surprise hit for me, as I expected him to be just a filler character, but Hernandez plays him with a lot of heart and brings a sense of gravity to one of the more outlandish concepts on the team. Killer Croc is under-utilized, but triple A nails him anyway, even down to having Croc use wrestling moves in one fight scene (before becoming a criminal, Croc was a pro wrestler). Adam Beach plays Slipknot, a character even I'm not familiar with and he's given nothing to do. It's too bad, since Beach is a good actor who deserved a better character.
Joel Kinnaman plays Rick Flagg, the de-facto leader of the Suicide Squad. He answers directly to Amanda Waller, played by Viola Davis. Davis follows Cynthia Addai-Robinson, Pam Grier, and Angela Bassett in the role of someone who in the comics is a badass queen responsible for wrangling DC's worst of the worst and not even thinking twice about getting in Batman's face. No one has done a bad job as Amanda Waller, but I really liked Davis's take. There's a point where Flagg is realizing just how screwed he is working for Waller and says something along the lines of not believing the stories (of what a monster she is). Davis just stares him down and says in a cold deadpan voice, "No one ever does."
I don't think Kinnaman had a lot to live up to as Flagg, as the character isn't as distinct and doesn't have the kind of history of say, Killer Croc, but he plays the role well. The guy's a really good actor and I very much enjoyed his version of Robocop. (Side note, I really hope we one day get to hear Davis utter the great Amanda Waller line, "On the day the superheroes failed us, did you really think we wouldn't have a plan?" Sorry if I messed that up a little, Grant Morrison.)
I'm not familiar with Cara Delevinge as an actress, but I thought she did a fantastic job bringing both June Moon and Enchantress to life, believably sliding between the meek and frightened Moon to the devious and manipulative Enchantress. I am also unfamiliar with Karen Fukuhara who played Katana, another character Arrow fans will already recognize. Fukuhara isn't given nearly enough screen time, as she's also fantastic in the role, as if she jumped straight off the comic page. Along with Wonder Woman (Gal Gadot) in BvS, these two characters help lay the groundwork for the mystical/supernatural side of the DCU, which makes them more pivotal in a big picture sense than their meager screen time may suggest.
Like BvS, Suicide Squad feels like a DC comic. David Ayer and crew created a really fun, violent action film full of quirky darkness. I don't know when or if a sequel is slated, but it's something to look forward to!