Published on August 12th, 2016 in: Current Faves, Music, Music Reviews, Punk, Reissues, Retrovirus, Reviews |
By Hanna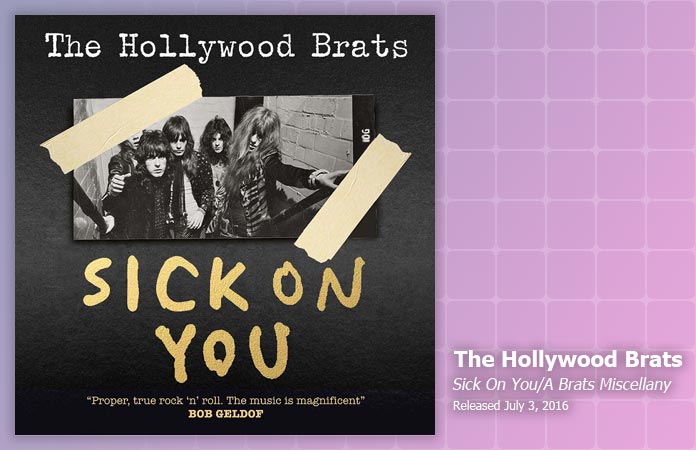 The Hollywood Brats are really an anomaly; difficult to place and more difficult to analyze the longer you listen to them. While they don't quite have the almost intellectual artifice of the New York Dolls and Heavy Metal Kids, they do share the same deep sense of bad taste and irony. The defining characteristics of their music are a tendency to shock and a rather cutting irony, combined with a deliberately simplistic style of music which can be seen as a precursor of punk. For a short space of time they were shouting obscenities into the void of American glam rock, before disbanding in 1974. But right now, they're having a moment of revival after singer Andrew Matheson's book came out last year out and he's been playing again, so it's a good time to have another look at their actual output.
The result is Sick On You: The Album/A Brats Miscellany. The idea behind this compilation is that Matheson and Casino Steel, previously the band's keyboard player, re-mastered and produced their album and added a bunch of songs to create an overview of all their work. There's some other material included in the liner notes as well; pictures, stories, lyrics, and some interviews. Most of the music on this compilation is familiar to anyone who's looked the Hollywood Brats up before, but there's quite a bit of new material and for anyone who's new to them this is really everything you need to know. Sick On You: The Album/A Brats Miscellany consists of two discs; disc 1 contains their only album, which was barely released at the time and then given a wider release later by Cherry Red, and disc 2 contains a bunch of miscellaneous tracks, picked by band members.
Sick On You has varying quality when it comes to its songs. On the whole, the style of music seems more like the Rolling Stones than other glam acts, even the New York Dolls. Some ideas are more realized than others and there's not really a unifying aesthetic as most other glam rock bands have on their albums, for instance, Sparks, Cockney Rebel, or even Slade. Still the Brats' main characteristics show up fairly well, from retro influences in "Chez Maximes" and "Zurich 17," to more Rolling Stones style blues rock in "Southern Belle" and "Drowning Sorrows." There's bitchy humor in "Tumble With Me" and "Empty Bottles"; "Nightmare" is just heavy rock, and "Sick On You" is a special combination of bitchy and shocking that's particularly associated with this band. The star of the album always has been and always will be the strangely sincere version of "Then He Kissed Me." It's a disaffected rock version of a more grandiose and emotional, much campier original which gives it a feeling of authenticity.
Disc Two, made up of tracks from demos, live recordings, and so on picked by Matheson, has the same basic elements but also a bunch of real wild cards. "Red Leather," "Suckin' On Suzie," and "She's Got Class" are all in the same style as the album tracks. "Trucker's Lament" is a semi-parody of a melodramatic country song with a particularly good guitar part. There are also a number of cover versions, like fairly straight forward versions of "I Need You," "Sweet Little Sixteen" and "St Louis Blues," and a horrifying/hilarous cover version of "Hoochie Coochie Man." ("Got a switchblade on my cock" is a memorable lyric.) Their version of "I Ain't Got You" is also very good, but the best one is a terrific cover of "Little Ole Wine Drinker" which is actually my favorite song the Hollywood Brats ever did.
Disc 2 also includes some more orchestral and dramatic songs, which is where they become interesting. "Son of the Wizard" is creepy on purpose, full of predatory sexuality. "Borgia Street" is one of the songs which actually sounds like the New York Dolls. It's decadent and weird with its intense string parts and silent film style piano intro. On the other hand, "Oh What a Show" is a beautiful, melancholy piece. Besides all these different styles of songs, there are some snippets of recording antics added throughout this disc as well, which adds even more variety.
The liner notes are made up of pictures and quotes, mostly from guitarist Eunan Brady. All the lyrics to the album are there, which is great. For the second disc there are no lyrics but somebody (I'm assuming Matheson) provided the commentary on the second disc tracks and it's wonderfully bitchy. "She's Got Class" gets "Actually she didn't." written under it, which is word for word what any reviewer worth their salt would have written too. He also has no trouble admitting how silly "Hoochie Coochie Man" is. Still, there is no need to call the St Louis Blues "an old, drab song."
Sick On You: The Album/A Brats Miscellany is great for anyone previously unfamiliar with their music, because it has the best of their unreleased material, as well as the basic first album. However, for anyone already into them, the second disc is the more interesting one. It might be too obscure for release on its own, which makes this two-disc release a good solution. The interviews and commentary are also a lot of fun.
The Hollywood Brats were an obvious influence on heavier glam rock bands, as well as on punk and hair metal, especially when it comes to the style of shock humor found in all those genres. For a band with such a short existence they showed remarkable variety and impact. As an overview of their work this compilation does a good job of showing that.
Sick On You: The Album/A Brats Miscellany was released by Cherry Red Records on July 8.