Published on August 12th, 2016 in: Blu-Ray, Culture Shock, DVD/Blu-Ray Reviews, Movie Reviews, Movies, Reissues, Retrovirus, Reviews |
By Tim Murr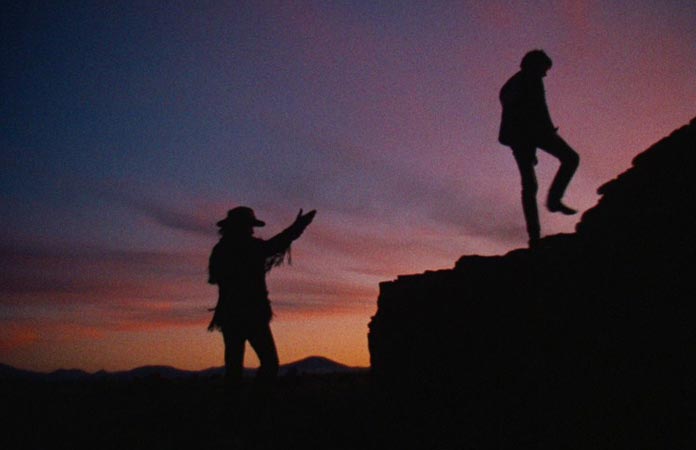 I was 19 when I saw Easy Rider the first time. I was a punk with a shaved head and had a generally negative attitude towards the world at large. I think I spent most of my time watching Dennis Hopper's directorial debut with my arms crossed, not bored, but waiting to see what was supposedly so great about this "classic." Though I found many facets of 1960s history fascinating, I assumed Easy Rider was just some hippy flick which wouldn't resonate with me or my generation.
I found a lot to love, actually: the film's structure, the way it was shot, and Hopper's performance as Billy. I liked Hopper a lot, because of Apocalypse Now and Blue Velvet, which was the only reason I had for watching Easy Rider. The cinematography was fantastic (László Kovács was the Director of Photography and also worked on Five Easy Pieces and The Last Movie) and probably my favorite part of the entire film.
Then came the ending: two rednecks in a pickup truck, complete with a gun rack, roll up on Billy and Wyatt (Fonda's character a.k.a. Captain America). They want to give those long hairs a scare. They yell at Billy to get a haircut and wave one of their shotguns at him. Then one of them fires, accidentally shootingt Billy off his bike. They drive away past Wyatt, who rides back to check on his friend. The wound is serious. Wyatt tells Billy he's going for help. The rednecks are turning around, because they messed up and they need to cover their asses. Wyatt and the rednecks pass on the road. A second blast from the shotgun comes and we see Wyatt's bike blown off the road in flames.
As the camera pans upwards of the flaming wreck below, I said, "Right there. I get it." That's the connection between the Beats, the Hippies, the Punks: rednecks beating us and getting away with it in the end. It struck me as a very nihilistic film at that point. Freedom? Only as far as the leash they give us. Justice? Not for you, freak.
When it comes to art, we get out of it what we bring to it. Twenty-one years later I still view Easy Rider the same way: a somber, poetic meditation on the death of 1960s idealism. I have no great emotional attachment to the film, but I give Criterion's Blu-Ray re-release the highest marks. As always, Criterion does a stunning job on this film package, from the beautifully restored picture and sound to the great list of extras;
• Restored high-definition digital transfer, supervised by director of photography László Kovács, with uncompressed monaural soundtrack on the Blu-ray
• Alternate 2.0 and 5.1 surround soundtracks, presented in DTS-HD Master Audio on the Blu-ray
• Two audio commentaries, one from 2009, featuring actor-director-writer Dennis Hopper, and the other from 1995, featuring Hopper, actor-writer Peter Fonda, and production manager Paul Lewis
• Born to Be Wild (1995) and "Easy Rider": Shaking the Cage (1999), documentaries about the making and history of the film
• Television excerpts showing Hopper and Fonda at the Cannes Film Festival in 1969
• Interview from 2010 with BBS Productions cofounder Steve Blauner
• Theatrical trailers
• An essay by film critic Matt Zoller Seitz
Easy Rider was released by the Criterion Collection on May 3.