Published on August 5th, 2016 in: Americana, Current Faves, Music, Music Reviews, Reissues, Retrovirus, Reviews, Underground/Cult |
By Hanna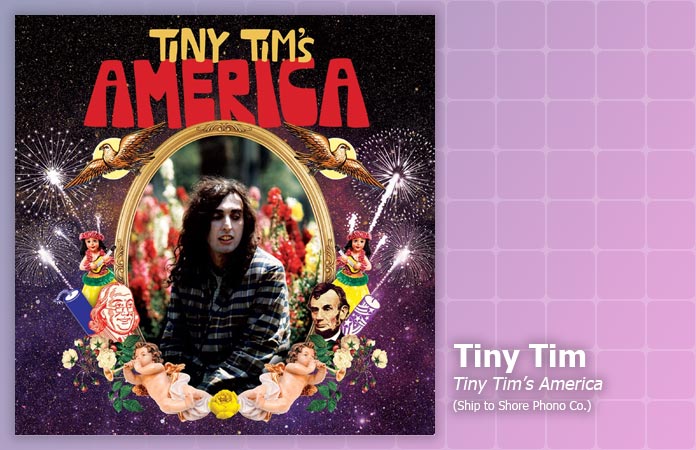 The 20-year anniversary of Tiny Tim's death continues with an absolute treat for fans in the form of Tiny Tim's America. This release is special because it's comprised of new material, from recordings Tiny made in 1974 when he was in between recording contracts. Using this demo tape, a number of songs were chosen to compile a vinyl album (plus mp3 download). The original entire demo recording is also included on the mp3 download.
The songs Tiny Tim chose to play on this session are old American songs, mostly from the 1900s and 1910s. Many are introduced in the wax cylinder manner by Tiny saying the artist, title, and company. The sparse nature and the spontaneous feeling of the recording, when played on a record player, creates a feeling of having somehow connected with the past, where the past has actually become alive in the present. This is the same feeling that sometimes happens when you watch very old film recordings. Justin A. Martell also mentions this in the liner notes in the vinyl insert, and aptly quotes a review calling Tiny "a medium, a haunted house." That uncanny feeling of time crossing creeps into this album, even though on the whole it is cheerful.
Despite the fact that these are songs from the dawn of sound recording, they are for the most part quite accessible. There is nothing overtly racist, fundamentalist religious, or weirdly nationalistic on this record. In the liner notes, Eddie Rabin explains that they chose the songs to fit together, and ended up choosing songs that reflected a sort of travel through America. Tiny Tim's song choices or performance choices (such as his version of "Silent Night") are occasionally alienating, but that darker and less predictable side of Tiny Tim's oeuvre is part of his camp appeal, and one of the reasons he is such a great cult artist.
In Tiny Tim's America though, it's the historian and musician in him that really come to the fore. The song choices show his deep knowledge of old recordings and their tone and context. In his performance, he easily puts on different styles of singing and different voices for comic or sentimental songs, his delivery changing with genre.
The look of this release is wonderfully kitschy, from the hilarious and amazing cover art to the multicolored vinyl. The liner notes include an intro by Tiny Tim's biographer Justin A. Martell, a piece by the producer Richard Barone, and one by Tiny's second cousin and one of the arrangers of this release, Eddie Rabin, explaining the idea behind the release and the production process. The recordings were cleaned up, and accompaniments were added to some songs. Sometimes the added instrumentation is barely noticeable, other times it gets a bit dominant. Most of the time the changes are relatively unobtrusive and fit the style of the songs. Listening to the original demos, they sound perfectly fine without the added music, but the added instrumentation does change the feeling of the record to something more like a record and less like a bootleg, so it's an understandable choice.
The songs are basically comedy tunes and sentimental ballads, with a few novelty dance songs thrown in. On some songs, Tiny affects an odd singing style and accent, but this is probably a result of him trying to imitate Byron G. Harlan who had a distinctive way of enunciating.
One of the themes in Tiny Tim's America is ethnic novelty songs; the album opens with one called "O'Brien is Tryin to Learn to Talk Hawaiian." It's a fun song about an Irish man trying to learn Hawaiian to talk to his Hawaiian mistress. Tiny Tim's comedy Irish accent is surprisingly not awful.
Of the other ethnic comedy songs, "The Leader of the German Band" is the less interesting song, while "Under the Matzoh Tree" is an intriguing and difficult American Jewish love and comedy song. It's cleverly done but the notes get away from Tiny Tim sometimes. The violin added on the vinyl release derails things a bit too, but then also adds a lovely solo.
The sentimental ballads are all of a high standard and when Tiny's not doing his Byron G. Harlan voice, he sounds great. "My Rose of Waikiki," "Yours Is Not The Only Aching Heart," and "What Might Have Been" are all beautifully done. The only later track, "When Shadows Fall" from 1931, is a great closer for the album, as it talks about death and looking back.
"Henie Waltzed 'Round On His Hickory Limb" and "I Get Dippy When I Do That Two Step Dance" are both fun novelty dance songs. "If the World Don't Treat You Right, Come Home" and" So What's The Use" are more cabaret style, witty cynicisms about life and love. "Railroad Rag" is a fantastic ragtime. Tiny uses different styles of singing and delivering the lyrics that help enhance the rhythm. The added piano part distracts a bit because it doesn't always follow perfectly.
Then there are two songs that use his ability to mimic male/female duets: "Pucker Up Your Lips Miss Lindy" doesn't offer that much of it and Tiny does it a bit hastily, but "I'm Looking For a Sweetheart" fares better. It also has a little break for jokes where Tiny Tim laughs at his own jokes in different voices. It's a perfect song for a cabaret performance.
The album includes a download link for the demos as found which is much appreciated in order to understand the additions made to some songs. This also includes the tracks that were on the demos but weren't included on the album. These are mostly more of the same: a few ethnic comedy songs, like "Sweet Italian Love" and "When Highland Mary Did The Highland Fling", a few more cynical songs such as "A Lemon In The Garden Of Love," "That's Gratitude," "Under Any Old Flag At All" plus a few random choices. Most of them wouldn't have added much to the release or their performance is a bit too rushed or messy. The only song that I really miss in the album release is "Honey Boy," a love song about a sailor. In the past it was sung by men just as it is here. This is the type of song that fits fantastically with Tiny Tim's other stuff and moreover, it's sweet and suits his voice well.
Tiny Tim's America is obviously aimed at hardcore Tiny Tim fans and record collectors, who will enjoy it for its wonderfully executed graphic look and the fact that it presents new Tiny Tim material. The songs are well chosen and the new production either adds to or doesn't intrude much on the character of the recordings, which is intimate and special. Any purists who don't like the production can listen to the demo, which is also provided. This is not an entry level Tiny Tim record, but also not far outside the realm of what most people can appreciate compared to his other records. It's just so great to hear something new, and this release is another thrill for the fans that adds to the celebration of his life this year.
Tiny Tim's America was released by Ship To Shore Phono Co.