Published on July 27th, 2016 in: Current Faves, Documentaries, Matshifter, Movie Reviews, Movies, Pro Wrestling, Reviews |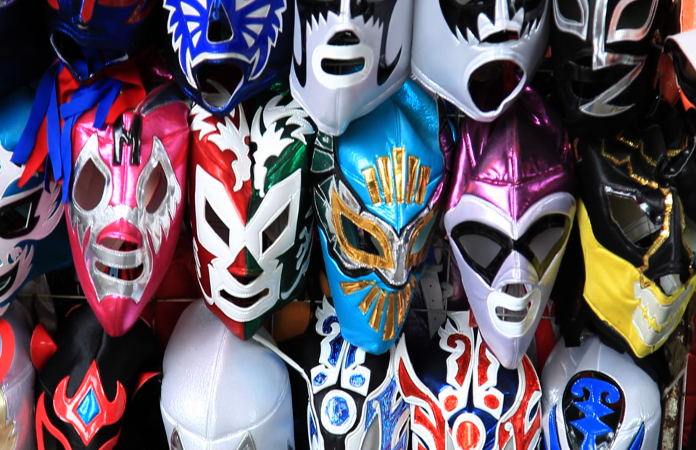 The lure of a colourful mask, high-flying and fast-paced energy, and over-the-top characters can't be denied, even among non-fans of pro wrestling. Lucha libre, Mexico's own brand of pro wrestling, is an intrinsic part of Mexican culture, and Alex Hammond and Ian Markiewicz's documentary Lucha Mexico puts this phenomenon on full display, warts and all.
There are two main lucha libre promotions in Mexico – Asistencia Asesoría y Administración (AAA) and the older Consejo Mundial de Lucha Libre (CMLL). It seems clear that Hammond and Markiewicz have been granted far more access to the latter organization for Lucha Mexico, as they're far more prominently featured than AAA and one of CMLL's stars, Shocker, is the main focus of the film.
As an introduction to the world of lucha libre, Lucha Mexico is nothing if not thorough. Punctuated throughout with gorgeous shots of the towns and arenas, big and small, where CMLL's luchadors ply their trade, the documentary comes off as a love letter to lucha's place in Mexican culture. Though much of the film takes place in Arena Mexico, the Mexico City venue that CMLL owns and from which it primarily operates, smaller shows at fairgrounds and other venues like the famous Arena Coliseo are shown as well.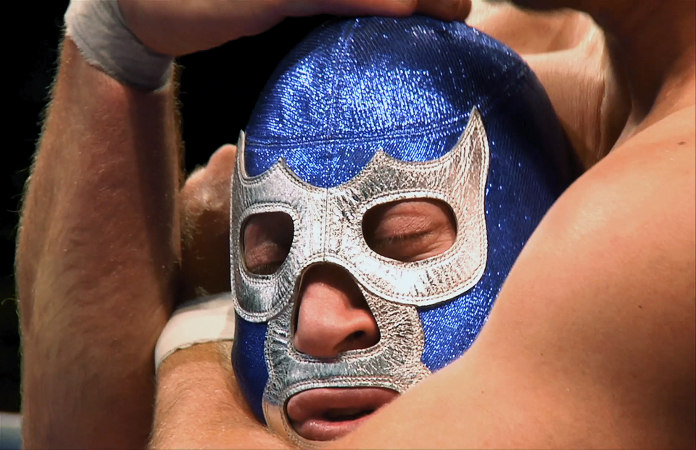 When luchadors like Blue Demon, Dr. Wagner Jr., and others speak with near-religious reverence about the masks that are passed down generationally, there's no denying that these aren't simply roles being played by actors. Blue Demon claims, at one point, that "the wrestler leads a lonely life" under a mask, and that "of the 24 hours in a day, [he wears] the mask for 18 of them." Blue Demon is not simply an alternate identity, it's his primary one.
Lucha Mexico shows us the darker side of the mask culture with the tragic story of Fabian El Gitano. Introduced in the film as an older wrestler who owns a gym and helps to train CMLL's future luchadors, Gitano talks about having to leave the business for eight years and having to work as a Chippendale dancer to make ends meet. When he returns to wrestling, Gitano is soon placed in a mask vs. mask match where the loser is not only publicly unmasked, but his name is revealed to the entire crowd. Gitano loses this match and, shockingly, is found dead at home soon afterwards of an apparent suicide.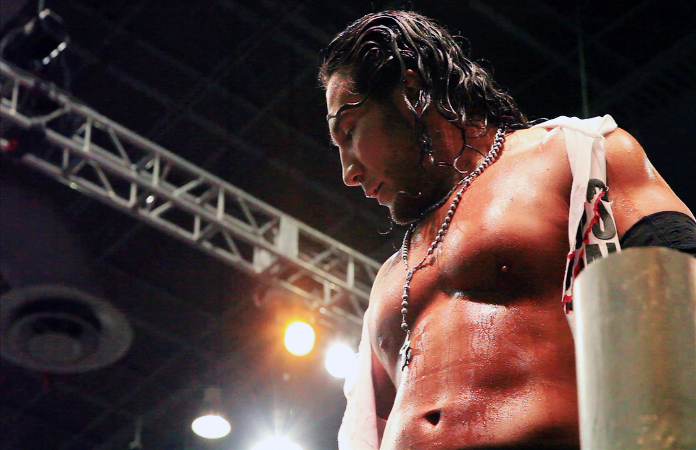 Footage of the last days of both Gitano and Perro Aguayo, Jr., another beloved luchador who passed away (tragically, in the ring during a match), makes Lucha Mexico worth seeking out even and especially if you're already a fan of lucha. In Perro Aguayo's interviews, he's eerily prescient in talking about possibly having a short career due to the hard-hitting style of wrestling he practiced. It's both remarkable and heartbreaking that Hammond and Markiewicz were able to capture these interviews just prior to his untimely death.
The culture of steroid and painkiller abuse among the top luchadors is interwoven throughout Lucha Mexico, though the film never outright draws the connection between this and the shortened lives of its stars. Luchadors like Shocker going about their daily lives darkly humanizes the superhuman stars as they shoot themselves up with painkillers just to make it through another night and another match. The unsubtly-named and obviously "juiced" (slang for a steroid abuser) Jon Strongman states, after tearing a bicep, that "if you're totally healthy that means you're not pushing it," which underscores this culture in an unsettling way.
Even more than other styles of pro wrestling, lucha libre is the closest thing to a live-action superhero movie, though it obviously eschews flashy effects in exchange for the ability to perform in that live setting. There's a clear distinction between heroes (tecnicos) and villains (rudos), and relatively simple and identifiable characters with their own iconography and "branding." The lucha style is generally much faster paced than its American and certainly it's Japanese and UK counterparts, giving it the feel of a Marvel movie come to life. Lucha Mexico pulls back the curtain, perhaps too far at times, on this spectacle and especially the performers who give their lives (and too often, deaths) to it.
With Alex Hammond and Ian Markiewicz's love for the culture and the wrestling fully realized onscreen, I feel comfortable in saying that Lucha Mexico is the definitive compendium of lucha libre for new and old fans alike.
Lucha Mexico was released theatrically on July 15 on a limited basis. Check for local screenings here.