Published on July 22nd, 2016 in: Feminism, Music, Music Reviews, Reissues, Retrovirus, Reviews, We Miss The Nineties |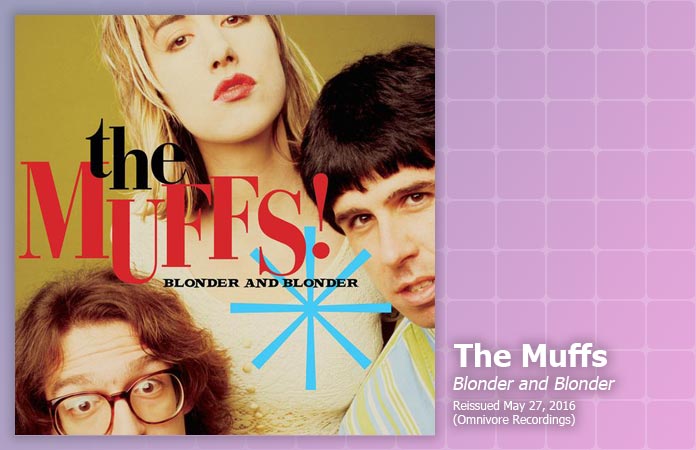 For the first half of the 1990s, if Redd Kross was involved in something, I was interested. Any band they toured with or recorded with or even name-checked was a band that I would check out. I was rarely disappointed. Enter The Muffs, who I associated with Redd Kross originally because they were both from Southern California and had both punk rock and bubblegum pop cred. And there was the Bill Bartell connection. Plus, Kim Shattuck and Melanie Vammen were ex-Pandoras members, a band I was fond of after hearing them on WTUL New Orleans in the mid-'80s.
Not long after the band's eponymous debut, Melanie left and former Redd Kross drummer Roy McDonald replaced original drummer Criss Crass. So I was extremely interested in hearing Blonder and Blonder, The Muffs' 1995 release from Warner Bros./Reprise Records.
It wasn't just Roy who was a draw, though. I was already a fan of Shattuck's guitar licks and incredible vocal talents from the first Muffs album; she was one of the only women I'd heard who could really scream and sing, veering between both with a razor-sharp charm. Here was a three-piece band with a killer drummer, a super talented songwriter/singer/guitarist (and one of my fashion idols) and an equally talented (and also hilariously entertaining) bassist/vocalist in the form of Ronnie Barnett.
If it's a cliché to say that Blonder and Blonder picked up where The Muffs' debut left off, then so be it. The album is full of songs that will not only put a smile on your face but make you feel cool for listening to them. From self-pity to suicide to people who suck, there's a lot of lyrical ground covered here, and it's all fun. That's a huge part of The Muffs' appeal. So much of the '90s was full of angst and drama and here was a band that was seriously great but that didn't take themselves too seriously.
As great as Blonder and Blonder is, it's just a taste of what it's like to see The Muffs play live. Having seen them back in the day as well as more recently for their 2014 album Whoop Dee Doo, I am here to tell you they are better than ever. Ageless and timeless, The Muffs aren't really back because they never really left.
This reissue of Blonder and Blonder from the esteemed Ominivore Recordings is a joy. There are heartfelt essays from Roy McDonald and Ronnie Barnett as well as fascinating track-by-track descriptions from Kim Shattuck. Also included are a couple of great B-sides and some demos that feature just Shattuck, guitars, and a click track. Some of these have made it to albums, while others have not, but her songwriting skills truly shine in these stripped-down tunes. The included booklet even has band photos from The Muffs in New Orleans, a place close to my heart as that's where I lived in the '90s, where I saw the band play several times, and where good times were had.
It doesn't seem fair that songs like "Red Eyed Troll" and "Funny Face" or "Ethyl My Love" aren't as revered as anything released by Hole or Weezer, especially now that teens and twentysomethings are obsessed with revisiting the '90s. Hopefully, this reissue of Blonder and Blonder will place The Muffs in the pantheon of music icons from a decade that had so much more to offer us than Nirvana and Lollapalooza.
Blonder and Blonder was reissued by Omnivore Recordings on May 27.