Published on July 14th, 2016 in: Current Faves, Horror, Movie Reviews, Movies, Reissues, Retrovirus, Reviews |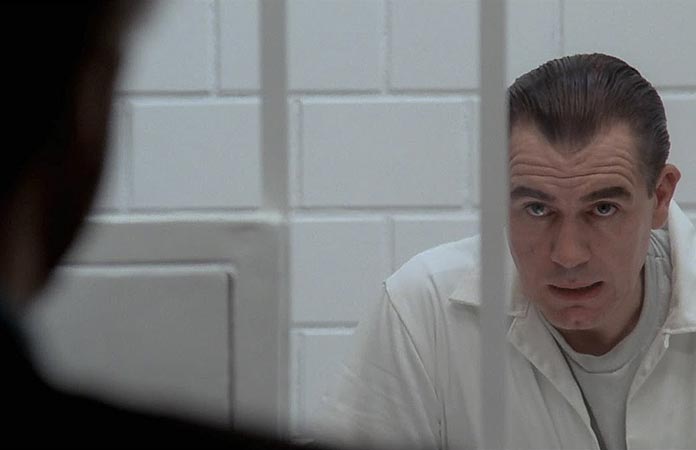 Toronto residents! If you haven't seen Manhunter in a while or if you've never seen it on the big screen, you'll get your chance tonight at The Royal, where the Neon Dreams Cinema Club is putting on a screening of the film at 8:00 p.m. As always, come early for the pre-show and remember that The Royal is a fully licensed venue.

When most people think of Dr. Hannibal Lecter, they think of Anthony Hopkins. This is a bitter pill to swallow for those of us who fell in love with Bryan Fuller's Hannibal and subsequently, Mads Mikkelsen as the titular killer. Yet even before that TV show birthed the devotees known as Fannibals, there were still those of us who always gave Hopkins' portrayal of Lecter the side-eye. After all, he wasn't the first to take a crack at the doctor cum psychopath (even though they only called him a psychopath because they didn't know what else to call him).
I saw Manhunter in the early 1990s and Brian Cox's portrayal of Lecter scared me so much that I can't even remember if I saw the movie before I saw The Silence of the Lambs. For me, Cox was Lecter. His blank expression and cold, dead eyes rattled me to the core. Although his presence in the film amounts to a total of about 15 minutes' worth of screen time, it's enough to leave an indelible mark.
After more cinematic trips into the Hannibal-verse, such as Hannibal (2001), Red Dragon (2002), and Hannibal Rising (2007), and three seasons of a television show (2013 – 15), the diabolical doctor seems to be more high profile than ever, but there are still those who have never seen Manhunter, his first appearance on celluloid. The new Blu-ray reissue of the film from Scream Factory could go a long way in changing that.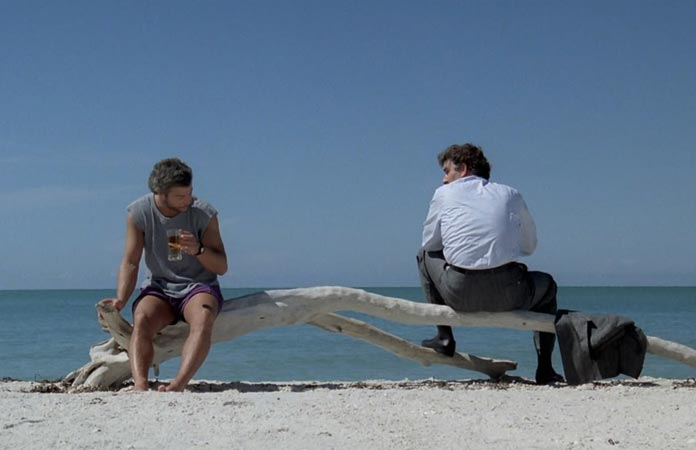 What's most striking about Manhunter is how fresh and vital it still appears. If it seems familiar to those watching it for the first time, it's only because it influenced so much of what came after it. Fannibals (and I consider myself one), will get goosebumps realizing how much of Manhunter has made it into Bryan Fuller's iteration of the Hannibal-verse.
Of course, like Fuller, director Michael Mann followed author Thomas Harris's original text from Red Dragon, but Manhunter feels closer to the spirit of that text than the 2002 Red Dragon film, despite the latter's closer adherence to the details of the book itself. Although Manhunter was originally scripted to follow the bleak, shocking ending of Thomas Harris's book, the film does not. Whether this was due to budgetary and time restraints or a wish to leave audiences with some kind of hope, is unclear.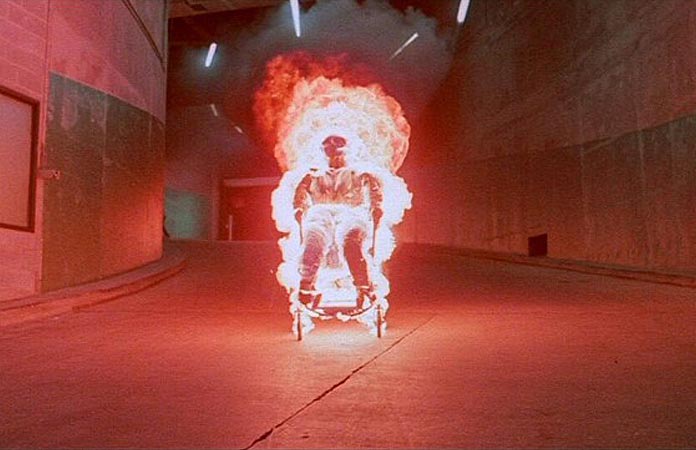 It's not just Cox's Lecter who is superb; it's also William Peterson's Will Graham, who seems to conjure up his own future in American procedural crime dramas with this role. The clinical look of the FBI labs in the film (scenes which were shot at actual FBI labs) would influence everything from Law & Order to CSI, NCIS, Criminal Minds, Dexter, and beyond. The idea of the damaged serial killer profiler may have been Thomas Harris's creation but it was Manhunter that brought it into pop cultural consciousness.
So too, the idea of the sympathetic serial killer. Tom Noonan's Francis Dollarhyde is not Jason Voorhees, Michael Myers, or even Freddy Krueger; he's a monster that we genuinely pity, a modern Prometheus, visibly scarred and internally wounded. So much of Dollarhyde in this film is inextricably tied into the music choices, specifically two songs by British post-punk legends Shriekback, "Coelocanth" and "This Big Hush," both of which are powerfully atmospheric and effective at conveying the twisted nature of the Red Dragon himself. Though modern audiences might find Iron Butterfly's "Inna Gadda Da Vida" an odd choice for the action-filled climax of the movie, it's actually a perfect fit for the heightened surreality of the scene.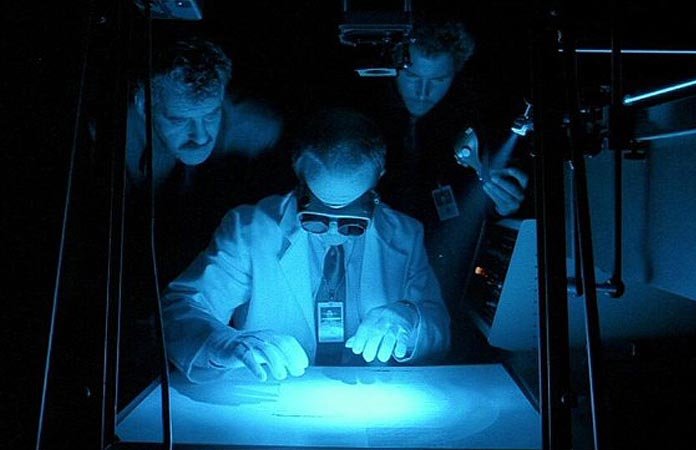 Although Manhunter wasn't Mann's first foray behind the camera, it's the one that put him on the movie map. Some have denigrated the film for being too "of its time," a confounding criticism frequently lobbied at much of 1980s pop culture, as if films made in any other decade don't also reflect the sometimes-embarrassing stylistic flourishes of the time in which they were made. Yes, Mann uses an extremely vivid visual palette in Manhunter, but I'd argue that it's more "Modern Noir" than Roman Polanski's Chinatown which feels muted by comparison.
Like the classic Noir films from the '40s to the '50s, precise framing, light, shadow, and symbolism are essential to Manhunter. It replaces the chiaroscuro of black and white film with blues, greens, and pinks, but the feelings it evokes are much the same. There is an ugly world out there and no matter how much we try to keep it out, it seeps into our veins. Of course, just because it's ugly doesn't mean it isn't beautiful, too, and even if you don't like this film, you can't deny how gorgeous it looks on the screen.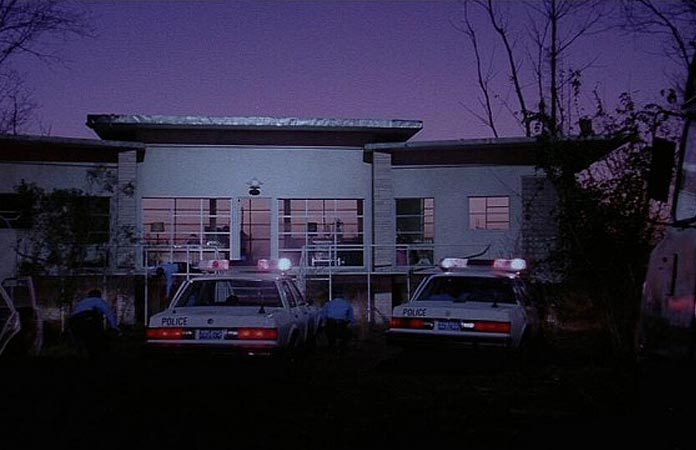 The two-disc Scream Factory reissue is full of fantastic bonus features. The first disc, with the theatrical cut of the film, also includes several featurettes, including single camera interviews with William Petersen, Joan Allen, Tom Noonan, Brian Cox, and cinematographer Dante Spinotti, all of which were created specifically for this release and are a joy to watch. Fannibals will really dig the insights into Hannibal and Will's relationship and the hilarious reveal about a certain Stevie Wonder song. This release also includes a new featurette on the music of Manhunter, boasting interviews with Rick Shaffer of The Reds, composer Michel Rubini, Red 7's Gene Stashuk, Shriekback's Barry Andrews, and The Prime Movers' Gary Putnam. It also includes a theatrical trailer and stills gallery.
Disc Two includes two versions of "The Director's Cut" (one in HD and one in SD), which adds about four minutes to the film's running length. Many reviewers have commented on the jarring switch between the HD and SD in the inserted scenes but it doesn't detract so much as to make the film unwatchable. The additional scenes do add something unique to the film, though I would love to have seen some of the footage of Noonan with the Red Dragon tattoos that was shot and eventually discarded.
This disc also features a 2003 commentary track from Michael Mann and two featurettes that were originally included on the 2001 Anchor Bay DVD: an interview with Spinotti and another one including interviews with Peterson, Allen, Noonan, and Cox. These are fun, but it's more interesting to watch them and compare to the newer featurette interviews to see how much the actors' memories about shooting the film have changed.
For fans of Hannibal Lecter, crime dramas, film noir, and/or Michael Mann, this Manhunter release is a must-have.
Manhunter was released by Scream Factory on May 24.