Published on July 13th, 2016 in: Book Reviews, Books, Current Faves, Horror, Magick, Popshifter, Q&A, Reviews, Upcoming Releases, Writing |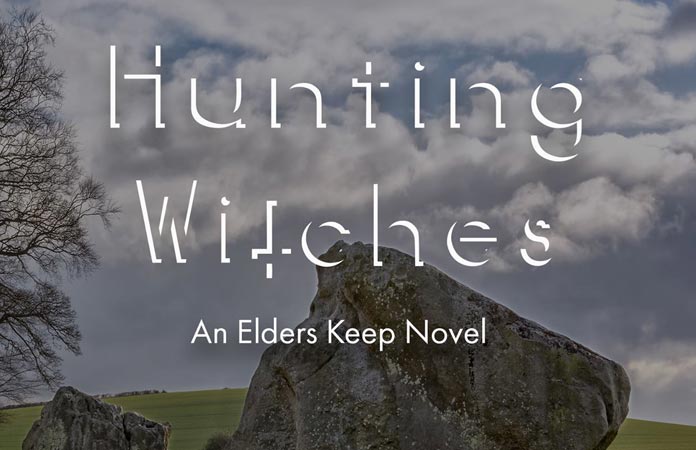 I have had the pleasure, nay, honor of being able to review the book Hunting Witches by our very own Jeffery X Martin. This "non-vel", as he calls it, took many months of work, blood, sweat, and alcohol to construct, and it is more than worth the wait since the last installment of the happenings in Elders Keep. The Elders Keep anthology began as a series of short stories, released individually on Amazon, and can now be acquired in the form of Black Friday, which includes the stories that started it all: "Be Sweet," "Mouth," and "Candy." "Mouth" personally had me cringing, which is not easily accomplished from words on a screen or paper. You can bet, I will be giving that book another read just to fit everything together again.
The focal characters of Hunting Witches are Mark and Nika Pendleton. Tired of the rat race and being crammed into a tiny apartment, which is enough to test the strength of any relationship, the couple decide it's time to make a change. A lucrative job offer in Bell Plains, Tennessee, arrives for Mark, and the decision is made to relocate. Nika has her heart set on finding a place to put down roots in the nearby town of Elders Keep, and that sets the wheels in motion. The story does begin to jump around a little bit, changing points of view, but I promise it's necessary to fully tell the story as it needs to be told.
I won't divulge the details of what happens, not just because the author and his wife know where I live, but because this is a tale that must be fully experienced. I couldn't possibly do it the justice it deserves. What I can tell you is this: I need a T-shirt made that says "I survived the mind of Jeffery X Martin." When you have this book in your hands, you have in your hands the beginnings of what I see could become a Stephen King-esque multiverse situation. Even the setup to the meat of the story feels much like that: young, happy couple, full of hope and promise, and you know the second they see the town limit sign and pass within the confines of Elders Keep, dark and terrifying things await them on the horizon.
Speaking as a resident of the city of Knoxville, the things that drew me into the setting were the references to things I experience in my own life: the classic rock radio station 103.5 WIMZ, (which I listen to religiously); the mentions of traffic snarls around the Cedar Bluff exit off of I-40, which let me tell you is NO exaggeration; the mention of "White Lily," a company which produces flour and got its start in Knoxville.
There are other things which tie into the world of Elder's Keep as well: Elders Keep, which is a blog written from the perspective of a resident of said Keep; WREK, the Spotify playlist of the radio station based in the Keep; and even cryptic blog posts from the local DJ, assuming he is in fact the DJ. Those small nuances add flavor and realism to the whole experience. Combine that with richly defined characters, and you've hit the motherlode. Even the sideline, tertiary characters have some little quirk, some detail, that makes them real and relevant to the plot.
I've read just about everything Jeffery X Martin has written to date, with only a couple of exceptions, and this is by far the best one yet. You can say I'm biased—I don't care—but pick up the book for yourself and I'm sure it will quickly change your mind. As for me? I'll be waiting for July 15 when there's going to be a five star review posted to the site.
What follows is a short Q & A with the author himself. Enjoy!
Elders Keep is obviously a fictional place, but what about Bell Plains? Are either town based on a real location?
Let's take these first two questions together.
I lived in Sevier County, TN, for over 20 years. The interesting thing about that place, and I guess any tourist area, is the dichotomy between the small town where people live and the bigger towns where the people work.
For instance, someone can find a decent place to live in Sevierville, which is a nice small town, but they have to haul their ass off to work in Pigeon Forge, which is all outlet malls, Ferris wheels, mini-golf, and Dollywood. Overshadowing all that is the Great Smoky Mountains National Park, which is full of crazy natural energy. Leylines, old trees, ancient cabins: it's a friggin' maelstrom up there, with the energy of consumerism and rollercoasters fighting against the energy of the mountains.
Did I get too cosmic there? Sorry.
Let's say Sevierville might be Elders Keep and Bell Plains might be a combination of Pigeon Forge and Knoxville. Just dial them back a bit.
Is there weird paranormal shit going on Sevierville? I've seen some things. I've heard some stories. But nothing to the extent of what I've written about in the EK stories, as far as I know.
Mark Pendleton noticed there's no apostrophe in the name Elders Keep. Is there a significance to that? If so, will it ever be explained in the books?
It is mentioned in "Black Friday," a little facetiously, that the town is called Elders Keep because even after they're dead, your elders keep coming around.
Even secondary and tertiary characters in your stories have something about them that makes the reader want to know more about them. What is the process for deciding a character's personality and how they interact with others within your stories?
The characters are as real in my head as anyone I know in real life. Their personalities decide themselves. Every character in the Keep is there for a reason. Someone who is a minor character in one story could easily pop up in another tale as the main character. That's already happened to a certain extent, especially with Sarah and Dr. Mike. Hunting Witches springs directly from the seeds planted in Black Friday. You'll find the genesis of a lot of the characters in that book. The main thing to remember is that the Sheriff is the center of the Keep. He is the one who has to keep the town in balance. Everyone else is there to either help him or hinder him. Deciding who to trust is the hardest thing of all for him. I get to control that, like a mad puppeteer, and readers of the series are going to have some surprises in store for them.
Would you agree with the assessment that the Elders Keep Anthology could easily become something along the lines of the Stephen King multiverse?
I guess there are similarities, but a lot of writers do that. King had Castle Rock. Charles Grant had Oxrun Station. Lovecraft created an entire friggin' Pantheon. I would like it to get to the point where other people are writing Elders Keep stories, but I've got a lot of world-building to do before we get to that point. I just figure if I'm going to build a sandbox, I don't want to play in it by myself. I also don't want cats to poop in it. It's kind of a fine line, isn't it?
How long will we have to wait for the next book? And will it be a continuation of this story, or will it sortof tie in with another?
I write slowly. That's probably not what you want to hear, but it's the truth. I have a novella coming out next, a standalone Elders Keep story that has nothing to do with Hunting Witches. After that is finished, you'll get the sequel, which picks up immediately after the first one ends.
---
And there you have it folks, there will be more, but it will take time. And it's more than well worth the wait, which gives you plenty of time to grab up Black Friday, as well as Hunting Witches, which becomes available on July 15 on Amazon, or you can pre-order it right now at a discounted price. In the meantime, pray for the Pendletons, or whatever it is you do. They're going to need it.