Published on July 12th, 2016 in: Blu-Ray, DVD/Blu-Ray Reviews, Horror, Movie Reviews, Movies, Reissues, Retrovirus, Reviews |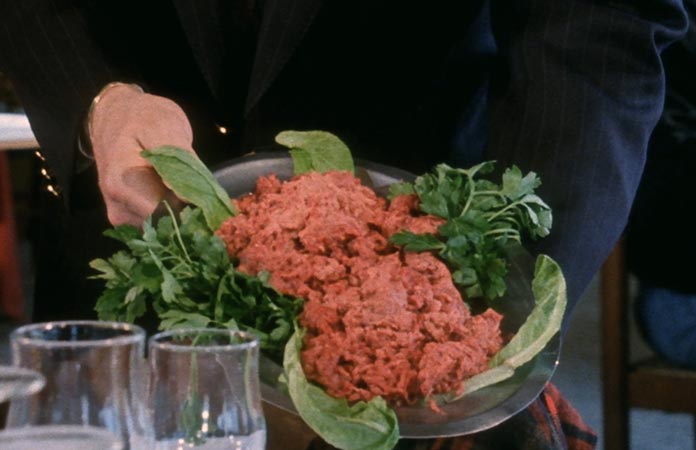 Italian horror movies are a strange and different beast. American horrors rely mostly on jump scares and urban legends, things that go bump in the night. Italian fright flicks don't care about your childhood scary stories. In fact, they don't even care about linear storytelling. Most of them are simply a pastiche of set-pieces, offering gross-out after gross-out, with the barest thread of a plot holding everything together. It's the visuals that matter, not the story.
That makes A Cat in the Brain all the more interesting. Lucio Fulci, king of the Italian gore movies, went straight up meta with this movie.
Here's a guy who made zombie movies, sex comedies, and Westerns, all through a crazy-eyed viewpoint that the story didn't have to make sense to make a good film. And who can say he was wrong? His most famous movie, Zombi, has one of the most absurd moments ever captured on film, where a member of the underwater undead battles a great white shark. Arguably his best movie, The Beyond, is absolutely irrational and illogical, featuring a blind woman who isn't a ghost but could be, along with her self-aware St. Bernard, showing up in the middle of a causeway and wandering into the heart of New Orleans.
Out of nowhere comes A Cat in the Brain, a movie more horror than horror, an almost unfathomable piece of metaphysical gore, glowing in the center of a career in exploitation like a glow-stick at a funeral.
Lucio Fulci plays Lucio Fulci, and isn't that a fine how do you do? He's a horror director who has had just about enough. The violence is finally getting to him. The scenes in his blood-drenched movies are echoing scenes in his real life. He can't stand the sound of a chainsaw. He can't bear the sight of steak tartare. Everything he has sought to bring to life on the big screen is now intruding into his real life.
He tries therapy, specifically hypnosis, but his doctor is subconsciously training Fulci to take the fall for murders that have been happening locally. All signs point to Fulci as the killer. His work is becoming erratic and he's having violent public outbursts. What's really happening? Well, that's a good question.
On one hand, you've got Fulci apologizing for a career of blood and guts, attempting to shock audiences with his unflinching eye towards guts and gore. But on the other hand, you've got Fulci blaming the audience for his work. You wanted horrific things. I became known for horrific violence because that is what you, the public, demanded of me. What was I to do?
How can that not affect someone's psyche?
A Cat in the Brain pushes hidden buttons in the horror fan's mind, and makes the viewer wonder what is fact, fiction or fantasy. That's a question that is never satisfactorily answered. Too low-brow to be arthouse and too philosophical to be comedic, the movie lives in a world all its own, somewhere between Symbiopyschotaxiplasm and Tim Ritter's Truth or Dare. The combination of real life and fiction is confusing, at best, but the end result is something truly stranger than fiction. I know it's fashionable to refer to movies like this as "mind-fucks." A Cat in the Brain is more of a mind-hand job.
The new Grindhouse Releasing reissue of A Cat in the Brain is absolutely stellar. This three-disc monstrosity even gives you a CD of the soundtrack, not to mention all the extras you could possibly want. The transfer is amazing, as you'll see within the first ten minutes of the film. The reds and blacks are perfectly defined, even as they flow into each other as a river of blood and bile. This wonderful division of colors happens while we watch a cat puppet pretend to eat the innards of a dismembered woman, but that's not important right now.
What is important is that Fulci, a director known mostly for eyeball violence and extensive use of maggots and meal worms, made a movie so bizarre that it boggles the mind instead of throwing the senses into overdrive. It makes you think while you want to vomit. That may not be enough to count A Cat in the Brain as a classic, but it's certainly enough to warrant a watch.
And if it means anything to you, Grindhouse has lost their ever-lovin' minds putting this set together. It is over the top and gorgeous in every way. Who says physical media is dead? This is the best time ever to be a horror geek, when movies that have gone under the radar are receiving full-bore fancy-time treatment from companies that love the weirdness as much as fans do. No way around it; this set is absolutely stellar and should be owned by any collector worth his or her precious bodily fluids.
The movie may not be great, but it needs to be seen at least once. The set, however, is amazing. Taken as a whole, this is a great addition to any horror fan's collection.
A Cat in the Brain was released by Grindhouse Releasing on July 12.
Here are the official specs for the reissue:
– Hi-definition digital restoration of the original UNCENSORED DIRECTOR'S CUT
– Presented with English and original Italian language soundtracks
– In-depth interviews with director Lucio Fulci and cult superstar Brett Halsey (REVENGE OF THE CREATURE, RETURN OF THE FLY, THE GODFATHER 3)
– New interviews with composer Fabio Frizzi, screenwriter Antonio Tentori, cinematographer Sandro Grossi and poster artist Enzo Sciotti
– Lucio Fulci's heroic appearance at the 1996 NYC Fangoria Weekend of Horrors
– Original Italian theatrical trailer & gallery of stills and poster art
– Liner notes by Antonella Fulci, David J. Schow, Eli Roth and Martin Beine
– BONUS CD – the original soundtrack by Fabio Frizzi!
– Chilling GLOW-IN-THE-DARK slip cover – limited to first 3,000 copies
– Mini portrait of Lucio Fulci – suitable for framing – limited to first 3,000 copies
– PLUS OTHER SURPRISES!