Published on July 7th, 2016 in: Current Faves, Documentaries, Movie Reviews, Movies, Netflix Reviews, Reviews, Sports, True Crime |
By Tyler Hodg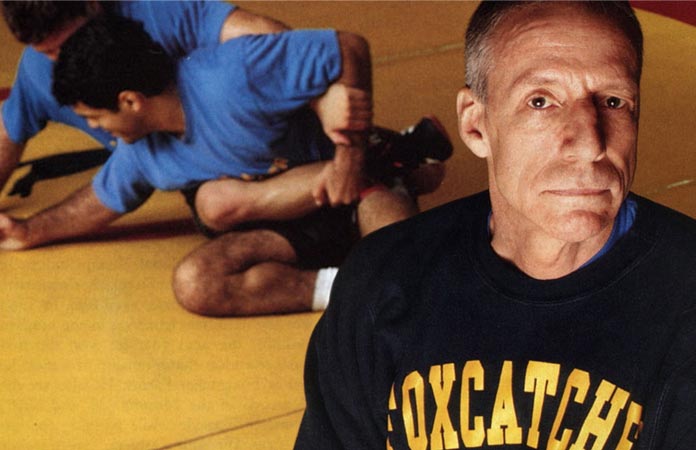 The chilling story of "philanthropist" John du Pont and his shocking murder of Dave Shultz is eerily depicted in the Netflix original documentary, Team Foxcatcher. The story was previously fictionalized in the five-time Academy Award-nominated film simply titled Foxcatcher.
This Jon Greenhalgh-directed documentary plays out like a ticking time bomb. There is a looming sense of danger, and anticipation is built beautifully through a linear retelling of the life of du Pont, and incidents leading up to the murder of wrestler and friend Dave Shultz at his athletic sanctuary of Foxcatcher Farm.
The massive piece of land that du Pont owned was home to a variety of different athletes, their families, and even law enforcement. The film initially depicts a utopian-like society, but from the get-go, the living situation comes across in a cult-like manner. Although the residents of the estate appear to be normal, the image and story of du Pont is a clear indication that this man felt untouchable, and had severe mental health issues.
There is one short scene in particular that demonstrates the usual – and eventually deadly – mannerisms of the Team Foxcatcher figurehead. Home video shows du Pont's cold eyes staring into a camera for roughly five seconds – but what feels like an eternity – as he responds to a question about what the team will do at an upcoming tournament with the repetition of the word "kill."
The picture painted of du Pont and Shultz is riveting, but one aspect that the documentary fails to represent is the perspective of the former – possibly due in large to the fact that he was incarcerated from 1996 until his death in 2010. There are brief moments that touch upon his childhood and possible origin of mental illness, but not enough screen time is spent developing a more well-rounded representation of the killer.
Through interviews with those involved in the situation, the film gives a fairly complete and comprehensive illustration of life on the farm, the psyche of du Pont, and the moments that resulted in near 50-hour standoff with police. The events depicted in Team Foxcatcher affected a wide range of people, and are a reminder of the horrors that exist in the world.