Published on July 6th, 2016 in: Book Reviews, Books, Critics/Criticism, Horror, Retrovirus, Reviews, Science Fiction, Underground/Cult |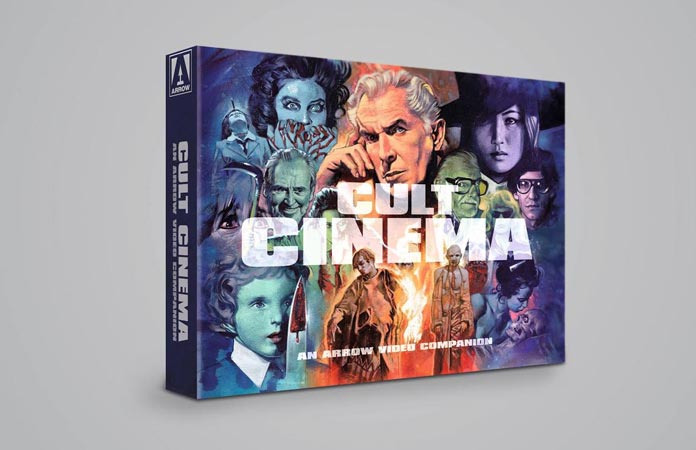 I like the idea of collecting the musing and essays from individual Arrow releases into a single bound book. In theory, that is. In reality, if I'm interested in reading analysis on a specific film, like Dressed to Kill, wouldn't I already have that Blu-ray in my collection?
There's a chance the answer to that tug of war will color the amount of value you're able to find in Cult Cinema: An Arrow Video Companion. I flip-flopped on this as I meandered through its pages. When faced with a piece on Zombie Flesh Eaters I struggled to muddle through. Perhaps a mix of topic and writing style, I just couldn't commit to paragraph after paragraph on a movie I didn't have much interest in, and that was my reaction to the majority of this book.
It's been my experience that film criticism should make you want to see a movie. A well-crafted piece should stoke the fires of your interest, and focus on themes and ideas as opposed to aspects of the subject only relevant to someone that's seen it. During my time editing a genre film magazine, I read multiple pieces dedicated to movies I didn't care for or hadn't seen. The words on the page made me seek out the films. The ideas presented, and the arguments made, compelled me to take another look at The Beyond because, look at all that I missed! For me, good film writing isn't dependent on having intimate knowledge of a movie or director, and in this collection, too many entries rely on just that.
These essays may have worked as companions to a film purchase; the words are in hand because you either love the movie, or are about to watch the movie. Without the benefit of the pairing, many of the pieces just sort of flounder; they teeter between stale rehash and overly referential. The standout for me was Maitland McDonagh's piece on Dressed to Kill. She's a tremendous writer waxing about one of my favorite directors, so I have a natural bias. Even putting that aside, McDonagh's words came from a place of knowledge and affection, but also persuasion. Reading her piece made me think of all the reasons I love the subject matter, and made me want to revisit it. Which is exactly what it should do.
I expect a lot from film criticism. I have very specific wants and desires, and this collection from Arrow didn't fill any gaping voids. You're better off picking up the releases where the essays originally appeared and thumbing through them that way. This books isn't likely to send you scurrying for something new.
It's worth noting that not all the entries conclude with bold text pointing you to where the original piece was first published. I'm not sure if that means some were produced exclusively for this collection, or that the notes were simply inconsistent. Original content would be a selling point for the book, and it could certainly use a compelling reason for a film fan to add this to their collection.
Cult Cinema: An Arrow Film Companion was published on March 29.